CrAnSwIcK's 4G69 Build: Phase 2
Aug 1, 2011, 09:57 PM
Evolved Member
CrAnSwIcK's 4G69 Build: Phase 2
---
Ok, so as many of you know, I stripped my timing belt a few months ago, and it cost me lots of money to fix it, even though i did all the work in my driveway. Along the way I added some basic preparation/drivetrain mods that would be very helpful in maintaining the driveability of a boosted lancer ralliart. So anyways, as some of you may know, prior to my breakdown i had ambitions of attempting a custom turbo build, basically to teach myself how it can be done and what does and doesn't work. But then with all the money i spent repairing the engine and transmission, my research and shopping habits were promptly inhibited. I've seen many turbo projects go up in smoke, or the OP just kinda stopped updating. Or sometimes you see something like a quick one page, "this is what i bought, and this is what it looks like now" sort of project. this is the beggining of my turbo building journal, don't expect frequent updates, this isn't going to happen overnight. I still have a lot of things to figure out, even though i have mostly everything i need in hand. My original plan was to be building by this week, but the finances and timeframes just didn't work out, but i'm too far to go back now, and however long it takes will be the new deadline. Also the manifold is not made yet either which was supposed to be done months ago, but the shop i'm using has been busy lately, and they haven't had time to let some joe shmoe off the street (me) come in to work on it. Hope you enjoy
I'll update this thread with as much info from other threads as i can, such as sources, prices, parts etc.
For now i'll just give you a quick snap shot of the main component i'll be using, and a promise to persue this project to the end, and then results and a conclusion will follow.
I have chosen a Mitsubishi Heavy Industries TD05 14b turbocharger for several reasons; It was 50$, they are easy to find, they are totally and easily rebuildable as they use journal bearings, they are liquid cooled, and they are basically the same physical shape and size as a 16g, so if this all works out, all the fabricating i do as far as manifolds, downpipes, charge pipes etc. will be 100% compatible.
I recently aquired this turbo, a replacement center section and compressor housing, rebuild kit, O2 housing, All oil feed/return fittings, water fittings, brand new wastegate actuator, and an OEM J-pipe (not pictured).
---
Last edited by CrAnSwIcK; Aug 1, 2011 at

10:05 PM

.
Aug 2, 2011, 04:08 AM
Join Date: Apr 2006
Location: South USA
Posts: 3,346
Thanks: 0
Niceee!!! It looks like your off with a very promising start and based on your other threads I'm sure there will be tons of helpful tips and most importantly pictures
subscribed
Aug 2, 2011, 09:15 AM
Evolved Member
hoping all goes well.

so far the hardest thing to find was the oil feed adapter fitting. It taps the port for the oil pressure sending unit on the back of the block, it's 1/8 BSPT front to back male/female for the stock sending unit, then it has two 1/8 NPT females on either side, for oil feed and/or aftermarket sending unit for a gauge or whatever.

Working on fabrication for the manifold and downpipe very soon. I chose to go with the internal wastegate, and stock O2 housing to keep the downpipe simple, as with the cast O2 housing and internal wastegate, the downpipe will simply be an L-shaped pipe with a standard 2-bolt exhaust flange.

i still have not ordered an intercooler or the piping, i'm going to try to source something a little cheaper than a brand new ebay kit, but lightly used. I have some piping already, just some random bits, as well i have a DSM sidemount intercooler, but i have been really thinking of going front mount. but then if i just go with the sidemount, i already have everything i need.

I'll post some pics in a few.
Aug 2, 2011, 08:16 PM
Evolved Member
it's honestly more work that i was expecting, and a little expensive even with a $50 turbo. Rebuild kit was $50, though this turbo is not in need of a rebuild just yet, so i'll rebuild the spare, and if it works well, i'll swap the rebuilt center section and compressor side. wastegate actuator was $80 from ebay, pressure tested and working at around 10psi which is close enough to what it is advertised as, i didn't use any super sensitive setup to test, i just wanted to make sure A. it opens and B. it doesn't take 20psi to open, lol!
Lost my phone, pics will have to wait.
*edit*
Found my phone, so here are some pics of things i've collected:
Injectors and pump from 2004 WRX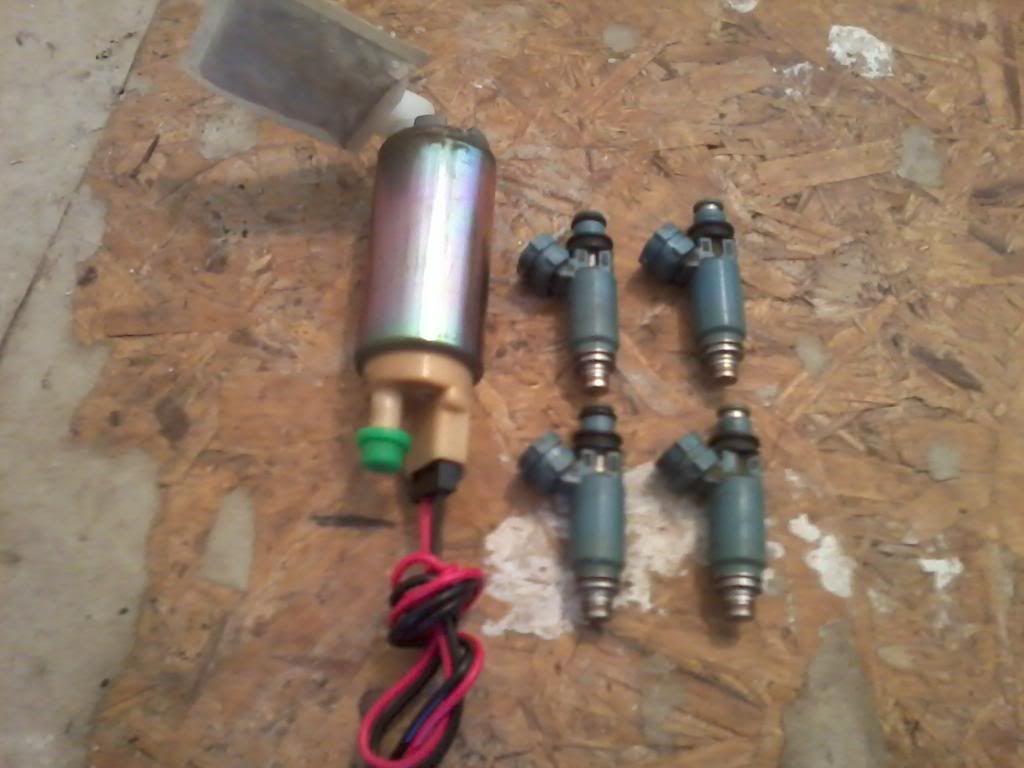 Omni Power USA 3 Bar MAP sensor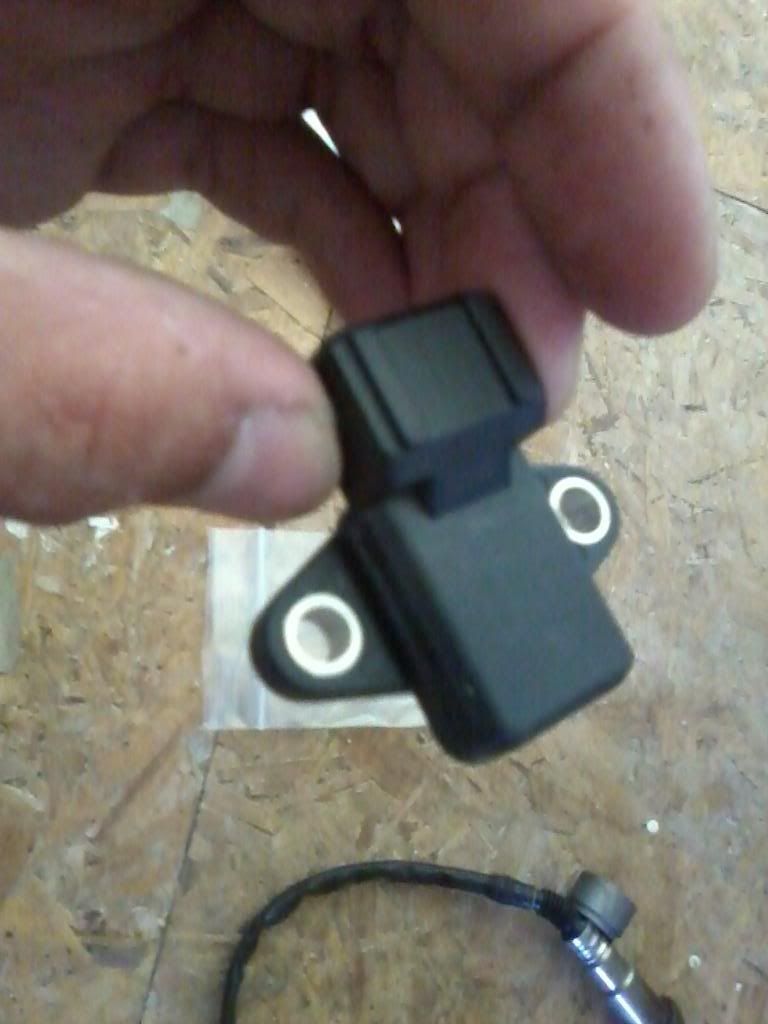 AEM UEGO Wideband gauge w/ Bosch LSU 4.2 sensor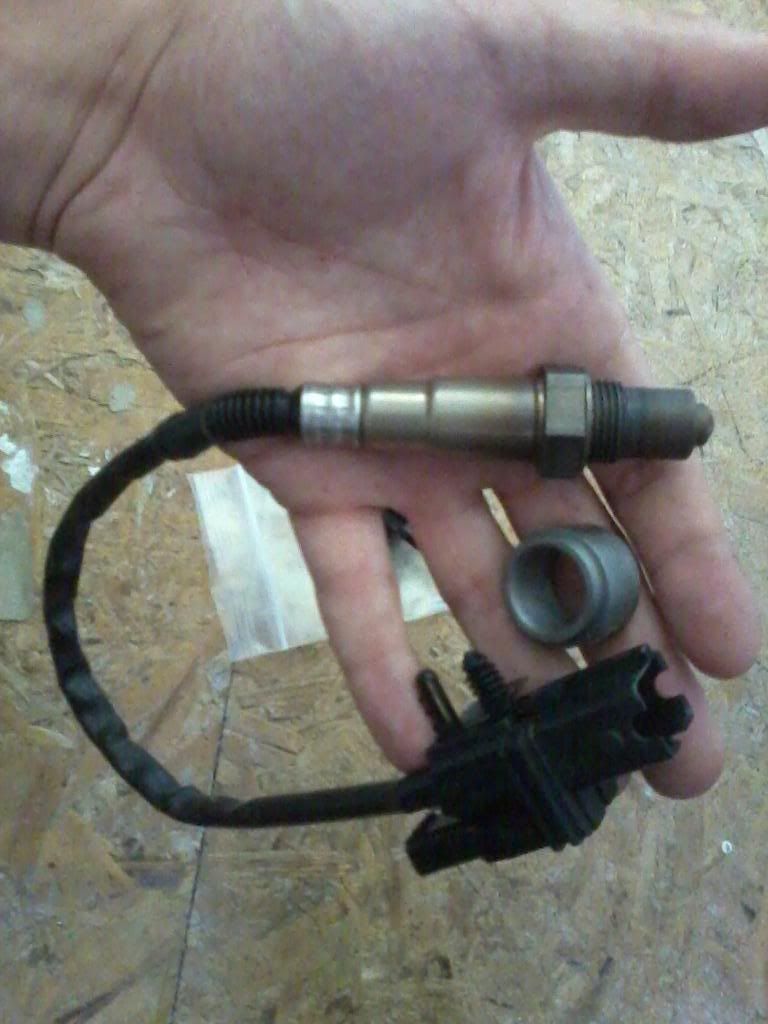 1g DSM recirculating BOV w/ pipe and flanged for OEM and GReddy.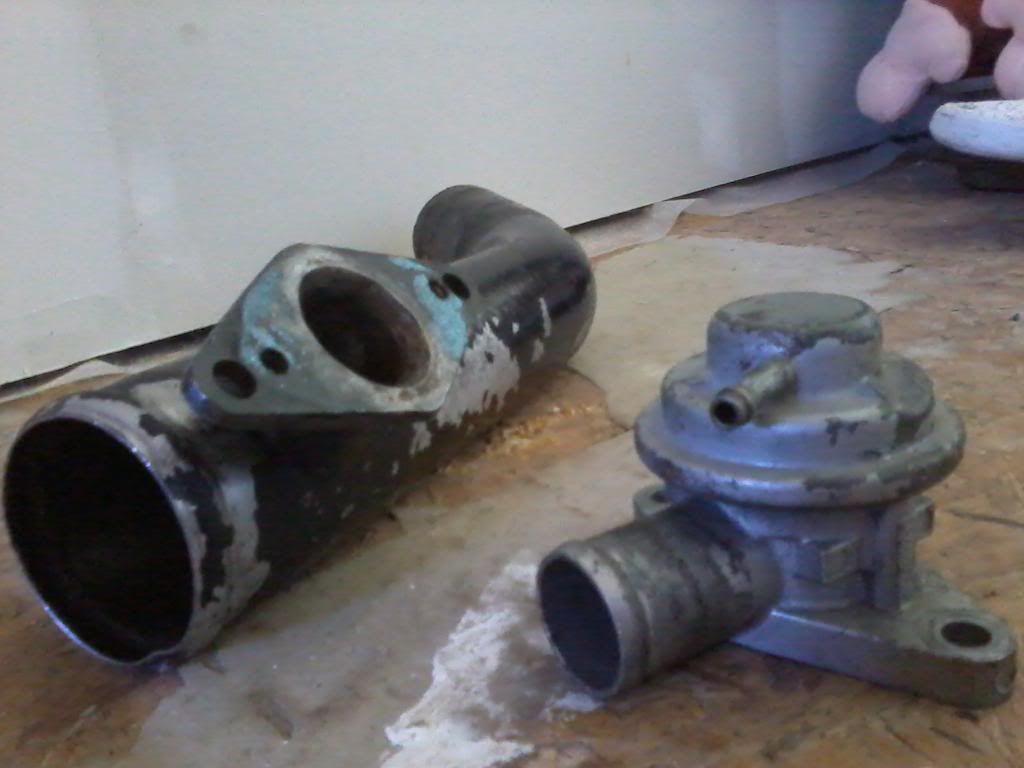 DSM Sidemount Intercooler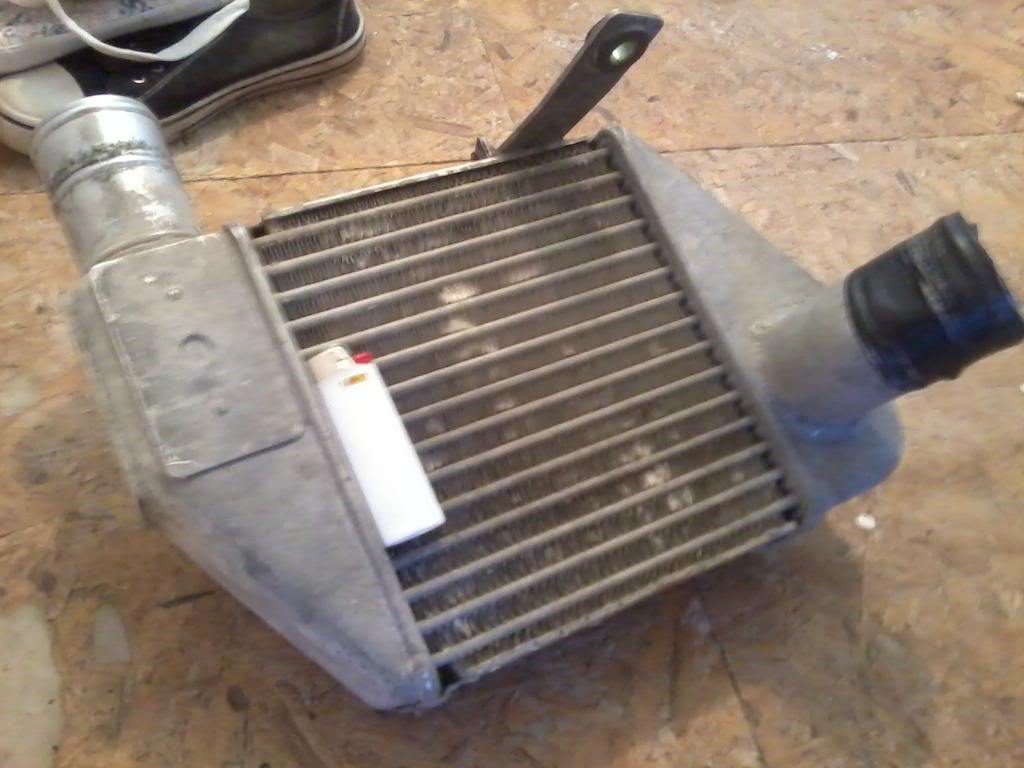 ---
Last edited by CrAnSwIcK; Aug 3, 2011 at

10:48 AM

.
Aug 3, 2011, 09:02 PM
Evolved Member
Join Date: May 2011
Location: Cynthiana, KY
Posts: 1,796
Sweet! Nice stuff so far Cranswick! I'll definitely be following this one! Best of luck!
Aug 3, 2011, 11:11 PM
Evolved Member
Thank you, i'm going to need it. I have made a couple decisions based on some pondering i did today. To maintain my goal of doing this as cost effective as possible i have decided to go forward with the sidemount intercooler, and also i have mapped out the plumbing in order to run the sidemount intercooler in conjunction with the stock air box to minimize cost and fabrication. and after a good bit of guesstimating, i have come to the conclusion that the O2 housing should fit, cuase it sorta heads the wrong way, as on the old 4G63T the turbo faces the other way.
anyways, for those of you that haven't seen my shopping list, here it is:
What i have:
14b turbo - 50$
14b J-pipe - f ree
WasteGate Actuator - $80
TD05 turbo rebuild kit - 50$
TD05 O2 housing - free (might fit)
Custom manifold - 110$ in steel, shipping included (fabricating it myself)
2004 Subaru WRX 440cc injectors - 60$
2004 WRX Fuel pump - free with injectors
AEM UEGO wideband w/ sensor - 80$
1g DSM Blow-off valve - 30$
1g DSM Sidemount intercooler - free
Misc. Intercooler piping and silicone couplers - 20$ (still need a few pieces)
Oil Feed fitting/Line - 20$/free
Oil Return - Free
Water feed lines w/ banjo fittings - free
ECU Reflash/Tune - 500$
ACT stage 1 Clutch - 150$ shipped (great deal, don't count on it)
3 BAR MAP sensor - 110$
What i still need:
All gaskets and hardware - could be another 50$ or more
downpipe flange, and turbo flange
Downpipe - whatever the steel will cost, and again fabricating it myself
Rest of I/C piping
Another Tune - Whatever Hackish wants for the job
---
Last edited by CrAnSwIcK; Aug 3, 2011 at

11:13 PM

.
Aug 12, 2011, 09:19 AM
Evolved Member
little teaser update, just got the word i'll be in the shop bright and early tomorrow morning getting started on the fabrication of the turbo manifold. Media blast, cutting/fitting, and hopefully some welding.

Pics will be soon to follow, and i will be resurrecting my old DIY Log Manifold thread.
Aug 13, 2011, 04:45 PM
Evolved Member
Aug 15, 2011, 05:32 PM
Evolving Member
Join Date: Jul 2010
Location: Pursuance Motor Works - Calgary, Alberta
Posts: 326
Aug 15, 2011, 07:38 PM
Evolved Member
Ordered a couple goodies today.

I got a 3 pod A-pillar gauge mount, oil pressure gauge, 30psi boost/vacuum gauge

Also i purchase a random universal aluminum intercooler pipe kit from ebay.

I'll have pics when they show up.


Manifold Update:

Turbo flange is being water jet cut this week, hopefully by this weekend i'll be able to finish the manifold, and test fit the turbo.