Rear camber kit - Megan Racing
Jun 6, 2018, 11:22 AM
Newbie
Join Date: Jan 2016
Location: Ottawa
Posts: 3
Thanks: 0
Thanked 0 Times in 0 Posts
Rear camber kit - Megan Racing
---
Looked everywhere in forums and did not find the answer I was looking for.
I need a list of quality camber kits/companies available for the 2004-2006 ralliart. My 2005 ralliart 2.4L with Tein street basis coilovers is running -1.8 rear camber and chomping through tires. The front is fine because the ride height is much higher to prevent rubbing. The technician doing my alignment said the adjustment is maxed out / camber can't be any closer to spec unless I get a camber kit.
I have did my research and found that there are no rear camber bolts for the ralliart. This leaves the only solution to be adjustable rear upper control arms. Megan Racing makes some, but I've read reviews and heard they don't last (Image below). SPC makes some but only for lancers 08+.
Does anyone have suggestions for other companies that manufacture rear camber kits other than Megan? Also, if you have the Megan kit, please review them here.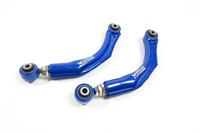 Thread
Thread Starter
Forum
Replies
Last Post
For Sale - Wheels / Tires / Suspension / Brakes
For Sale - Suspension / Brakes / Handling
For Sale/WTB - Engine / Drivetrain / Power
For Sale/WTB - Engine / Drivetrain / Power
For Sale - Suspension / Brakes / Handling