Dedicated N/A ROM tuning thread
Sep 25, 2017, 05:26 PM
Dedicated N/A ROM tuning thread
---
Hi All,
This thread is dedicated to ROM tuning only....i.e. no talk of turbos, cat backs, SRIs, pod filters, lightened pulleys, piggybacks, throttle controllers etc. Any mention of such things will get you banned from this thread.
I invite all who are actively tuning their N/A Lancers to participate - together we may be able to help each other
A bit about me....
I am an old rev-head going way back. I started in the days of carburetors, playing with Holleys and Webbers and single (not even overhead) cams.
My first foray into ROM tuning started with an X-Trail with QR25DE engine. At the time, these were "untuneable" so I did it the hard way and soldered a bunch of wires to the cpu to enable reading and writing to it at a very fundamental level. (I am an Electronics Eng)
The outcome was very good - getting around 150kW out of the almost stock motor.
Now I have a 2013 VRX Lancer (same as GTS) with a 4B12 engine. This was chosen specifically because I could edit the ROM. What is new and interesting is the inclusion of exhaust cam timing to the tuning mix. The laws that have always governed how an engine performs, still apply luckily! So I apply old-school knowledge to come up with a decent tune and everything works like a charm.
I use
WinOLS
(demo version) to do all map editing as it has a far superior GUI for visualizing maps. I then use
HxD
Hexeditor to transfer changed values back into the ROM. Finally, I use
EcuFlash
mainly just to read and write the ECU via a Tactrix Openport 2.0 cable. Almost forgot.... an old but nice little program called
Analyze.exe
that displays a binary file with color coding depending on values - great for spotting maps.
About our 4B1x engines.....
The
4B10
and
4B11
engines have very limited scope for getting good horsepower figures simply because the intake cam is missing around 20 degrees of duration and the mivec advance is a little inadequate at 25 degrees max. If you want a decent tune - put a 4B12 intake cam and sprocket in it. An EVO cam
is not as good
an option for these engines unless you are tuning for non-street use. The stock exhaust cam is fine.
4B10 and 4B11 engines are good for 7200rpm due to the shorter stroke crank and lack of a balancer shaft cartridge.
The
4B12
has a load of potential in its stock form - no need to change any parts. Remember this engine has a very long stroke (and poor rod length to stroke ratio) plus a balancer shaft cartridge so it is foolish to increase rev limits unless you want to see what the conrods look like and are too lazy to dismantle the engine to find out.

General notes:

You can copy changed tuning areas from one ROM to another but do not assume the addresses will be the same - there are differences even in what seems to be near-identical cars.
All 16 bit binary values are stored in Big-Endian format a.k.a Motorola a.k.a Hi-Lo a.k.a MSB first.
When viewing any map data, understand that the ECU interpolates a cells value based on surrounding cells values. Maps may appear very jagged or lumpy but in execution are not.
Finding what you want in a ROM is like finding a needle in a haystack. Here is a hint that will reduce the size of the haystack 10 fold: Most maps and axis are found at addresses between 50000 and 60000
All analog sensor inputs are converted to 16 bit values. To top it all off, excessive richness will take care of any remaining hope of producing decent power when you put the pedal to the metal.
Mitsubishi intentionally limits performance at high loads and at both low and high rev ranges by heavily reducing ignition advance in combination with manipulating cam timing to lower compression and recirculate exhaust gas instead of sucking in fresh air.
ROMs include multiple maps for different model cars with different transmissions. All because you find a map, doesn't mean it is used.
A trap for young players.....sometimes the best tune can feel slower because power delivery is consistent over a wide rpm range. A peaky power delivery can be perceived as being a better tune because you go from a dead spot to suddenly producing power quickly. Be wary of your butt dyno!
---
Last edited by jajk; Feb 1, 2018 at

09:57 PM

. Reason: Updated 02/02/18
The following 2 users liked this post by jajk:
Sep 25, 2017, 05:27 PM
Mivec tuning:
My Observations:
Any additional overlap at or near idle is unnecessary and will screw up idle stability (leave at least the first 3x3 map values alone)
Cam timing affects dynamic compression ratio therefore will affect allowable ignition advance before knocking. More overlap = lower compression = more ign advance possible.....conversely more overlap can also mean more power generated = higher combustion pressures = more chance of knock. Too much intake advance at too lighter loads can be the cause of knock at light loads. To complicate matters...a cleaner air/fuel mix (less exhaust gas contamination) is more prone to knock. Exhaust gas addition slows down combustion much like increasing fuel octane.
When both intake and exhaust valves are open at the same time, exhaust will re-enter the combustion chamber by design in some cases or simply by bad tuning in others. Stock tuning intentionally creates a situation under light loads whereby the exhaust cam is at max retard to reduce the compression ratio and allow exhaust gas to re-enter. This is done for both emissions reduction (EGR via cam timing) and for better fuel economy (reduction in pumping losses through lowered compression). This is largely beneficial and should be preserved to some degree in street driven cars.
Exhaust retard should be reduced towards higher loads as exhaust back-pressure increases causing the mode of operation to change from exhaust scavenging to EGR.
Exhaust retard should progressively reduce toward higher rpms.
Intake advance beyond 30 degrees does not increase power - it lowers compression and creates an EGR situation.
Intake advance vs rpm at high loads should follow a typical curve for our engine geometry which is typical of any modern jap DOHC. See pic below. The intake cam timing should be optimized in it's own right with exhaust cam timing used as a supplement to it. Why? Because the intake system has tuned runners - the exhaust system not so much unless you have 4into1 full tuned length exhaust primaries, no cat and no restrictive muffler.
Stock tuning intentionally limits the maximum power at low rpms to not put excessive stresses on the engine. A performance tune should also not increase the maximum available power at lower rpms (below 2500rpm) to the point that the engine clearly labors. (all because you can doesn't mean you should)
4B11 exhaust is already 3 degrees more retarded and the intake is 3 degrees more advanced than 4B12 cams. You cannot tune to shift the cams further than the timing chain and mivec sprockets physically permit. Check post #7 for cam comparisons and note the significant differences in cam centerlines. As a rough guide, for all 4Bxx engines, the cam timings should extrapolate to around 3~6 degrees advanced (intake) and retarded (exhaust) by 7200rpm.
Keeping the transitions in Mivec maps smooth and progressive helps prevent drastic overshoots that can momentarily adversely affect the state of tune. The mivec system cannot instantaneously react to change just because the map is telling it to. As a pump, the engines cam timing requirements do not have any sudden shifts. This may seem hard to believe if staring at the stock tune maps and asking yourself Why???
Before and after tuning example (4B12).

Tuning regions:
The following pic shows the maps broken down into 5 load regions.
Deceleration - no added advance/retard is needed or appropriate
Idle / Neutral - provides an area of smooth progression between regions.
Constant speed (cruising) - tuned for economy/smooth running with just enough intake advance to be responsive but no more. Exhaust is over-retarded to decompress slightly.
Light acceleration - progressively more intake advance and bring exhaust out of over-retard into a more power tuned configuration
Heavy acceleration - intake and exhaust in optimal tuned configuration
The beauty of Mivec (VVT), is that you do not have to sacrifice a smooth and economical drive for the sake of performance - the car should transition seamlessly from a mild mannered shopping wagon to absolute beast as commanded by the happy pedal (accelerator). The stock tune is a glaring example of this process gone horribly wrong with transitions between being totally uninspiring to brief glimpses of performance and back to disappointment spread liberally throughout the tuning range - did anyone at Mitsubishi actually drive this car when tuning it?
---
Last edited by jajk; Feb 1, 2018 at

10:06 PM

. Reason: updated maps
The following 3 users liked this post by jajk:
Sep 25, 2017, 05:28 PM
Throttle maps
---
Throttle Control:

The drive-by-wire throttle
comes under the control of a myriad of software functions to ensure absolute safety under any circumstance plus provide traction and stability control functions.
The 2 main sensors to control throttle movement are:
Accelerator Pedal Position Sensor
(APP
)
This sensor has a range of 0-255, with user input range of 50-231. Values 49 and below are used for idle/off pedal situations.
Throttle Position Sensor (TPS)
This sensor has a range of 0-255, with a user input range of 20-214. This value is scaled using simple ratios from the user input range of 20-214 to 0-100%. Values under 20/9.8% are for idle/off pedal situations.

Throttle Map #1
The throttle map uses the raw value of APP and the RPM of the engine to determine maximum allowed ThrottleOpening%.


The regions marked as unusable are due to the limited possible values of the APP sensor.

Throttle Closure:
The stock tuning prevents the throttle from closing immediately - Party for driveability reasons and partly to reduce emissions. There are many mechanisms that prevent the throttle from closing but the main ones are 2 maps and associated controls that determine the throttle closure depending on whether the engine has gone into fuel-cut mode or not. This is where you can have the most impact on the cursed "throttle hang".



References to "dashpot" are a throwback to the old-school carby days where an oil-filled reservoir and plunger were used to slow throttle closure. This was later achieved by a solenoid and now by the magic of programming.


Considerations:
Leave the first 3x3 cells alone - changing these will mess up idle stability.
Too much closed throttle engine braking will reduce fuel economy and make gear shifting less smooth. A balance between rev hang, engine braking, rev matching for gear shifts and economy needs to be found.
The output of both APP and TPS are linear over the range of movement. The throttle map is obviously not linear. Why? Because the amount of airflow vs throttle opening % is not linear. A general curve needs to be maintained for a linear airflow response.
The throttle opening vs rpm is not linear. A flattened map across the rev range axis will give the car a horrible lethargic feel. The map is sculpted to give a good responsive feel while not being overwilling to rev at the slightest pedal touch and so that constant speeds can be maintained with relative ease without creeping up or down.
DTCs can be triggered by increased airflow compared to what the ECU expects. The legitimate reasons for increased airflow can be air intake modification, larger throttle plate and mivec tuning. While the DTCs can be disabled, the better way is to raise the ECUs expectations of what normal is.
and do the same again for torque monitoring....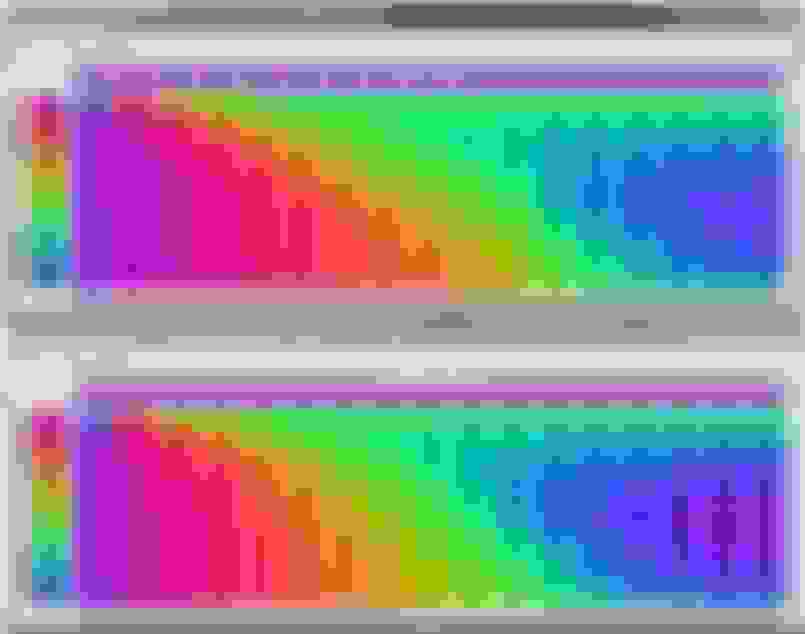 The above modded maps are sufficient to eliminate DTCs for a 60mm over-bored throttlebody, RA duct and full Mivec tuning.

O.K, now we get to some finer detail....
To make the car easier to drive for when you lend it to your Grandma, Mitsubishi have kindly made the throttle response nice and sluggish at small openings. This is done in completely separate maps that proportion a multiplying factor (gain) to the accelerator pedal signal. Don't get too happy adjusting these as your foot may not be as steady as you think it is and by now you should be getting nervous about the rush of power to come

There are 2 x 2D maps and 2 x 3D maps that are made up of the same values. The 3D maps will change throttle behavior by themselves but it is probably wise to keep the 2D maps synced with the same values since we are not exactly sure why they exist.


2D maps
3D maps
---
Last edited by jajk; Feb 4, 2018 at

02:18 PM

. Reason: Updated 05/02/18
The following 3 users liked this post by jajk:
Sep 25, 2017, 09:50 PM
AFR Maps and Ignition Timing
---
The ROM has 2 main AFR maps, both have duplicates: 1 pair is the normal operating temperature map and the other, for the warmup period. These are not Hi Octane / Lo Octane maps as is often defined.
The software interpolated between the 2 maps as engine coolant temperature increases.
Considerations:
Stock AFR maps err on the side of heavy over-richening in response to load. This impacts on available power.
Maximum power is achieved at 12.5:1 AFR while maximum torque can be achieved as low as 11.8:1 AFR (providing that ignition advance is also optimized for this). There is no reason to richen beyond 11.8:1 in a normally aspirated motor except to add a safety margin.
Running over-rich reduces combustion temperatures and the chance of knocking hence reduces the risk of valve, piston, conrod and bearing failure.
Running way to rich washes oil from the bore and causes wear, contaminates engine oil, contaminates O2 sensors and increases the possibility of pistons seizing.
Treat represented AFR numbers as a very crude approximation only - unless you have a wideband O2 sensor to verify results, do not lean out too far without knowing what the actual AFR is.
Comparison of stock and tuned AFR maps.
Knock detection will progressively add richness to the map values to combat knocking. This richening is not limited by the values in the "cold" map.

There are 2 main options to calibrate the AFR map to better represent reality:
Edit the cylinder fuel trim maps to add a correction factor on a cylinder by cylinder basis or overall.
Edit the Fuel Calibration map for overall correction.



Ignition Timing:
There are 2 main Ignition timing maps - one for low knock detection and one for high knock detection. The software interpolates between the 2 maps to establish a point at which knock detection is at an acceptable level.
There are a further 2 maps for "ecomode" or "cruising mode". The ecu quickly interpolates between the main and ecomode maps as it detects a change in driving conditions.

Mitsubishi severely retards the ignition to reduce available power in low and high rev ranges.
Ignition timing tuning depends on the octane rating of the fuel you always use. Stock tuning depends on the market for which your vehicle was manufactured.
Australia delivered vehicles are tuned the same as Asian market vehicles - 91 octane is specified but allowances are made for anything down to 87 octane low quality fuel found in many Asian countries.
This means there is scope for adding more advance provide good quality fuel is always used.
If you increase the dynamic compression ratio by altering mivec timings, ignition advance will have to be reduced.
If you lean out the AFR, ignition timing will have to be reduced.

Stock ign timing maps


If you plot which cells are being used if you do a W.O.T run, you will find that they follow a fairly typical arc through maps. Below is a fictitious example of how it looks. This applies to all maps with an rpm vs load scale. You will see that some areas never get used (such as 100% load at 500rpm) and values in such areas are often ridiculous values to prevent the engine generating any power at all. Look back at the stock mivec intake map to see the 4 cells at maximum load and maximum rpm - this is an example of intentional performance killing.

Example of tracking through a map
---
Last edited by jajk; Feb 1, 2018 at

10:58 PM

. Reason: updated maps
Sep 26, 2017, 03:51 PM
Tuning 4B11 Stock
---
Hey there,
the rally team I am races with Lancer ES 4B11 stock. I see you recommend changing the cam, but regulations forbid it. Do you think its worth tuning these stock?
Sep 27, 2017, 01:58 AM
Greetings Franco Saval,
It is definitely worth tuning even with a stock intake cam - just need to accept that the engine will not reach its full potential due to the lack of duration. I have tried tuning a 4B11 before and got caught up with the compromised intake cam timing that has no happy outcome - you can get it to open at the right time by advancing the sprocket 1/2 tooth but then the closing ends up too early
Instead of getting something in the order of 140kW, expect a more modest gain to around 127kW. Are you allowed to put a wideband O2 sensor on it?
For general interest, here are the cam specs for the 4B1x engines...
Stock cam specs

Let's have a closer look at what the differences are....
If we take the typical tune for all-out performance, the peak of overlap will occur around 3300rpm and the ideal cam timings are close to this:
4B12
Peak overlap @ 3300rpm
32 intake advance @100% load
16 exhaust retard @ 100% load
IO 32 BTDC
IC 32 ABDC
EO 28 BBDC
EC 16 ABDC
Overlap 48 degrees
4B11
Peak overlap @ 3300rpm
28 intake advance @100% load
16 exhaust retard @ 100% load
IO 28 BTDC
***
a few degrees shy of optimal limited by restricted mivec sprocket movement range of 25 degrees
IC 20 ABDC
***
around 10 degrees shy. This is where a lack of duration impacts performance most
EO 28 BBDC
EC 16 ABDC
Overlap 44 degrees
4B11T (on NA motor)
Peak overlap @ 3300rpm
32 intake advance @100% load
16 exhaust retard @ 100% load
IO 32 BTDC
IC 40 ABDC
***
wasteful timing. O.K for turbo but a little too much for NA
EO 28 BBDC
EC 16 ABDC
Overlap 48 degrees
So we see the 4B11 intake cam and intake sprocket conspire to limit performance and that the extra duration on the Evo intake cam is somewhat pointless for our NA engines. A 4B12 intake cam
and
sprocket is the best (and cheapest) option for all NA 4Bxx engines.
And before you ask.... the static cam timing (no advance or retard) is determined by the origin of the mivec sprockets used, not the origin of the camshaft itself.
So now we can see what happens when mixing and matching sprockets:
4B11T cams with 4B11 sprockets
Peak overlap @ 3300rpm
28 intake advance @100% load
16 exhaust retard @ 100% load
IO 28 BTDC
***
still a few degrees shy of optimal due to restricted mivec sprocket range
IC 44 ABDC
***
even more wasteful tuning
EO 28 BBDC
EC 16 ABDC
Overlap 44 degrees
A huge disadvantage is what happens when intake advance is reduced at max rpm - the valve can close as late as 69 degrees ABDC. Too much duration for a VVT cam!!!
4B11T cams with 4B12 sprockets
Peak overlap @ 3300rpm
32 intake advance @100% load
16 exhaust retard @ 100% load
IO 32 BTDC
***
no problems here - can go up to 35 degrees
IC 40 ABDC *** same wasteful tuning as with Evo sprockets
EO 28 BBDC
EC 16 ABDC
Overlap 44 degrees
So the 4B12 sprockets fix the intake opening point but we still have a problem at max rpm where the closing point will be anything up to 72 degrees ABDC i.e. the piston is well on its way back up the bore.
I suspect that our intake manifold hits its peak tuning at roughly 4125rpm being a fairly long runner design. This can be seen as a hump in airflow at these rpms. Another airflow peak occurs after 5000rpm which I am guessing is where the stock 4into1 short header is starting to behave like a tuned system. Since we do not have a dual runner intake with shorter runners for the higher rpms, volumetric efficiency at higher rpms suffers. This is not a function of cam lift or duration, port size, throttlebody and MAF size - it is the limitation of the single tuned lengths of the intake manifold.
Edit:
The mivec sprockets have 54 teeth which gives a change of 13.3333 crankshaft degrees per tooth. Shifting the timing by this much is generally too far for any cam - a half tooth is far more likely to get a usable tuning outcome. This can be achieved by re-drilling the locator hole in the mivec sprocket (~180 degrees away from the original) and remarking the alignment mark to suit. If you really must install an EVO cam into a NA on non-evo sprockets, I would think about setting the intake cam a half-tooth advanced from stock to get a closer to the +10 degree opening static timing that these cams are designed for. Remember: All cams have the locator dowel at 0 degrees, it is the sprockets that determine the static timing: 0 degrees for 4B12 and 3 degrees for 4B10/11 sprockets.
Example: An EVO intake cam on a 4B11 sprocket set half a tooth advanced would give roughly +10 degrees static advance whereas it would be +7 degrees on a 4B12 sprocket.
Example: 4B11 or 4B12 intake cam on 4B11 sprocket. To get more than stock 3-28 degrees range, re-drill sprocket for roughly a third of a tooth advance to get 7-32 degree range.
---
Last edited by jajk; Mar 6, 2018 at

04:02 PM

. Reason: Always updating
Oct 7, 2017, 08:56 PM
Temperature related tweaks
---
To add a bit of finesse to your tuning, you may want to address a few annoyances (at least for me anyway).
Idle speed vs temperature is too high and for too long during warmup. Thanks to greder for pointing to this function and location
WinOLS graphs showing adjustments (purple trace is modified values).


Over-enrichenment during warmup - watch your instantaneous fuel economy during the warmup period...
Note the reduction at 77 degrees.
Modify throttle closure (engine braking) on overrun fuel cut...
I prefer to use gearbox before brakes when going down hills.
---
Last edited by jajk; Oct 28, 2017 at

05:58 PM

.
Oct 8, 2017, 03:35 AM
Intake mods
---
One mod that is not exactly ROM tuning but worthy of mention here is the replacement of the stock plastic air duct with the larger Ralliart version. Mitsi part #1505A265 The stock piece has a narrow section that will restrict maximum airflow. A good rule of thumb is that the cross-sectional area of everything upstream from the MAF (being the last restrictive element) should be 1.5 x MAF area. Replacing this part has no effect on ROM tuning as it does not affect the path of airflow going into the MAF unlike other solutions that alter the nature of airflow through the MAF.
Note the miserable size of the cutout in front of the duct - this needs to be enlarged to allow more cold air from in front of the car. Putting a shaped deflector in this cutout may not be a good idea as it may direct too much water and bugs directly into the airbox - image a car in front running through a large puddle and tossing a wall of water into your front grill? There are better ways to do water injection
Ralliart air duct not yet on my car so this pic will suffice.

Edit: Here it is on my car with the cutout done.


Note the 2 bits of rubber tube that help direct cold airflow from the opening. Bits of foam may do a better job.
---
Last edited by jajk; Feb 3, 2018 at

09:03 PM

. Reason: updated 04/02/18
Oct 9, 2017, 08:34 PM
More on Mivec
---
A bit more on Mivec...
The maps posted earlier do not make it overly clear how much difference there is from stock to tuned so I will post the 3D Maps to highlight the difference. (These are taken from WinOLS software before you ask)
Stock Exhaust
Tuned Exhaust
Stock Intake
Tuned Intake
What is not seen in the stock plots is the area influenced by the EGR valve opening (these are from a 4B12). This is
part
of the reason for the otherwise inexplicable holes in the stock maps. EGR valve is prevented from opening along with its corresponding ignition advance to gain the most out of a tuned ROM.
And something that shouldn't need saying......nothing at all from EvoX Mivec tuning is valid for our NA Lancer.
The observant will see the strange "step" on the intake 30-40% load lines. This is where the vehicle spends most of its time when driving at a constant speed. If this area has too much slope, the cam will advance and retard significantly when then aircon cuts in and out or in response to very small driving condition changes. The end-result is a poor driving experience due to mini surges in power that have to be constantly corrected by the accelerator pedal. Flattening off this region reduces the amount of cam movement and hence, less change to power delivery making the drive easier to control.
---
Last edited by jajk; Feb 7, 2018 at

08:34 PM

. Reason: updated 08/02/18
Nov 13, 2017, 05:18 PM
truly amazing numbers
Sorry for my late reply, rallying wet postponed because of the earthquake and then La Carreara Panamericana happened. Just back from the last race, I got green light to tune 1 2.0 and if results show, put the whole fleet under the same treatment. Will reach out to you via pm.
Jan 21, 2018, 04:00 AM
Thank you very much
Finally i found the very useful content in this community.
Your give me the great information and analysis results.

I have the disable code for rear O2 use it once you remove CAT.
---
Last edited by Wanchai Panpron; Jan 21, 2018 at

05:49 AM

.