R/C car junkies?
Feb 20, 2015, 12:50 AM
EvoM Guru
R/C car junkies?
---
I always liked them when I was a kid. I had the assortment of Toys-R-Us stuff and at one point, a Tamiya offroad car. I started watching basher videos about four months ago when I got annoyed with having my Evo parked due to rainy weather, and within an hour, I was hooked again.
I was sure that I was going to buy an E-Revo to bash because they were all over youtube, but when I started really considering cost, I had a hard time with the E-Revo price tag. So the search began, and as luck would have it, the recently released Kraton was starting to show up on the web with great reviews. I was very impressed with the landings it could survive while at the same time having much better handling than the E-Revo. And it was a sweet looking car to boot.
After about two weeks of research, I was able to score a Kraton, two 40C 4S lipos, a 400W charger, and a 540W power supply all for less than the price of an E-Revo with a single NiMH battery and no charger. I was stoked. I went with 4S because by all accounts, the Kraton rips with them, and I was worried that I'd destroy it on 6S.
So I knew it was going to be big, but the size still blew me away. It arrived while I was out of town. My 7 year old daughter dragged the package in the house, opened it, and then called to ask if she could ride my new toy car. Anyhow, its friggin' huge and probably weighs 20 lbs with a battery in it.
So far, its been everything I was hoping. It handles great, it hauls ***, can survive newbie f'ed up landings, it hasn't broke yet, its super easy to mod and maintain, and its embarrasingly fun. So far, I've upgraded to better wheel bearings, stiffer shock springs, and heavier weight shock and diff fluid. No plans for anything else except replacing stuff that breaks or wears out.
Feb 21, 2015, 07:30 AM
Evolved Member
Join Date: Oct 2012
Location: NJ
Posts: 720
Thanks: 0
Looks awesome Mychalo!
I have a gas powered Revo in parts in sorage. It was awesome until I put an aftermarket motor in it then the tranny blew up. Bigger motor would make it wheel stand at 30mph. But that lasted for 2 tanks of gas before the plastic gears were shredded.....LOL
I have to get that Robinson Racing steel gear set and put it back together.
I had some electrics when I was a kid....RC-10L, RC-10, and a few others.
But I did have some other fun RC toys a couple of years ago, sold them when I bought the Evo.....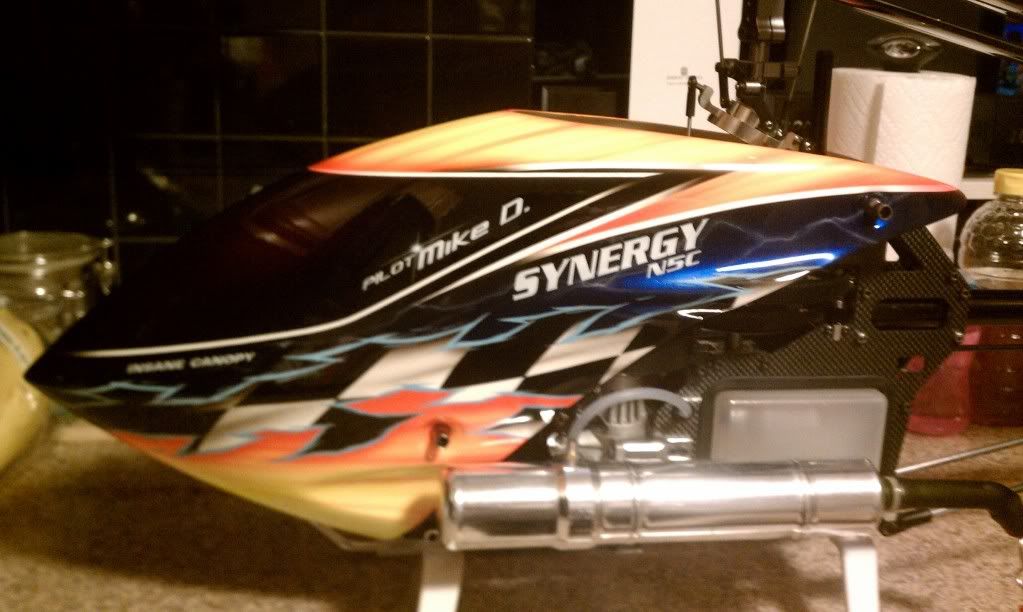 Feb 25, 2015, 12:08 PM
Evolving Member
I have a Slash 4x4, a boat that I got for free that needs electronics, and a pair of old HPI RS4s; a Sport and a Pro 2, both of which need parts thrown at them. The Pro 2 runs but is currently RWD, needs the whole belt drive updated and all electronics updated to 2.4GHz and Lipo compatibility. I was going to get the Pro 2 running over the off season but never got around to it.
Apr 28, 2015, 10:15 AM
Evolving Member
Join Date: May 2007
Location: Washington
Posts: 251
Thanks: 0
Thanked 0 Times in 0 Posts
I used to competitively race both off road and on road style cars. I even travels around the region to race. I would spend $1000s a year on racing until i got a house. Now with a garage i have transitioned to real cars, but not that i look back, as much money as i spent on RC, it was still alot cheaper then this evo and i had just as much fun.

On my self i have
Losi XXX-T
Xray T2
Xray T2 007
Xray 2012 which i bought for the 2012 season, built it and then quit. It never saw the track
Associated 10th scale pan car for GT racing
Associated L4 for 12th scale

I had many many more over year but i sold most of them to pay for the newest models. The gearing up for the 2012 season probably put me out $1000 which i never used and its all still on my self, obsolete, and nearly worthless now.
---
Last edited by fjm9898; Apr 28, 2015 at

10:18 AM

.
Apr 30, 2015, 11:41 AM
Evolving Member
My Pro 2 runs now... SW3 setup, picked up a Futaba 4PL that is running this, and I need to get another receiver to roll the Slash over as well.
Not my wheels on it... I've got a 2G DSM body for it that needs paint and drift wheels/tires to assemble but it's good to go otherwise. It's fast as hell on rubber, and it may have left some on the garage floor.
Apr 30, 2015, 10:34 PM
EvoM Guru
still having fun with my kraton. catching big air is exciting but eventually takes a toll and have found that the car is not indestructible. i'm really enjoying the handling and have reasonably good control of power oversteer now. its a hoot pitching it into a corner and coming out in controlled powerslide. i may have to start racing.
May 6, 2015, 04:34 PM
Evolved Member
Join Date: Oct 2013
Location: Las Vegas
Posts: 11,308
I had a team associated sc10 4x4 with a tekin 550 sized brushless motor setup and lipo batteries. All the billet and light weight carbon race parts. It was fun, but only being able to drive it for about 10 minutes at a time to keep the motor temps in check got old. Barely managed to sell it for about 20% of what I had into it. Never again with RC cars..
May 12, 2015, 01:02 PM
Evolved Member
I was in to them as a teenager, but kind of lost interest after something broke almost every time I used the damn thing...

I have some HPI buggy sitting in my garage.
May 19, 2015, 05:13 PM
Evolved Member
Join Date: Oct 2013
Location: Las Vegas
Posts: 11,308
Its a symptom of the heavy AWD sc trucks running 3s lipo. It ran fine around my house, or at the skate park, but that gets boring, and brakes parts. It would run hot at the track, regardless of gearing. Going to the track was a lot of fun, but 8-10 minute intervals wasn't..
Jun 4, 2015, 07:48 AM
Evolved Member
I have a couple traxxas trucks. I know they are the like the greddy of rc cars but I really like being able to pick up new parts when I break and axle, control arm, bend a shock, or just about anything else.
My first was a used stampede 4x4 vxl (brushless). Basically a shorter slash. It has a bunch of mods but I litteraly drive it like I hate it. It's so light that it takes crashes real well, skate park is probably the best place I've run it. Would love to play on a track but don't know of any close.
Second I really wanted a wheeler but not s traditional solid axle truck. All the scale wheelers for competition are painfully slow at anything else so I listed after the traxxas summit. It's big, heavy, and will climb anything! Remote lockable diffs and remote high speed/low speed trans. About half as fast as the pede but tons of fun trying to find ways to get it stuck.
Nov 11, 2015, 12:53 PM
Evolved Member
Join Date: Apr 2008
Location: San Diego, CA
Posts: 2,063
Sweet rides guys! I have been into the RC hobby for a while now as well.
Here is my collection:
In the back we have:
1. HPI Nitro Trophy buggy: A blast to drive, rain or shine.
2. Team Associated RC10GT with a O.S. .18Tz engine swap that got broken in wrong because of a damn air leak in the fuel line. Still halls *** nonetheless, but deep inside I know it runs like crap.
3. A Shumacher Nitro Fusion .28 conversion 3 speed. Used to hit 80+ Mph, now I have made it too heavy and I'll be lucky to get 65mph out of it.
In the front is the newest model:
4. 3racing Sakura Ultimate graphite rc chassis with a Castle Mamba Max Pro 5600kv brushless motor and ESC. I run this bad boy on 3s and hit 90+MPH all day long.
Downside? It blows up tires faster than they can actually wear out....a lot of wasted rubber.
-pal215
Feb 21, 2016, 11:43 PM
Another reason why the Evo X should have come in a Sportback version:
That was the aftermath of this:
My other RC car (which is almost ready for 110+ mph test passes):
The latest addition to the collection: