[FS] Bay Area 06 Evo 9 MR GG Stock 45k miles 2nd Owner
Apr 15, 2018, 02:05 PM
Newbie
Bay Area 06 Evo 9 MR GG Stock 45k miles 2nd Owner Price Reduced
---
2006 Evo IX MR Graphite Grey
It's fully stock, never been modified, not "bring back to stock"
Current Millage: 449XX
Clean CA Title, Registration paid until 2019 Mar
$30000, Please contact me at 315-572-1590 (Text Plz), car locates in Bay Area
-------------------------------------------------------------------------------------------
I bought the car from the original owner at San Jose in Nov, 2017 at 40k miles
He bought the car brand new in 2006 from Steven Creek Mitsubishi
Both him and I keep the car in garage
Every document that come with the new car is still available, including owner's manual, DMV envelope, window sticker, airbag warning label, dealer key tags, etc
Mobil 1 + OEM filter + Chevron premium for its entire life
Ever since I bought the car:
4 new brake pads and rotors (Power Stop)
4 new tires (Indy 500)
New trans fluid (OEM)
Couple oil changes
New air intake filter
New belt (NOT the timing belt)
1 auto cross ----- Reason for sell is I wanna go to track, and I really don't want to track an Evo that is this clean, I have to worry too much if I track it
Please feel free to text me, open to all reasonable offers.
I paid 33.4k to the original owner, I was not planning on getting benefit, but I just need the car gone now sadly.
So if you are a series buyer, feel free to make me an offer. $30000 obo. Low baller will be ignored.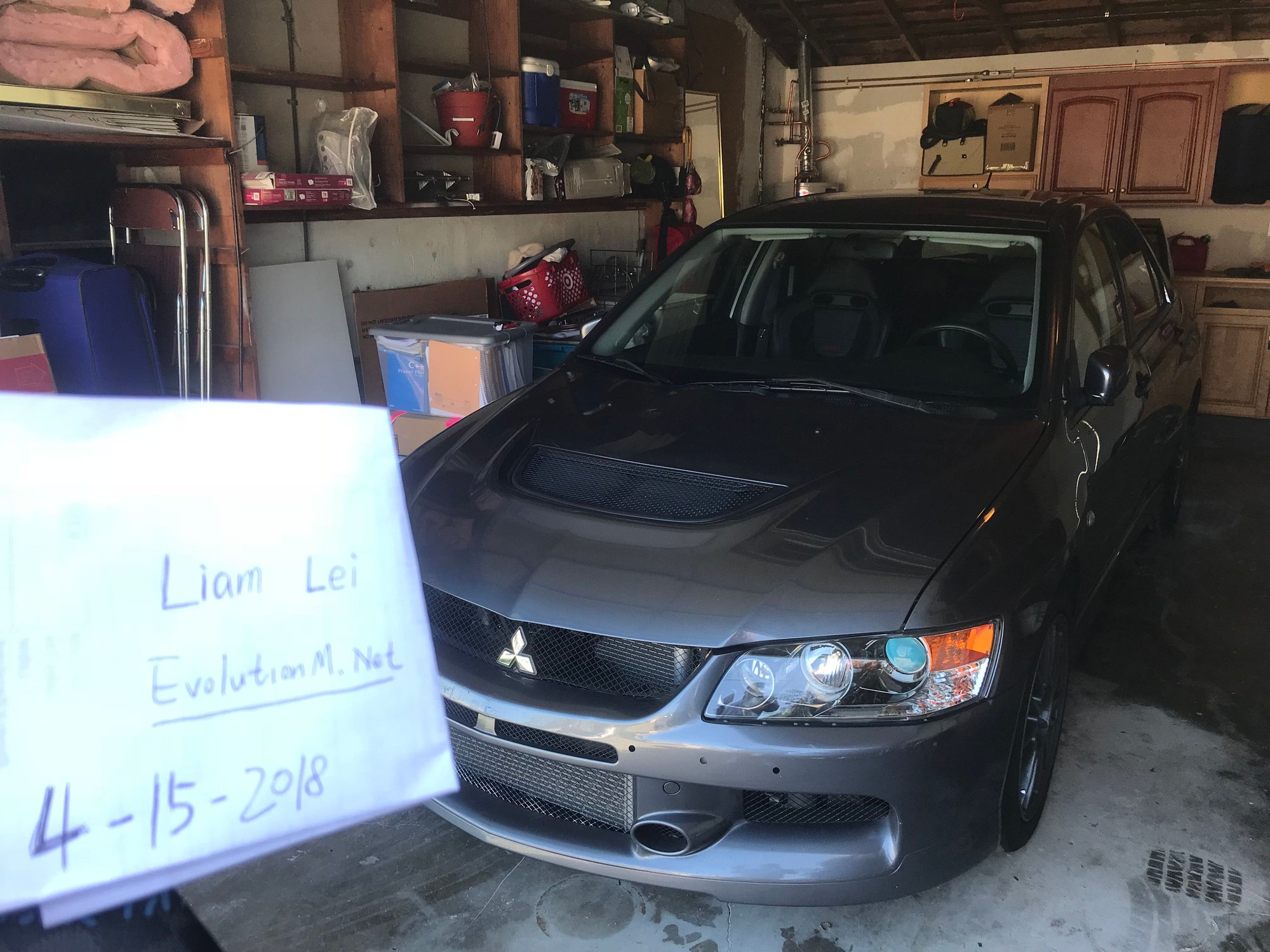 ---
Last edited by Liam Lei; May 6, 2018 at

08:35 PM

.
Apr 15, 2018, 02:07 PM
Newbie
Really having a bad time uploading all the pics, keep failing for no reason.
I have much more pics, if you are interested please contact me and I will send you more pics.
Thanks.
Apr 15, 2018, 02:34 PM
Join Date: May 2008
Location: So.Cal
Posts: 4,805
Thanks, Ive seen the same. Been reported
Apr 15, 2018, 03:10 PM
Evolved Member
Join Date: Mar 2006
Location: Fresno, CA
Posts: 8,960
Apr 15, 2018, 10:25 PM
Newbie
Join Date: Apr 2007
Location: Austin, TX
Posts: 67
Thanks: 0
when I was uploading pics for my car I could only do like 4 or 5 at a time or else it would cause the photo uploaded to crash or just hang. not sure if that is the issue you're experiencing. either way, beautiful car GLWS.
May 16, 2018, 05:10 PM
Evolved Member
Join Date: Jul 2008
Location: Philly
Posts: 526
Thread
Thread Starter
Forum
Replies
Last Post
For Sale/WTB - Engine / Drivetrain / Power