******{arp/gsc/cp pistons}*****
Dec 23, 2009, 02:09 PM
Former Sponsor
******{arp/gsc/cp pistons}*****
---
Hey guys all these products are in stock and ready to go!
ARP ROD BOLT KIT $38 + shipping
ARP 2ND GEN HEAD STUD KIT $119 + SHIPPING
ARP MAIN STUD KIT $66 + SHIPPING
Product Features
* Main studs are designed to meet the exacting standards and demands of professional engine builders
* Manufactured from 8740 chrome moly steel
* Rated at 200,000 PSI, which is considerably stronger than Grade 8 hardware
* Rolled J-form threads are 1000% stronger than other threads
* Main studs are recommended over main bolts for a number of reasons, including more accurate torque readings and easier engine assembly
__________________________________________________ ______________________________________
GSC STAGE 1 BEEHIVE VALVE SPRINGS $215 + SHIPPING
Stage 1 Beehive Springs:
Single Beehive valve spring set uses the factory spring seat and the factory retainer. This is a great option for those wanting to run our S1 or S2 camshafts on a street application, or anyone wanting to run more than 11mm of lift on the intake and 10.6mm on the exhaust. RPM limit 9,000
GSC STAGE 3 BEEHIVE VALVE SPRINGS W/ TITANIUM RETAINERS,CHRO-MOLLY SPRING SEATS VALVE TRAIN KIT $407 + SHIPPING

GSC Power-Division Beehive springs feature some of the most impressive manufacturing techniques in the industry. Our beehive spring uses an ovate wire which utilizes advanced material heat treatment methods for superior load loss capabilities. What this means to you is our spring has the highest level of spring load retention while still maintaining good fatigue threw out the life of the spring. The retainer side of the valve spring has a smaller diameter to greatly reduce coil spring surging and improve valve control even at extreme rpm levels.

Only the best materials go into the GSC Power-Division Beehive valve springs. Each batch is scrutinized for tensile strength properties, ductility, inclusion content, and fatigue toughness. Each new design is tested to 11,000RPMS so you can rest assure that you have the best possible valve spring set available on the market.

GSC Single Beehive valve spring sets, include new 4340 Chro-molly spring seats (these won't crack like others aluminum seats) and Titanium Retainer set. This kit is capable of 11000+ RPMS, with as much as 12.5mm of lift. This is a must have for anyone pushing the limits. If you have had problems with valve float or throwing rocker arms this is the spring set that will cure your problems for good...

Seat pressure:
Seat at 1.46"= 95 pounds
.300"= 200 pounds
.400"= 250 pounds
CoilBind .560"
__________________________________________________ _____________________________________
CP PISTON & RINGS KITS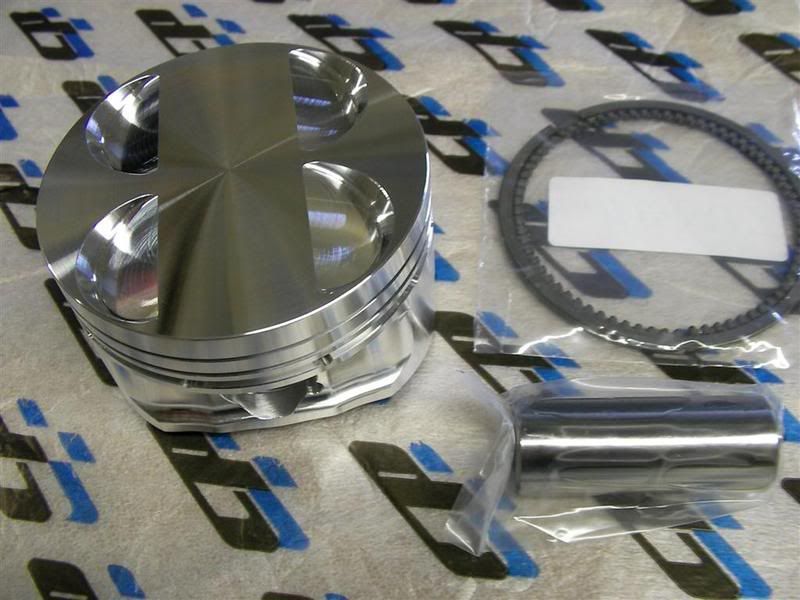 - 94mm STROKER - BORE (86MM) - SIZE (+1.0MM) - C.R (9.0) $592+ SHIPPING
- 94mm STROKER - BORE (85.5MM) - SIZE (+0.5MM) - C.R (9.0) $592+ SHIPPING
- 94mm STROKER - BORE (85.0MM) - SIZE (STANDARD) - C.R (9.0) $592+ SHIPPING
- 100mm STROKER - BORE (86MM) - SIZE (+1.0MM) - C.R (9.0) $592+ SHIPPING
PM ME FOR BEST PRICING GUYS!!!!