The Ultimate Aggressive Wheel Thread... Evo X Style
May 3, 2008, 01:33 AM
The Ultimate Aggressive Wheel Thread... Evo X Style
---
Welcome the the Ultimate Aggresive Wheel Thread!

We all know by now that the Evo X was blessed with the possibility
to handle some very aggressive wheel fitments, putting
it into a previously unreachable to stock bodied Evos territory.
This thread will be dedicated to the showcase of those awesome fitments.




Everybody is more then welcome to post pics, as long as you follow
the very simple rules mentioned below. Remember, the more pics,
the better - nobody will call you a postwhore here...
READ THIS BEFORE POSTING:
MAXIMUM offset allowed is +25. The lower the offset - the better.
MINIMUM rim width required is 9.5". The wider the rim - the better.
Lowered cars are preferable, especially with a flush fitment.

That's about all. Post up and remember that
OFFSET IS EVERYTHING!
---
Last edited by zippo; Feb 23, 2009 at

08:40 PM

.
May 3, 2008, 03:06 AM
I'll kick off with one of my favorites, the Varis Evo with the Prodrive GC-014i in 19x9.5 +22 with 265/30 tires.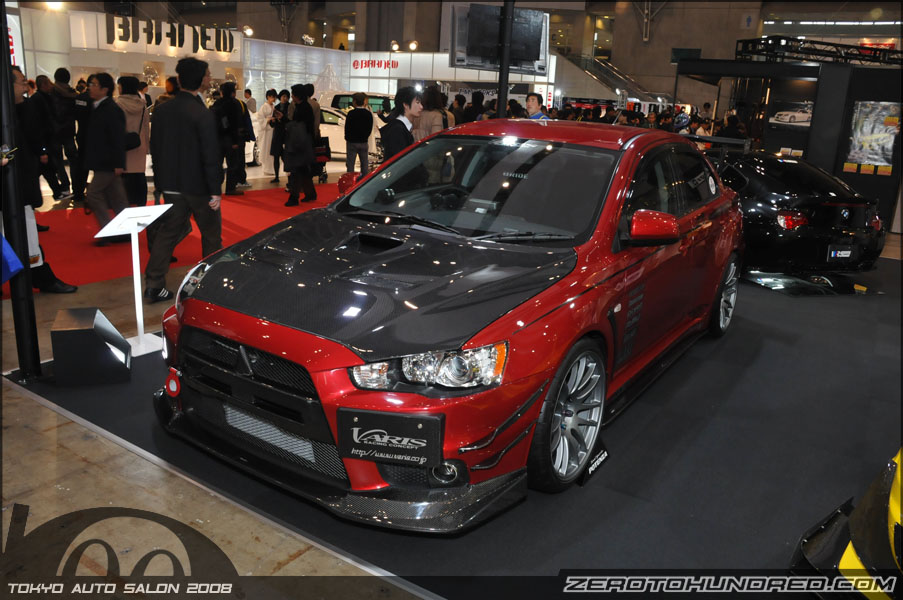 Different Evo, same wheels:
---
Last edited by zippo; May 4, 2008 at

11:07 PM

.
May 3, 2008, 05:47 AM
Evolved Member
Updated with new wheels....I think they are "flush" hahaha:
18x10.5 +18 CE28N's with 275/35/18 NT01's.
My Flickr:
http://www.flickr.com/photos/gates311/
Enkei NT03+M 18x9.5 +27 w/10mm spacer in the front:
---
Last edited by BlackTrack; Aug 27, 2008 at

09:17 PM

.
May 3, 2008, 01:05 PM
Evolved Member
as usual i have a crappy picture and no talent to make a picture look right. But here it is an Advan RS 18/9 29 off set. Falken 615. size 255-40
lowering is coming very soon , so i will replace the pictures later.
---
Last edited by Robevo RS; May 3, 2008 at

01:09 PM

.
May 3, 2008, 06:52 PM
Former Sponsor
Join Date: Apr 2005
Location: Orlando, FL
Posts: 1,577
Likes: 0
Received 0 Likes on 0 Posts
Why didnt I think of this thread!?!?
18x9.5+20 XT7's Bronze and Orange
More pics with Work CR Kais in 18x9.5 +12 WBC
---
Last edited by DarksideEng; May 4, 2008 at

10:10 PM

.