2004 Lancer ES PROJECT
Oct 19, 2013, 08:17 AM
Newbie
Join Date: Aug 2013
Location: Maryland
Posts: 7
Likes: 0
Received 0 Likes on 0 Posts
2004 Lancer ES PROJECT
---
Hey everybody,
I'm pretty new here so I apologize if I am posting in the wrong section, but I'm still finding my way around
To start my story off, I never thought I would buy a mitsubishi in my life! Until I brought my lance home! Was always more of a Subie guy but I am now in love with this thing!! I recently got into cars about a year and a half ago when my dad gave me his '93 legacy and I realized how interesting mechanics are, since then I have enrolled at my local community college for Automotive Technology and I am learning great new things about cars, getting to work on cars hands on for several hours every class!
I noticed my Brothers girlfriends had a cool lookin lancer out front and decided to ask about it. Found out it was her cousins and got to find out a lot about it. He said he was going to donate it and of course I decided to act on this car and take it off of his hands for him. Once I finally got it towed up to my house, I right away got to work on it.
Here it is the first day I got the car towed home :,)
He gave it to me for $700! Included 2x 10" subs on 250w in the trunk, upgraded stereo, K&N short ram intake, RRM lightweight pulley, 2 sets of Halo headlights( idk why, they are the same?) an HID kit(which will be used for foggys) and best of all: 2 sets of rims on tires!! 17" and 18"!!
This car hadn't run in over a year, worst part was he filled up the tank right before it died on him! And now begins my journey with lance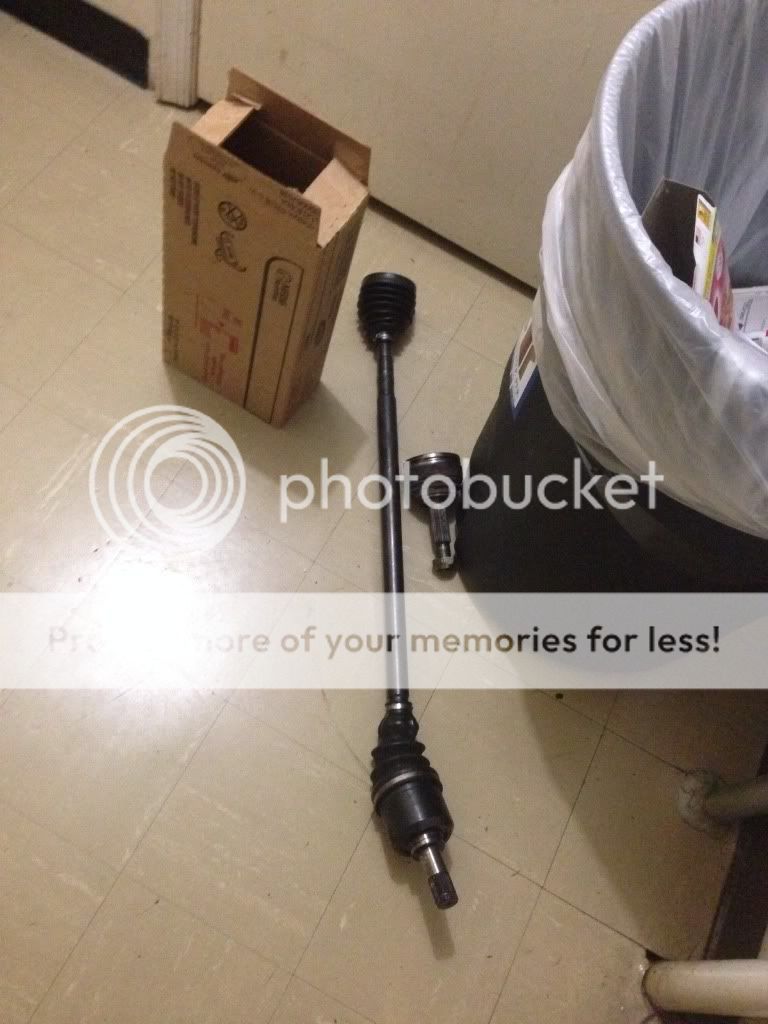 Got him home on a sunny Saturday morning and got to working, figured out the right CV axle joint was broken so I swapped out the axle! Being the noob that I was it took 4-5 hours and started thunderstorming half way through but I trooped it out and got it done! Then I changed the oil and changed the filter and swapped out the battery. And voila! Miraculously the engine ran! On year old gas, it stuttered like a b***h and I had to restart it every 5 minutes on my way to shell! Put some newer gas in the mix and filled the tires and had me a new car to break in
drove about 100 miles just to kill gas(sorry Mother Earth) and then it was off to inspection!!I took it over to flagship, and on my way(mind you this is the first time this car has even moved in over a year) I get pulled over by a cop telling me the car reeked of weed -_-so he searched it, and started talking to me about his "new" honda accord he paid $2500 for and was trying to show off about how it only has 170k, lol he left after I told him the deal i got on this car
Failed inspection!! I had to replace both outer tie rods, rotors, brake pads, all 4 motor mounts and fix the crack in my windshield! Did it all myself, however it was my first time doing ANY of these procedures! And managed to get it through inspection the day before my 30 day temp tags expired!!
All was well until about a week ago, my radiator blew up! And you will see in the pictures it got my bay a little messy so once I've got some free time I'll get in there and make it pretty again! I'll hopefully get a video up of my friend towing me home about 15 miles with his 2.5 cj jeep using a steel cable haha. Not the best of ideas but we did what had to be done!
With all this done! It was time to make my baby start to look good! (And run cleaner) which is the point in my project now. Body kit was crap, huge cracks/breaks on rear bumper. Side skirts cracked all along both sides. Oem bumper was broken, fixed with duct tape! But after realizing how much body kits cost I decided I would give body work a shot, and honestly didn't come out too bad for another first time project! Bought a new front bumper however, because I can't stand the oem bumper/grill, so I swapped it out with a vFiber front cover and I now have to patch that up as well! Because I'm sure any of you know fiberglass bumpers are never perfect and it cracked and bent just trying to mount it flush! Although it's not perfect(yet) looks a lot better than before! Now I just need to patch up the side skirts and then off to dipping!!
Here is the new bumper and new fog lights! before I decided to take out the grill. All lights are on lol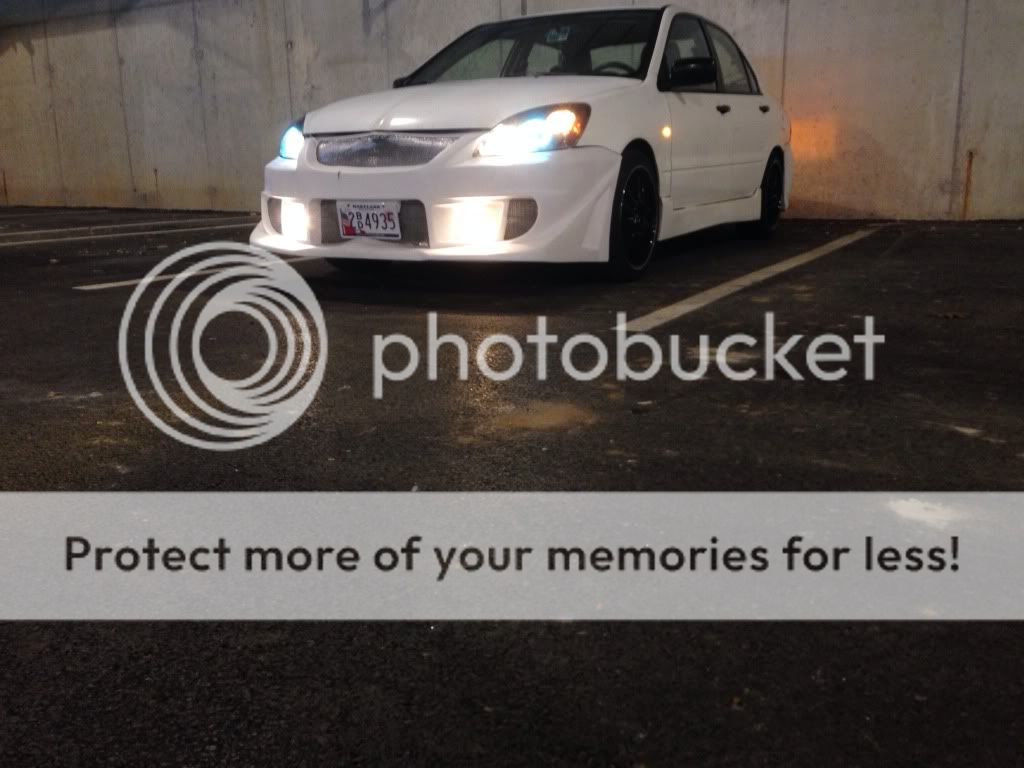 My belt started screeching not too long ago, then one day I heard a loud noise under my hood and my buddy found a mystery bolt on the ground for me to later find out is my alternator bolt....ended up blowing out both belts and had to get a tow home, bought all new OEM belts, bolts and nuts!
Died about a mile down the street from my house!!
Most Up to date shot:
Took out the front grill mesh to be plasti dipped black, installed PWJDM Quick Release Bumper fastners.
Just some more body work then its time to get this ugly bastard painted!!!
As you can see I've got quite some work to do on the whole body of the car at this point lol, gotta resurface the passenger fender, fix middle of front bumper, fill gaps, install eye lids, fix gap in side skirts/remount, fill spots on trunk/rear bumper scuffs.
Im looking for an easy Evo trunk swap method to get the cleaner look, might just fabricate it myself though, nless I can find a decent priced lid!
does anybody know if they fit the same?
I hope you enjoy my thread!
Comments and suggestions are appreciated.
---
Last edited by Treemty; Nov 19, 2013 at

06:07 PM

.
Mar 29, 2014, 03:58 AM
Newbie
Join Date: Aug 2013
Location: Maryland
Posts: 7
Likes: 0
Received 0 Likes on 0 Posts
Soo in the past few months since I've posted this my cars been up and down a lot lol. I have really learned my way all around this cars nooks and crannys.
At this point I've replaced the entire cooling system since the water pump blew out on me a few weeks ago. Changed the timing belt. Working on fixing all of the oil leaks, just the oil pan gasket first since the other gaskets I ordered were for different cars -.- next up is the valve cover and pcv and probably the cylinder head once we get some nicer weather around here.
A few pics of how ugly and dirty my little lancer gets around the heart!! As well as the new timing belt
Dipped my roof black! And the bumper grillzzzz
After snow you can see my bumper snapped off and ripped the qr, fender is loose now too
Some leftover damage from December, I hit a curb from some black ice and broke a wheel, bent my lower control arm and cracked the bumper. When will this bad luck end?!?
But mainly I took this pic to compare to stock height.
Now for my favorite mod so far, the EVO VIII rear seat/door card conversion! I just love the black suede 😁
Before
I painted door holder cups)
Aaaand After!! (Pardon the mess)
You can also see how I've painted my center console
Just need some recaros and new carpeting now!
Oh and removed and rewired my subs with a new NON GHETTO fuse holder lol the previous was electric taped onto the wire(thanks sketchy electricians)
Then she got all cleaned up for a small little photo shoot
Look at dat assss(tinted my tails as well)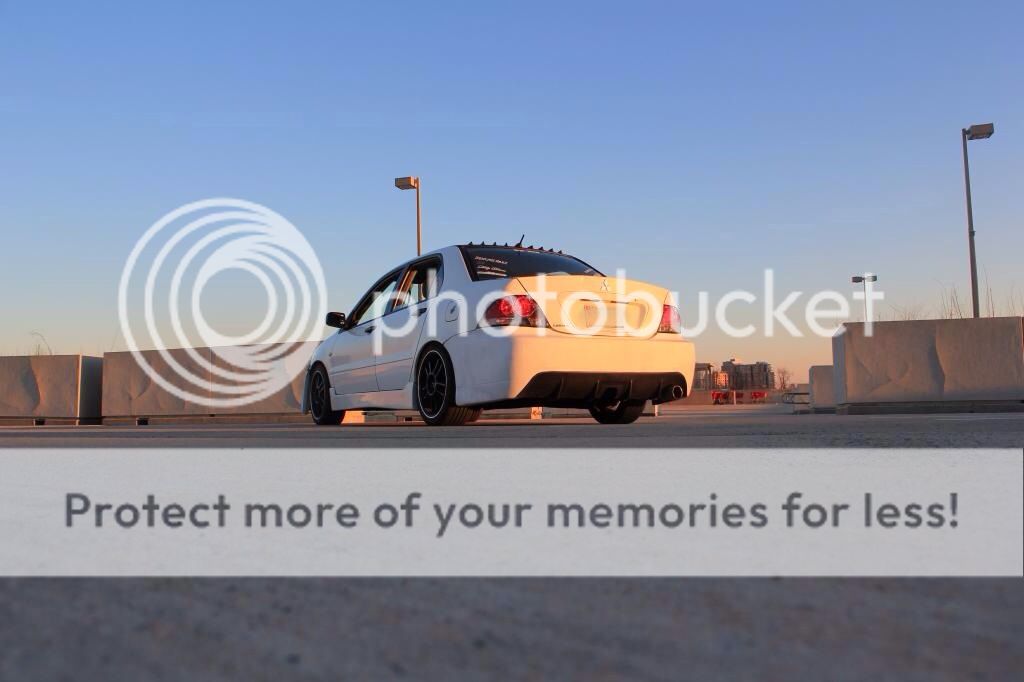 Just for fun:
Biggie Smalls
Mar 29, 2014, 04:06 AM
Newbie
Join Date: Aug 2013
Location: Maryland
Posts: 7
Likes: 0
Received 0 Likes on 0 Posts
Here's my list. I'll add from here as my project continues...

List of mods!
Sound:
-Evo VIII rear seats and all four door cards
-2x 10" pioneers trunk box on a 250w boss amp/equalizer
-pioneer stereo
-upgraded cab speakers, all 4

Visual:
-Vision GTR Front bumper
-Accolade EVO style rear bumper
-Ruff racing 17x7.5 r952 on 205/45r17
-TEIN 1.8" drop front,
1.2" drop back
-roof diffuser fins
-shorty antenna
-black plastidip roof
-2 yellow fog lights
-halo/projector headlights, blacked out

Performance:
-K&N short ram intake
-RRM lightweight pulley
-RRM lower tie bar
-Magnaflow axle-back exhaust

NEW PARTS:
-FR lower control arm
-both outer tie rods
-brake pads and rotors
-shocks
-Radiator
-passenger side CV axle
-spark plugs
-motor mounts
-timing belt
-water pump
-thermostat
-wiper blades and jets
Thread
Thread Starter
Forum
Replies
Last Post
For Sale/WTB - Engine / Drivetrain / Power
For Sale/WTB - Engine / Drivetrain / Power
Lancer How Tos / Installations
For Sale - Wheels / Tires
Other Cars - For Sale - Wanting To Buy (WTB) Or Trade (WTT)