How to: Upper/Lower IC pipes & EvoX Intercooler
Oct 26, 2009, 08:44 PM
Originally Posted by
velocityhead
Looks good Krimsin.

I seem to remember having some difficulty getting the battery tray (under the battery) to sit back in it's proper little indentation. I did manage to get it to fit back in there and everything else fit back where it was supposed to go. I'm willing to bet this is why you weren't able to re-use your battery cover. If that plastic tray isn't in it's original location, the battery and battery cover would stick up about 1/2" higher than normal.
thanks! yea the battery issue is temporary till I order the AMS Intake and Small Battery Kit. I'll be moving to Georgia in December and looking to get the car tuned properly down there. thanks again for this write up!
Nov 6, 2009, 04:20 PM
Newbie
Join Date: Sep 2009
Location: Chicago
Posts: 83
Likes: 0
Received 0 Likes on 0 Posts
I am technology inclined and can usually figure things out, but doing this mod myself makes me nervous.

I have never done anything like this (I mod computers not cars) so is there any advice on how to approach this... for first timers?
---
Last edited by Tappington; Nov 6, 2009 at

04:27 PM

.
Nov 7, 2009, 07:47 AM
Evolved Member
If you're new to doing this kind of stuff, the best advice I can probably give you is keep things organized, and go slow.
Get a big piece of paper or poster board. Every time you remove some screws or bolts from the car, put them in a little group on the paper, circle them, and write where on the car they came from, and how many there were. It will save you a big headache if you have a bad memory
Nov 7, 2009, 08:20 AM
Also have a friend or somebody you trust to help when taking off the bumper. The first first time can be pretty scary and feels like you're going to rip the aluminum corner off from the wheel well. Just lift up on the bumper and pull straight out. Once you get one side, the other side is cake. That's where I had a friend of mine hold up the bumper so it didn't fall on the ground and scratch anything up. And as Velocity said... go slow. Don't be scared to use some muscle when you're tugging out that lower intercooler piping (LICP). If you order the T1R set like myself and Velocity... put in the order form under "comments" that you are getting the set for the Ralliart, not an Evo X and what type of intercooler core you have, i.e. Ralliart (small) or Evo X/Aftermarket (large). They will also give you a step by step guide to put the set in.
Nov 9, 2009, 12:53 PM
Newbie
Join Date: Sep 2009
Location: Chicago
Posts: 83
Likes: 0
Received 0 Likes on 0 Posts
Ok, thank you, this is the type of info I was looking for.

I still haven't decided on if I should put an Evo X IC on there or keep the Ralliart so I need to figure that out.
I don't think I should swap out the IC because I do not track, just spirited (and sometimes very spirited) driving on clear and safe roads, so I probably won't see that much performance gain with my shorter driving spurts.

On a side note, does the Evo X IC make a noticeabledifference for you guys?
---
Last edited by Tappington; Nov 9, 2009 at

12:59 PM

.
Nov 9, 2009, 05:04 PM
Evolved Member
I can't say if the intercooler is a noticeable difference or not, because I upgraded my IC and IC pipes at the same time. I will tell you that the throttle response is a tiny bit quicker and the aluminum IC pipes shed more noise than stock. I'm running the stock tune right now...these are just preparations for the future.
Nov 13, 2009, 07:38 AM
Evolved Member
I ended up ordering a 6" x 1-1/2" pipe. But because it has a bead on the end, it's a VERY tight fit. I'd highly recommend ordering it in 1-3/8" diameter instead.
Nov 14, 2009, 01:41 PM
Just my .02 .... you think T1R would of thrown their own pipe in this set for us. I'm not down playing the quality of the piping or the package itself. It just seems like this pipe is a must in the complete installation and have it not be included with the original packing seems almost silly and just plain mean. But then again, this set wasn't built for the Ralliart, it's for the Evo. And I know they put this set in a Ralliart to see if it even fits... what was their logic when they came across that 6 inch gap?
Nov 14, 2009, 02:19 PM
Evolved Member
You don't need this pipe if you keep the RA's stock plastic IC pipe: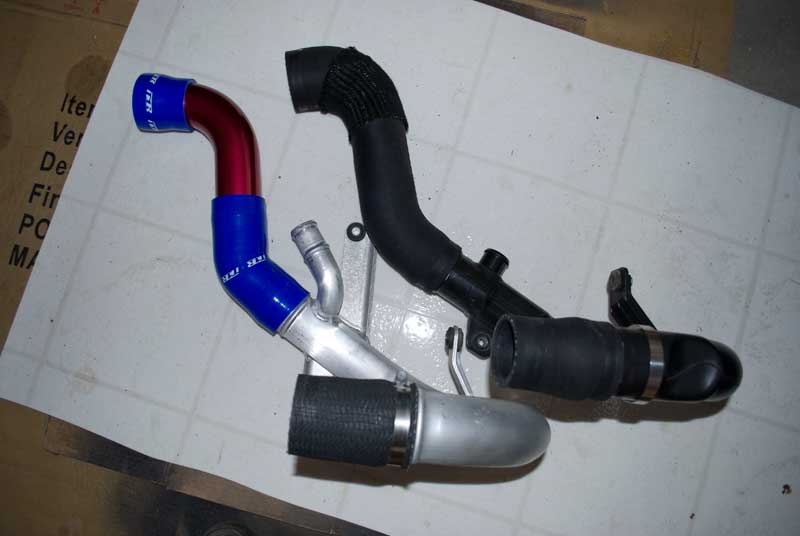 I used the EvoX lower IC pipe w/ the T1R section, which is why I needed to order a special part to make things fit. The reason is because of the difference in that outlet shown above. If you're using the stock RA piece, you shouldn't have an issue fitting this.
Dec 17, 2009, 01:08 PM
Evolved Member
That should work fine.

Keep in mind, the X intercooler's outlet sticks out a bit more than the RA's IC, so if you're using the RA's licp, it will be a tight fit.
Jun 24, 2010, 03:03 PM
Evolving Member
Join Date: Jun 2005
Location: SF Bay Area, CA
Posts: 385
Likes: 0
Received 0 Likes on 0 Posts
Nice write up. I just got the Evo X FMIC, UICP, and LICP from
here
. I just want to double check to see if I need to get anything for the install. From the write-up, it looks like all I need is the 6"x1-3/8" tubing for the LICP. Is this correct?