My Evolyn - Silver VIII from Down Under
May 13, 2017, 10:24 PM
My Evolyn - Silver VIII from Down Under
---
Hey guys,
Wanted to start a thread about my evo journey. I have owned this evo for just on 12 months, and have done a lot to it along the way.
Picked it up on a Saturday morning after spending 15 hours driving halfway across the country the day before. Myself and my best mate left Adelaide at 2am in the morning and arrived in Sydney soon after 5pm Friday night. Most of the best evos in Australia are found on the east coast so while it was a long drive, it was worth it in the end... I have always dreamt of doing a big road trip to pick up a new car, and I can definitely say that I have now ticked it off the bucket list lol. Most will hate but I am a big fan of stance, and needed to remove the front fender to get it onto the trailer:
May 13, 2017, 10:28 PM
We had a long trip home, and planned to do it over the following 2 days, aiming to get home early Sunday evening. With such a long trip we were concerned about stone chips inflicted along the way. Nothing some old sheets and pallet wrap can't fix: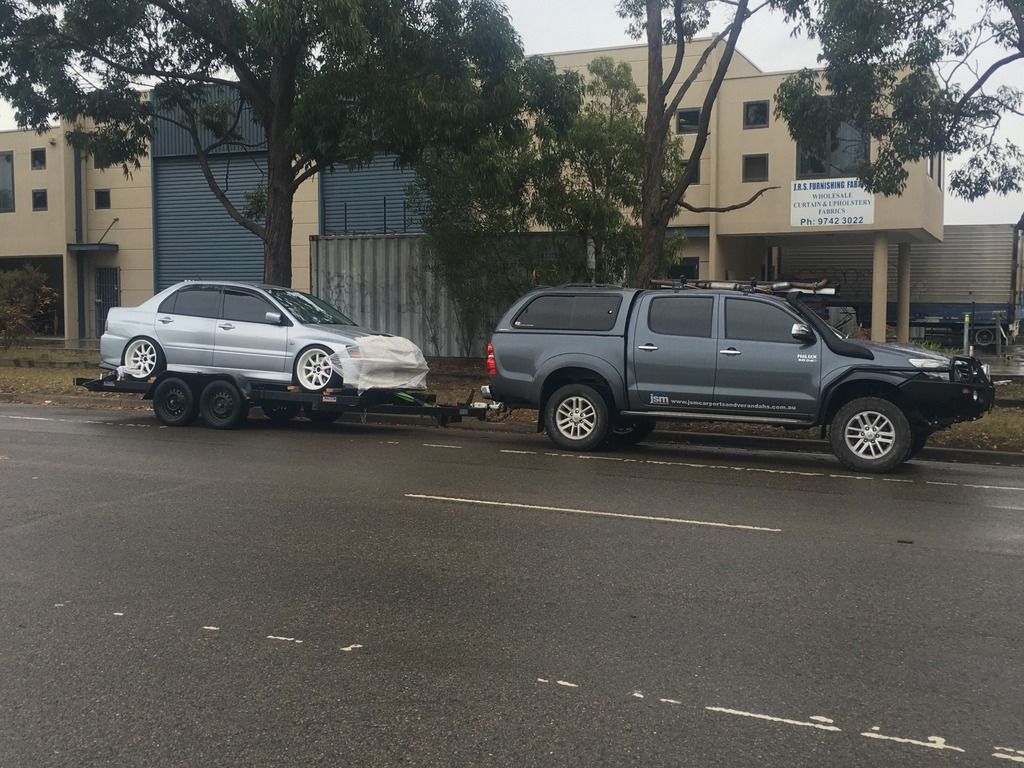 After some final checks to make sure everything was secure, we began our journey home...
May 13, 2017, 11:11 PM
On our trip over, and in the weeks leading up to it we discussed the idea of stopping in Bathurst on our way home. Those that are not aussies will not recognise the name, but Bathurst is home to one of the most prominent race tracks our country has to offer. With an 11am temperature of only 3 degrees we thought about giving it a miss, but god am I glad we decided against it:
Here we were entering pit straight: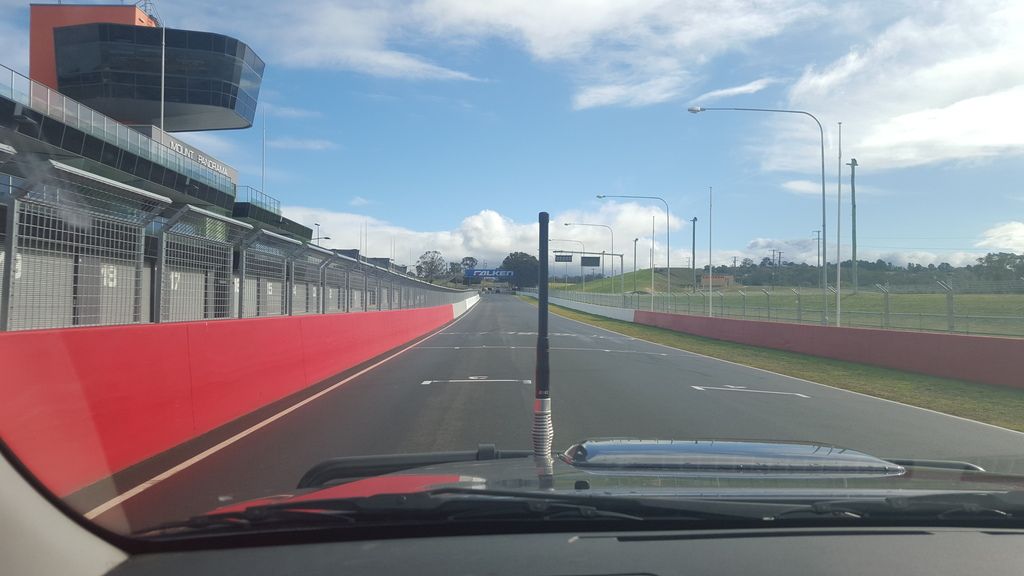 Unloading for a couple quick laps and pics:
May 13, 2017, 11:49 PM
The great thing about the Bathurst Race Track is that during times of no racing, the entire track other than the pits area is 100% public road. It holds a 60kmph speed limit, and is policed heavily to ensure road users obey the law, but for guys like me, it is an amazing chance to drive both a public road and world class race track at the same time. So very glad we made the effort to stop, as it was definitely the highlight of the entire trip. Entering the track from the car park we unloaded the evo in:
Pit Straight: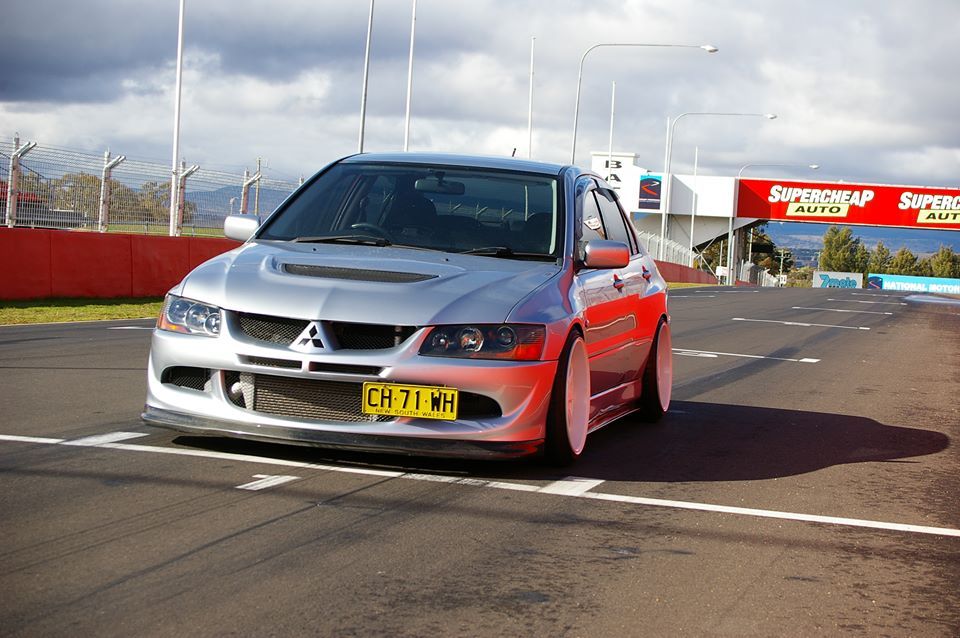 A couple shots at the top of Mt Panorama, also known as the mountain:
Then a shot just before we loaded her back onto the trailer for the rest of our trip home. Notice the smile from ear to ear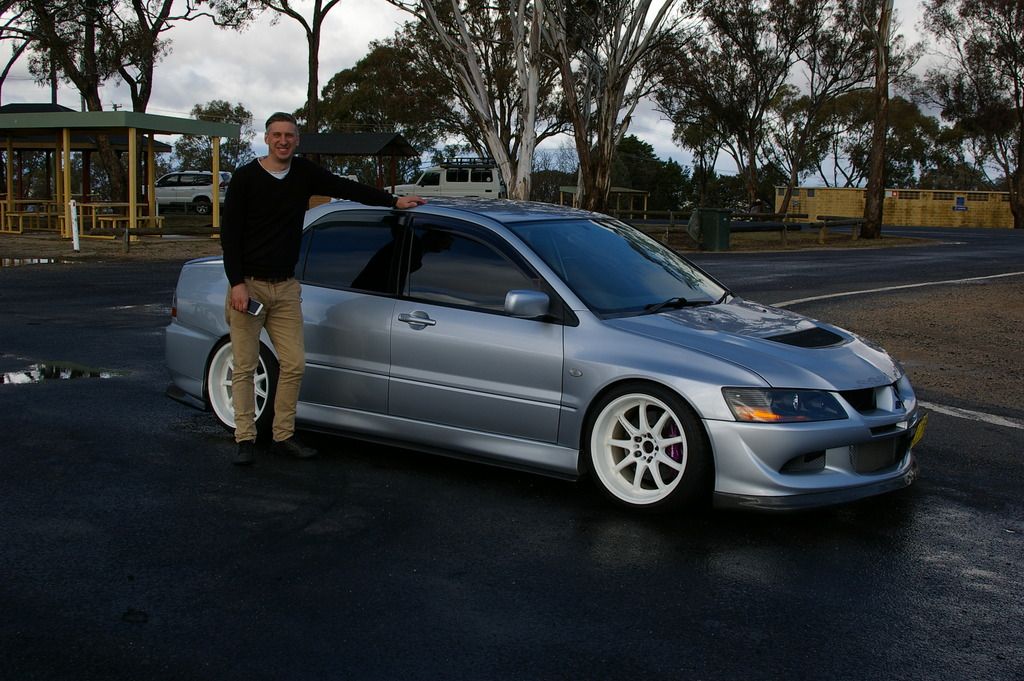 May 13, 2017, 11:53 PM
Back on the road after that and had a long drive before spending that night in Hay, about half way home. Took it much easier on the way home compared to the day before, across the Hay Plain is a long, straight boring road, but we were met with a bit of a break when we came across a truck that had gotten itself stuck:
Only cost us about half an hour and was a good excuse to get out, check the evo and have a stretch...
May 13, 2017, 11:56 PM
May 14, 2017, 01:58 AM
The car came with a bit over 6 months registration, so I had a fair bit of time to arrange the transfer into my home state. So my next task was to start on the job of transforming it completely back to stock. 1st step was to remove the rexpeed csideskirts, as well as the rear voltex diffuser. State authorities do not really like carbon fiber, so they needed to off until the transfer was complete...
Then off with the exhaust, and back to stock, god I hate the stock exhaust...
May 15, 2017, 03:34 AM
Next on my to do list before registration transfer was to sort out my stock rims. When I bought the car, the sale included the stock parts that had been replaced. Here are the oem rims with the same tyres the car was imported with, that had been sitting outside in his back yard for the last couple years lol:
So, with the rubber removed, it was time to have a good friend respray them black, and with a set of new enkei stickers, they came up looking great: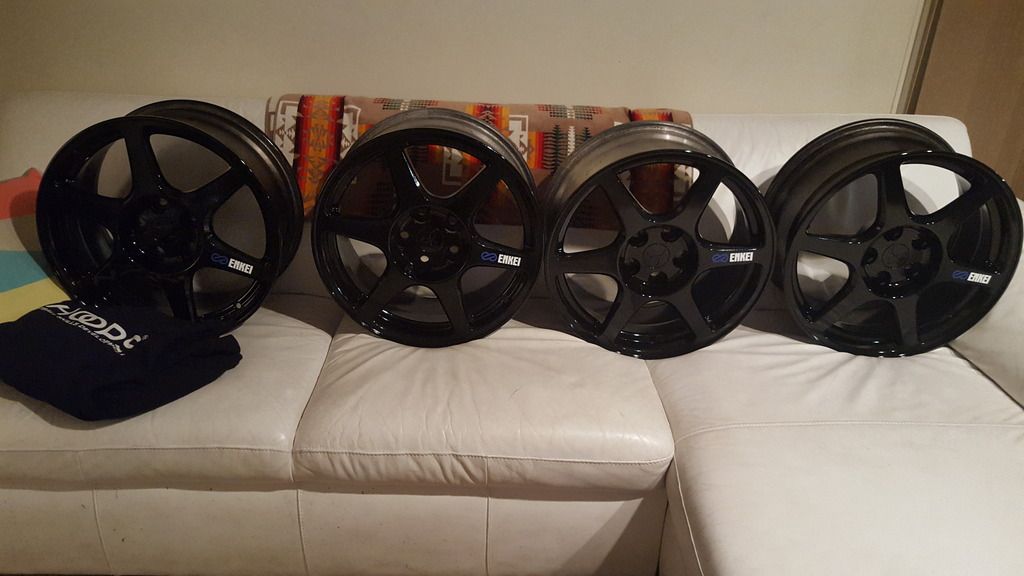 But before I even had time to fit rubber I found an awesome deal on a set of Evo X GSR Enkeis. For me, at 18x8.5 +38 they are a perfect fit for a CT9A. The stock VIII enkeis at 17x8 are just no comparison. So I offloaded my black rims, and replaced them with a set of GSR's:
And here they are mounted up with new rubber, with another job ticked off the list:
May 15, 2017, 03:55 AM
May 15, 2017, 04:12 AM
So that was pretty much all work that needed to be done for the authorities to pass my inspection. I swapped out the HKS SQV BOV with an oem MR BOV to keep everyone happy, and booked my car in for the transfer. Registration transfers can be hit and miss, you can get a relaxed inspector, or you can get one on a bad day. Think I got one on a bad day unfortunately. Despite my good manners, he failed me for too dark tint front windows, rear windows and rear windscreen. Told me I had to go back and have it removed before I would pass...

So, called around and got an appointment with a mobile window tint company that night. He removed the front tint and wrote on his invoice that both the rears and the rear windscreen were privacy glass from the factory and no tint.

Took that information back the next day, and passed with flying colours...

Now back to the way it was, what a waste of time...