FIC 2150cc notes
Dec 2, 2009, 03:52 PM
Evolved Member
FIC 2150cc notes
---
Well I have tested all the big high impedance injectors in the last few weeks as part of my ongoing desire to know things. I will also be posting the settings for the FIC 900 which like its counterpart is a smaller high impedance injector with the capability for high flow at high base pressure.
Onto the subject at hand though. In the ID2000 thread I posted all my settings to help everyone get an idea of what these will do on pumpgas with the O2 feedback on and a normal fuel map with SD. I do not think this is entirely practical really, but i will share the scaling and latency that I have used. SD has too many variables based on things like displacement and air temp to keep everything listed for everyones usage. I will post some screenshots of logs though to show datapoints of flow.
Scaling-
1624 (2.0l)
1462 (2.2l)
Latency-
3.000
1.488
0.936
0.672
0.528
0.408
0.360
As you will no doubt note this is very similar to the settings I had posted previously. Things end up similar sometimes so it is what it is.
(2.0) ID2000s- 548whp (std correction, 556 uncorrected) @ 28psi peak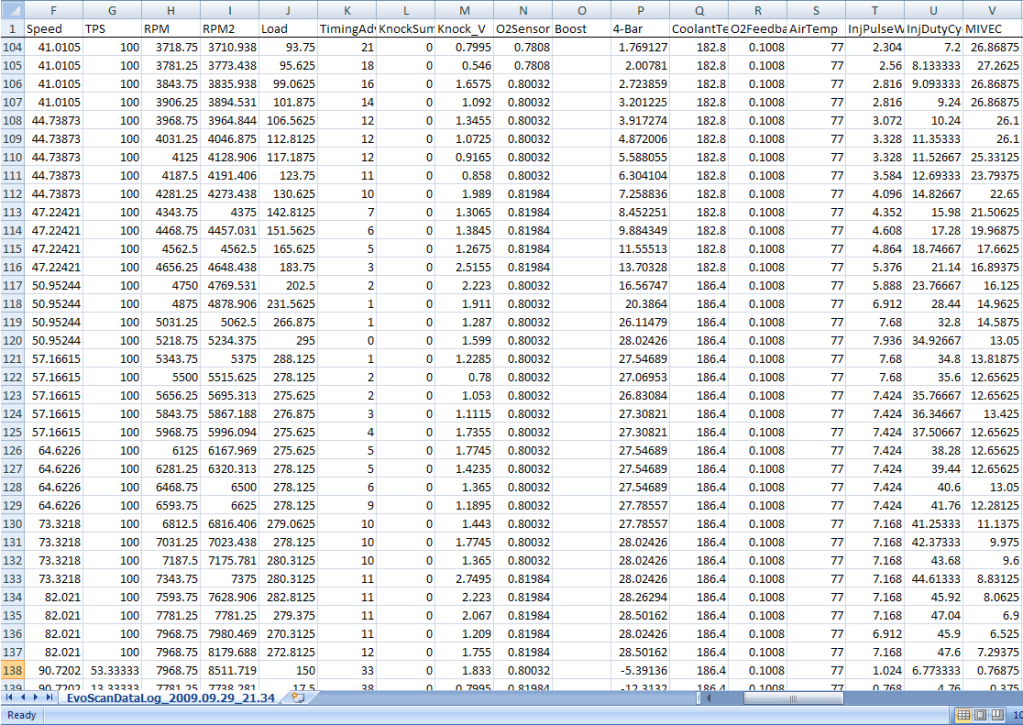 (2.2) FIC2150s-548whp (std correction, 558 uncorrected) @ 23psi peak
Applicable dyno graph (run file 05 is the 2.2 pull)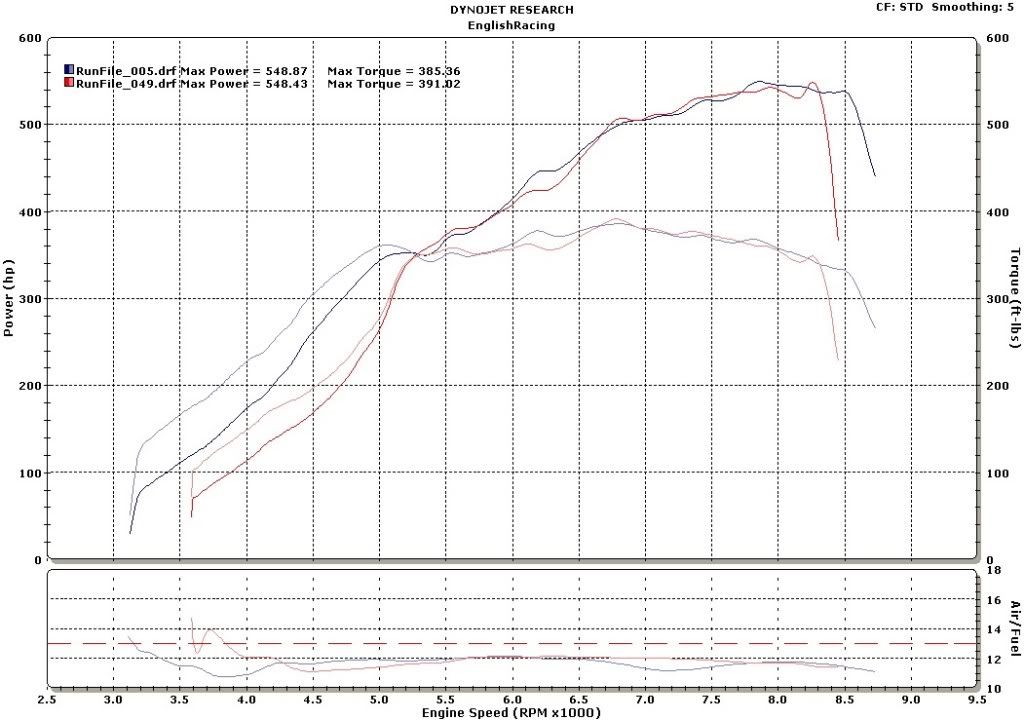 I think in the realm of experimental data it shows that everything else aside (no pump pressure drop, power to power) that these LARGE injectors flow very well and will supply ALOT of power. They are a little hungrier in the FIC only because I was also revving it higher as well. Later on when I made my full boost pump runs it was only at 54.4% IDC at 641whp uncorrected. I use uncorrected numbers since that is what the requirement (BSFC) is based on not the hypothetical perfect world corrected number. While corrected keeps mods even despite weather differences it doesnt tell you why the IDC might be different one pull to the next.
Enjoy
Aaron
---
Last edited by JohnBradley; Dec 2, 2009 at

03:55 PM

.
Dec 2, 2009, 05:51 PM
Account Disabled
Join Date: Jun 2009
Location: central pa
Posts: 312
Likes: 0
Received 0 Likes on 0 Posts
Also (and I hope people can have a good discussion about this) the Injector Dynamics and the FIC injectors are matched in two different ways.
The injector dynamics injectors are matched dynamically. Their site does a good job of explaining it. To keep it simple the ID's are tested at varying IPW's and then a matched set is made. This is how racing fuel injectors have been matched for years.
http://www.injectordynamics.com/dyna...erization.html
The FIC's are matching the way 99% of non racing consumer industry has been doing for decades. They flow them at one set duty cycle. I think that a set of FIC's that I had flowed were done so at 80% duty cycle. The injectors are then matched at this one value.
The Injector Dynamics method is much more time consuming and requires a more expensive setup. You pay for this in price. The FIC setup is being done the way it has been for years and is a cheaper setup and quicker to do. You get a price savings.
I have tried and currently own and tune both brands. So I hope nobody gets all fired up about this.
Dec 2, 2009, 05:59 PM
Evolved Member
That was just my initial tune based on the stock block tune. Timing ended up going signiifcantly by the end of the tune session on last wednesday
Here is that for giggles though it doesnt really have much to do with what we are talking about other than IDC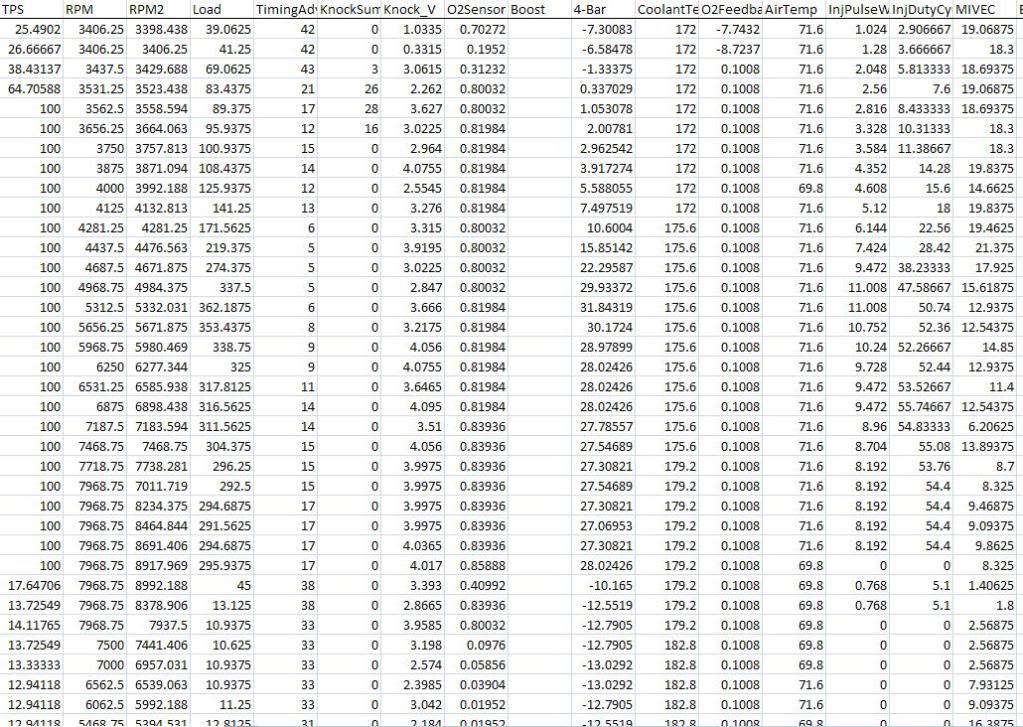 Thanks for mentioning the flow matching Danno.
aaron
Dec 2, 2009, 06:01 PM
Evolved Member
---
Last edited by JohnBradley; Dec 2, 2009 at

06:24 PM

.
Dec 2, 2009, 06:14 PM
Evolved Member
Join Date: Mar 2006
Location: South Dakota
Posts: 942
Likes: 0
Received 0 Likes on 0 Posts
John, thanks for sharing this info as I have just ordered a set of these for my other car. It seems as though ID & FIC are using the same injector and then machining there own adapters for them. So really there shouldn't be much difference between the two, except FIC is less expensive and Jen's at FIC is the man!
Dec 2, 2009, 08:49 PM
amazing writeup and really helpfull, i was waiting on something like this before using ID's on my car. I wanted to see some logs of FIC2150's and i think i will be going with the Fic's
Dec 3, 2009, 09:35 AM
__________________
Matt Akin
Modern Automotive Performance
P: 1-888-MAPerformance (Ext 119)
E:
[email protected]
Dec 3, 2009, 10:57 AM
Evolved Member
These are entirely new technology and tune very easily without the EZtune. That is intended for 1600cc+ low impedance injectors. On that note, the EZtune makes the 1650 act more like a 1000 on the stock ECU.
Dec 3, 2009, 11:07 AM
__________________
Matt Akin
Modern Automotive Performance
P: 1-888-MAPerformance (Ext 119)
E:
[email protected]