Martin's 9180 EFR 1.45 Twin Scroll
Jan 8, 2015, 08:31 AM
Hi, can you please post a photo of the engine bay? Id like to know which Full-Race kit are you using, if its the small runner Air Conditioning twinscroll manifold? What about the downpipe is it the Non-Aircon 3" ?
Jan 8, 2015, 08:45 AM
Newbie
Join Date: Aug 2013
Location: UK
Posts: 31
Liked 0 Times in 0 Posts
This setup looks nice, I'm also thinking of the EFR 8374 turbo on my Evo x. The only problem is the spooling. And what have u done to urs transmission to handle the torque with the 2.4 engine??
Jan 8, 2015, 01:39 PM
Evolved Member
Jan 8, 2015, 01:41 PM
Evolved Member
Originally Posted by
94AWDcoupe
good comparison. it looks like it lost 100ft/lbs at 4200rpm. and the tq rise it takes to go from 200tq to 300tq doubled from 500rpm to 1000rpm. those are definitely losses you can feel. then the power gain from 5000-7000rpm is only 40-50hp. the high rpm power gains are nice, but I dont see how you can say the 1.45 was needed. the tq curve shapes are nearly identical. looks like the 1.05 on the smaller snail was doing quite well. overall I like the power curve of the 8374. the 9180 in this case looks too much like on and off switch.
You dont really feel it on the street. It happens so fast that if anything it has more traction now and the car is faster. Backpressure is the main reason you do the 1.45, decrease EMAP save the motor.
Jan 8, 2015, 02:46 PM
Evolving Member
Manifold is the smaller version, not the large runner full race I did not want any spool loss if I could help it. Its fully AC compatible 8374 had full AC going, all AC out now since car is moving more in race direction. Downpipe is 3" too
Jan 8, 2015, 04:43 PM
thanks uvambo gotta update your signature now
I order 9180 EFR with 1.45AR like yours from FR but 3" downpipe from FR it is much better for power and no exhaust restriction if you do not need aircon.
Jan 8, 2015, 08:11 PM
Evolved Member
Join Date: Jul 2010
Location: Clovis, California
Posts: 527
Likes: 0
Liked 0 Times in 0 Posts
1.45 ar housing but still 3in downpipe? I am thinking of moving up to a 9180 from my 8374 also but I thought the power difference would have been greater. What shaft speeds were you running with the 8374?
Jan 8, 2015, 09:41 PM
Evolving Member
Yea keep in mind it's dumped at test pipe too so that 3 inch is not the restriction it might seem.
It's more turbine wheel size at this point.

Let's just say above recommend levels.. On shaft speed.
128k is max that Borg lists on the 8374. 116k on the 9180
Jan 9, 2015, 09:04 AM
Evolved Member
Geoff said he thinks we are out of compressor and quite possibly header volume. He doesnt think its necessarily the turbine wheel.
Geoff Raicer- holy ****. this is with our AC downpipe too?!?!?! can not believe you can make that kind of power on the small runners and a restricted downpipe. if you just put a good downpipe on it theres another +50hp up top. 110k shaft speed means you sitll have 10k+rpm on the table (max speed is 119)
Geoff Raicer- good work gents! however i saw this comment "It could make a little more power with timing most likely, but backpressure exceeds 1:1 at 40psi with the 1.45 even. Turbine wheel size is the likely culprit." What was the max turbo shaft speed? I believe compressor wheel could be out of flow causing backpressure to ramp up, more likely than turbine wheel.
---
Last edited by JohnBradley; Jan 9, 2015 at

09:07 AM

.
Jan 11, 2015, 04:45 AM
Evolving Member
Join Date: May 2007
Location: Norway
Posts: 238
Likes: 0
Originally Posted by
JohnBradley
Martin had previously been using an 8374 on a stock ECU in his Evo IX and made 750whp with a powerband that felt like a big block Chevy on the street. Like many things this was fun for awhile and needed stepped up. Using the foundation he already had, the plan went in motion to add the 9180. Martin originally was wanting to use the 1.05 housing like he had on his 8374 but I urged him to wait until the 1.45 was released. I think there was definitely a reason too
What we started with -
Evo IX
EnglishRacing LR2.4
Bushmaster raceported cylinder head
GSC R2 camshafts
Magnus V5
Wiseco 9:1 compression
R&R Rods
Full Race twin scroll turbo kit
ETS 4" FMIC
Fuel Injector Clinic 2150cc injectors
Twin Bosch 044 with surge tank
AEM series 2 and AQ1 for additional datalogging
Zeitronix ECA
E85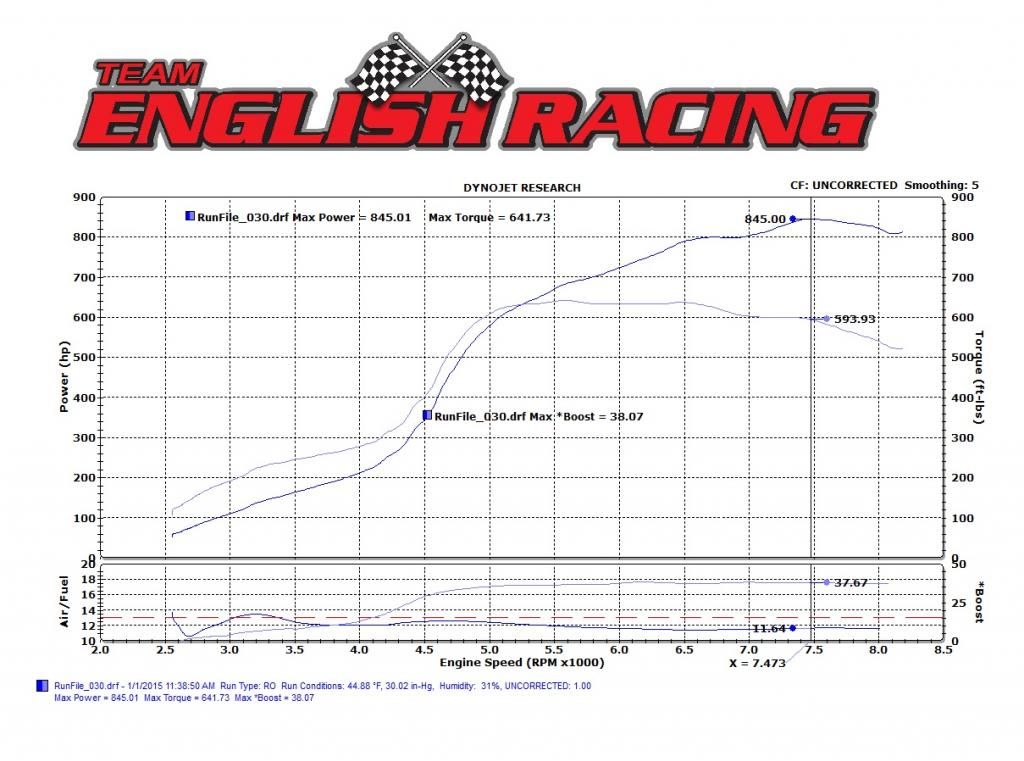 Higher boost only yielded more backpressure and no additional power on this setup, and shaftspeed was close to being maxxed. Like the last EFR on this car the dyno only tells half the story. On the street the car doesnt feel any different than the 8374, probably the most responsive 850whp 4 cylinder I have ever driven.
The tune is a little conservative since the car is being purposed for roll race events more than drag racing or anything short pull. The video will be up in the near future.
Very, very impressive graph
Can you please show the graph with time in seconds on the x-axis instead of RPM?
You can pm it to me if you prefer.
Thanks
Jan 12, 2015, 09:52 AM
Evolved Member
Join Date: Aug 2003
Location: WAR EAGLE!
Posts: 5,381
Likes: 0
The turbine wheels aren't efficient at higher pressure ratios, like the Garrett's and Precision Turbos. So mm for mm they won't flow as much, but that's the compromise they made for the exceptional turbine efficiency at low pressure ratios (response)
I'm happy they finally released the 1.45 housing
Jan 12, 2015, 10:08 AM
Newbie
Join Date: Dec 2011
Location: Las Vegas
Posts: 60
Likes: 0
Liked 0 Times in 0 Posts
I agree, though the PTE and Garrett options aren't really efficient up there either, everybody just runs them there without care of where they are on the map for either lack of a speed reference(garrett and PTE) or comp map(PTE&FP).

When you say small runner, is this a 1.25" schedule 10 manifold? If so, that is fantastic power levels for that cross section of primaries. Hot dog!