4G64/MIVEC/FPBlack 1st Impressions
Dec 19, 2009, 11:36 AM
Evolving Member
4G64/MIVEC/FPBlack 1st Impressions
---
Of note is that this car is completely untuned yet, I flashed my old 92 octane stock 2.0 IX tune into the ECU so I can't yet thrash on the car as it is running way lean resulting in some knock. I can also tell that the MIVEC tables need some major tweeking over the 2.0 map.
The first thing I noticed is the extra off boost torque when driving in traffic, very nice!
The 2nd thing I noticed is that the FPBlack is very chatty, the damn thing sounds like a Kenworth truck when driving in the 2500-3500rpm range, throttle modulation in this area results in whistling a turbo tune that is very noticeable from the drivers seat.
Did I mention the off boost torque? YES!! it really is a big improvement over the 2.0, I think that Mitsu should have put this block in the EVO instead of the 2.0.
I'm running on wastegate pressure (19ish) It looks like initial spool is in the 3800 range (remember the car is still untuned) and I still have the 3" intake and stock MAF. I'm confident that Aaron can get that down into the 34-3500 range that I was expecting with a 2.4.
I've still got a few things I need to clean up, When the 2.0 block blew up, a piece of block ended up in the radiator, it punched a small hole in the core. I managed to repair it to get the car running, but I don't trust it! I have already picked up a replacement and will swap it in today.
OK, that being said, I can't wait to schedule some time with Aaron and Lucas at English Racing to get the tune dialed in so I can turn the boost up.
2.4 block modded for MIVEC oil feed
JE 9:1 pistons
Eagle rods
Power Enterprise Head Gasket
L19 Head Studs
GSC S2
fp springs
AEM Exh. cam gear
Modded MIVEC cam gear
Magnus cast intake manifold
PTE 1200cc Injectors
ETS 4" Intercooler with short-route pipes
Forge BOV
ETS intake pipe
Hallman Pro MBC
FPBlack ported
stock port matched exhaust manifold
Megan O2 Housing
Perrin 3" DP
3" Test Pipe
HKS HiPower cat-back
Planned for the near future
4" Intake pipe and huge filter
SD conversion (Already have all the parts)
dual pump conversion (I already own a Full Blown)
FIC 1650 injectors (I already own a set from my DSM)
e85
MIVEC Block Oil Feed
MIVEC Head Oil Feed
Next Up:
---
Last edited by JohnnyTSi; Dec 19, 2009 at

01:50 PM

. Reason: Updated mods list
Dec 19, 2009, 01:12 PM
Evolving Member
Dec 19, 2009, 01:56 PM
Evolving Member
Dec 19, 2009, 03:42 PM
Evolving Member
Dec 21, 2009, 07:17 PM
Evolved Member
Someone went to the dyno today for his break in tune
Here is a log-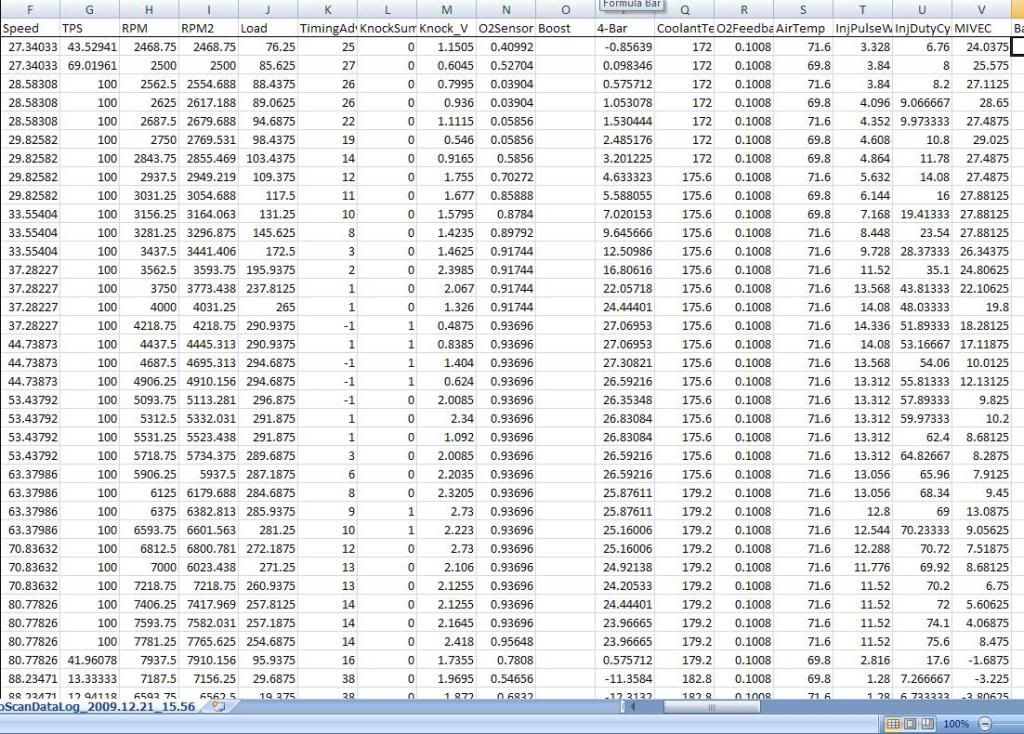 I think we can push the 92 tune more still pretty easily, the 1s were VERY intermittent. Boost is a little low for what I think it can do, and I think the S2s might respond to some tuning on the 2.4 that they dont normally seem to like on the 2.0l. I am going to let Johnny post his power numbers though.
Keep in mind on a stock turbo with all of his other parts on the stock 2.0 he was 383/355 on a 29psi spike on pumpgas. His car really really really likes boost. The MIVEC was being inconsistent a little (not sure why) and would really help us out and get the boost down to 3800 or so (27psi) or seem to do what it did in this log and linger at high rpm.
Also- break in= conservative...this is on the factory knock control settings so the noise might not even be real.
---
Last edited by JohnBradley; Dec 21, 2009 at

07:20 PM

.
Dec 22, 2009, 07:10 PM
Evolving Member
The relays did not come with the full blown kit.

I've had two of the cheaper 30 amp relays burn up on me so I started using these:

They are 12V 75 Amp

Bosch Part# 0-332-002-150

Bosch sold their relay division to Tyco which has a different part# V23232-D0001-X001

It is the same relay though, just has a different brand name stamped in the side.

John-
Dec 22, 2009, 07:14 PM
Evolving Member
Jan 18, 2010, 06:25 AM
Evolved Member
Join Date: Feb 2004
Location: NJ.201
Posts: 1,459
Likes: 0
Liked 0 Times in 0 Posts
Great build! I'd love to build a 2.4 with MIVEC when my motor goes poop.

Can't wait to see the finished numbers when your issue gets sorted out and you're able to throw some more boost at it on pump and e85.

-Jalal