Brake Guide Development
Nov 23, 2013, 11:17 AM
Evolving Member
Join Date: Feb 2006
Location: Seattle, Wa (from Madison, Wi)
Posts: 180
Likes: 0
Received 0 Likes on 0 Posts
Brake Guide Development
---
So after I broke off one of my brake air guides and found out Mitsubishi wanted $112 for a new set, I decided to make my own. I used a Romer arm to get the flow surface into the 3D modeling software Unigraphics. I then created a full solid model and had a friend print it on his 3D printer.
It's ABS plastic with a 20% honeycomb fill. I decided to make it in red to add a little color. It's plenty strong and matches the OEM part. This was the first run of it so it came out with some surface bubbling. We've since changed some parameters and made a cleaner version. I'm also considering using this to create a die to be able to pour my own casts.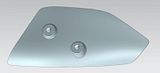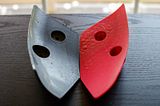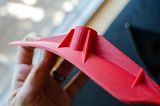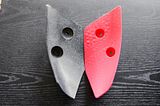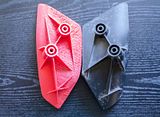 Nov 23, 2013, 02:02 PM
Evolved Member
thats really awesome, i hope santa leaves a 3d printer under the tree for me this year [not likely
].
in reality though how much will you be able to make for you think?
Nov 23, 2013, 02:04 PM
Evolved Member
I could be interested too if you could put a kit together for a reasonable price. I too find that the price for the OEM stuff is pretty steep for what it is.
Nov 23, 2013, 03:19 PM
Evolving Member
Join Date: Feb 2006
Location: Seattle, Wa (from Madison, Wi)
Posts: 180
Likes: 0
Received 0 Likes on 0 Posts
Do you have a picture or a ling to the bracket? I have an MR so have never had to mount the bracket and can't think of what it looks like right now.

As for price, it depends on the demand for it. If I make a die I could pour molds cheaper than printing and better quality. Price for the guides would probably by ~$30 for the two. If I'm not making a lot, it would probably by $35 - $40 for the 3D printed ones. I'd have to see the brackets before I could guess how much those would be to make.
Thread
Thread Starter
Forum
Replies
Last Post
For Sale/WTB - Engine / Drivetrain / Power
For Sale/WTB - Engine / Drivetrain / Power
Pacific Northwest