How to make a Mini Battery Kit same size as Oddessey.... Fits all Popular Trays.
Feb 4, 2011, 02:45 PM
Evolved Member
How to make a Mini Battery Kit same size as Oddessey.... Fits all Popular Trays.
---
So a couple years ago I set out to make a mini battery. I decided that I would first test it for a few years prior to posting about it. I purchased this battery nearly 3 years ago now and have been using it since. I purchased the battery from:
http://www.zbattery.com/CSB-12V-20Ah...d-Acid-Battery
This was the only battery that I found that had the needed dimensions for an ETS mini battery tray. The reason I found this was after some careful investigation to find that ETS' Battery was indeed a replacement part for this CSB battery. It fits perfectly in and ETS tray but the terminals proved to be a slight issue. I started looking for terminals and amazingly found them locally. Using the bolts supplied with the battery though they are some what small they then hold the terminals on great unless you're a gorilla.
http://www.batteriesplus.com/product...217--0006.aspx
Here is the final product. Hope everyone enjoys their new sub $70 mini batteries.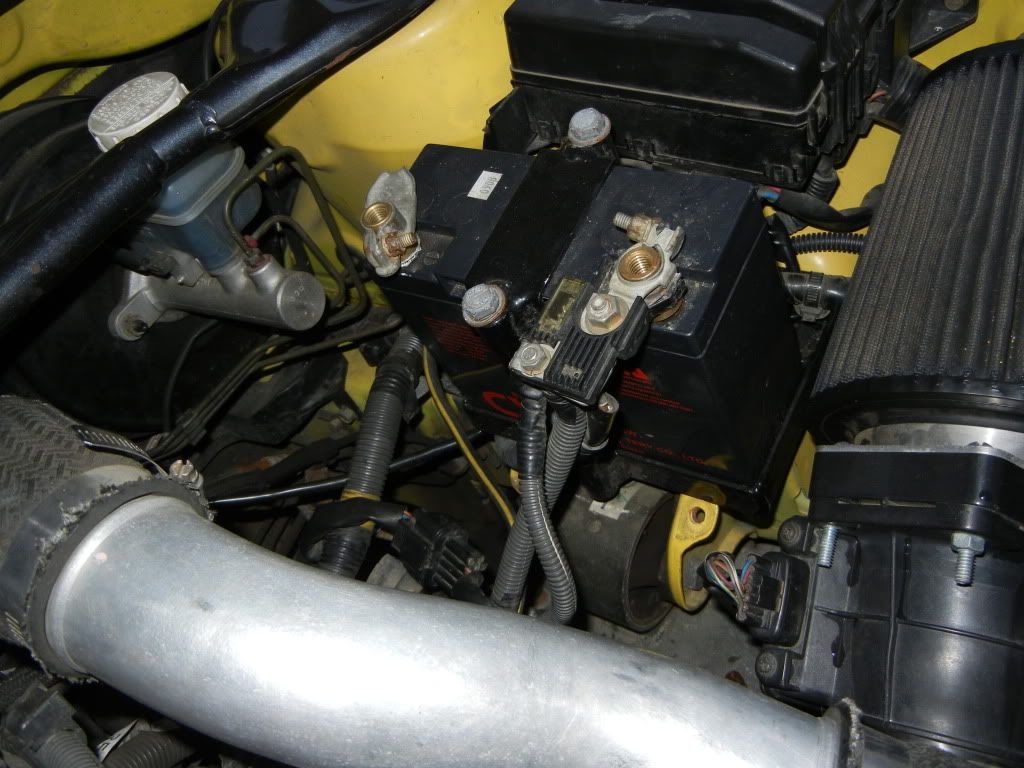 By the way this so deserves and instant sticky!
Feb 4, 2011, 03:10 PM
Evolved Member
Correct.. I bought the tray used for like 80 bucks but the battery is much cheaper in this form.... Price an odyssey or something and you will understand my point
Not to mention its a much cheaper replacement alternative when those mini batteries start taking a dump..
Feb 16, 2011, 05:59 PM
wow looks so much cleaner than the big stock one!
Feb 28, 2011, 09:38 PM
Newbie
Join Date: Mar 2010
Location: Jacksonville, FL
Posts: 61
Thanks: 0
Thanked 0 Times in 0 Posts
I did the same thing. I got an ETS battery from a forum owner for like 50 bucks, and got a cheap battery from batteries plus. The guy gave me the terminals off of an odyssey for free.
Apr 13, 2011, 01:16 PM
So everything showed up today. The posts have the wrong size bolt that screws into the battery. So you will have to source the correct bolt from a store somewhere. I dont know if there were different settings on the page that would have provided the correct bolts. So once I hit the hardware store I will post up the thread pitch and type.
Jul 26, 2011, 08:55 AM
Newbie
Join Date: Jun 2007
Location: Chicago, IL
Posts: 94
Thanked 0 Times in 0 Posts
How do you rate this compared to the other mini batteries? is it pretty much the same thing without the ridiculous cost or do you notice a drop in performance versus what others say?
Jul 24, 2014, 08:41 AM