View Poll Results: which carbon hood/trunk do you preffer
ultra light weight. stock fitment, a skin with minimal underside structure
81
78.64%
weight less a concern as appearance. high glossy finish, structurally rigid
12
11.65%
there are already to many carbon hoods and trunks available, don't waste your time
10
9.71%
Voters: 103. You may not vote on this poll
ultra light carbon trunk + hood, opinions
Jun 30, 2008, 07:47 PM
Evolved Member
Join Date: May 2004
Location: S. Florida
Posts: 1,581
Thanks: 0
Thanked 0 Times in 0 Posts
Yeah, stock mounting is cool, most wings are designed for that and any that aren't would need customization even on a stock trunk, so that shouldn't be a big deal for anyone.
Edit: I think you should see if people want the stock key and wing holes punched out. I personally would rather the trunk be smooth so I can make my own holes where I need them.
---
Last edited by jbrown; Jun 30, 2008 at

07:49 PM

.
Jun 30, 2008, 08:49 PM
Evolved Member
I've had both a CF hood and trunk for a while now (OEM shape for weight savings). I like the hood and love my hood pins - consider selling them with Aerocatches pre-installed, I think that might be a good selling point.
I don't like my trunk, it is very light but flexes too much. At high speed (100+) it will give enough to change the angle of attack of the rear wing so much it might as well be producing lift
. When it's freshly waxed (not that often admittedly) you can also see where the skin sags very slightly in the sections where there's no support underneath.
Have you considered using carbon foam or aluminum honeycomb for the understructure? It would make a seriously stiff structure for very little weight. There are CF pieces for other cars using these technologies, but none for the Evo that I know of.
Jul 8, 2008, 11:00 AM
Newbie
Join Date: Jun 2008
Location: Arlington, TX
Posts: 14
Thanks: 0
Thanked 0 Times in 0 Posts
Alright guys. Just wanted to show you guys some pics to let you know we are making progress.
Richie finished the mold yesterday so we finally got to see the tool for the first time today! Here are the results: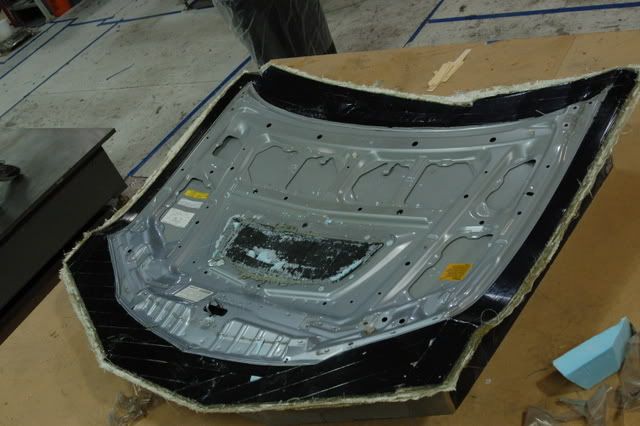 The hood as it sits in the tool before we remove it.
Finally got the stock hood out! It needs to be finished still but as you can see, the areas we pulled from the hood look excellent!
We'll be sure to keep you guys updated. We should have a skin for Mark Berry by next week.
Jul 8, 2008, 11:14 AM
Evolving Member
Join Date: Oct 2006
Location: DFW, Tx
Posts: 437
Thanks: 0
Thanked 0 Times in 0 Posts
WOW! Very nice!

Just FYI for everyone... I worked on the race team pictured in post #1 for 7 years while I was at school, and I assure you this is some of the best carbon work you will find out there! Aero space grade prepreg carbonfiber, the works!

NICE WORK SO FAR!!!
Jul 8, 2008, 11:43 AM
Evolving Member
Just found this post and I have to say that hood mold looks nice. I'd definitely be interested in a light as possible hood and/or trunk with a natural (dull) carbon fiber finish: function>form! +1 on making the trunk able to mount the stock wing also.
Jul 8, 2008, 11:52 AM
Evolved Member
Join Date: Dec 2004
Location: NJ, NYC, MI
Posts: 1,012
Thanked 0 Times in 0 Posts
Wow that looks GREAT! Will you guys be able to price the hood less than Seibon or other JDM hoods? I would also prefer the hood in it's natural color with maybe a clear bra on it.
Jul 8, 2008, 11:56 AM
Evolved Member
Join Date: Jun 2005
Location: chicago
Posts: 2,996
Thanks: 0
Thanked 0 Times in 0 Posts
So when this is done how much will you think you would be selling for. I know if its going to be cheaper then everyone else you will sell like hot cakes. Please pm price when you get a chance.
Jul 8, 2008, 12:09 PM
Evolving Member
Join Date: Jul 2007
Location: U.S. Army..... 09226
Posts: 194
Thanks: 0
Thanked 0 Times in 0 Posts
YA..... guesstimated price would be nice since i have an insurance claim going thruogh right now!
p.s..... i have a buddy that has a CF ultra light weight hood and from the bottom you can see through it. if you can, avoid this! it makes his hood look cheap and flimsy when he has it open!
---
Last edited by mini_evo; Jul 8, 2008 at

12:14 PM

.
Jul 8, 2008, 08:41 PM
Newbie
Join Date: Jun 2008
Location: Arlington, TX
Posts: 14
Thanks: 0
Thanked 0 Times in 0 Posts
ok guys.
Seibon is making almost the same hoods we are, except ours are going to be stock-style.
https://www.evolutionm.net/forums/sh...rue+dry+carbon
Unfortunately, we will not be able to sell a
bolt on
hood for $900. There is too much labor for it to be feasible. However, we are trying our hardest to be SIGNIFICANTLY cheaper than the Seibon true dry carbon hood, while maintaining the same weight.
An
EXTREMELY ROUGH ESTIMATE
puts us at about $1500. We cannot compete in volume. But where we can shine is in quality. Our parts will be made using aerospace-grade materials. The prepreg manufacturer we use is the same manufacturer that mercedes mclaren uses for their F1 chassis! We arent messing around with cheap stuff here guys!
Anyway, here is another mold shot!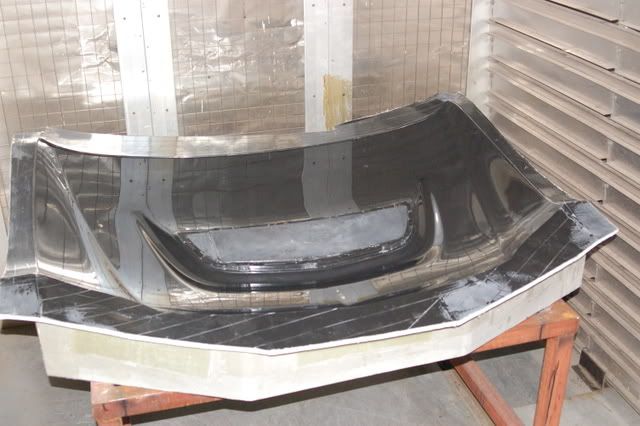 Mold after trimming getting ready for a post cure.
Jul 9, 2008, 07:01 AM
Former Sponsor
Join Date: Sep 2004
Location: DFW, TX
Posts: 2,701
Thanks: 0
Thanked 0 Times in 0 Posts