How-to Swap S2K Cluster into Evo (Updated)
Sep 11, 2017, 01:46 AM
Newbie
How-to Swap S2K Cluster into Evo (Updated)
---
Decided to remake this thread so you guys wouldn't have to sift through pages of rambling to get what you needed to know.
You're welcome.
Basics of what you'll need:
-S2K (AP1) cluster
-S2K cluster harness
-Ktuned S2K dash converter
-Wire stripper
-Wire crimps/Crimper tool
-Soldering iron w/flux core
-Heatshrink
-Some way to label your wires, not needed but it helps.
-Any other basic wire working tools you'd usually have.
-Patience. I have very little wiring experience and managed to faniggle this thing into functioning. You can too.
After you've gathered all of this you can get to work with the wiring.
I went through the effort of finding and compiling the pinout info for the S2K cluster here for you guys so you aren't going through the pain and agony of finding it on Google or wherever.
Now here's the pinout for an Evo 8 WITH ACD.
I can't tell you if it's the same for non ACD evos. Be wary.
This is the evo harness with the two plugins connected to the evo cluster.
C-106 (White Connector)
1 BLK...........Ground 3
2 BLK...........Ground 3
3 BLU/GRN.......Left Turn Signal (+)
4 RED/WHT.......High Beam (+)
5 BLK...........High Beam (-)
6
7 RED/BLK.......J/C 1 (+) (10AMP FUSED)
8 YEL...........Door (+)
----------------------------------------
Ignition
9 YEL/RED.......Charge (+)
----------------------------------------
10 GRN/WHT......Tarmac (-)
11 GRN..........ECU/Tach Input
12 WHT/BLK......Speedometer Input
13 GRN/ORG......ABS
14 PNK..........Gravel (-)
15 VLT..........Snow (-)
16
17 WHT/BLU......Check Engine (-)
18 WHT..........Oil (-)
19 RED..........Charge (-)
20 BLU..........Fog (+)
21
C-108 (Blue Connector)
31
32 BRN..........Brake (-)
33 VLT..........Water Spray (-)
34 BLU..........Door (-)
35 RED..........Seat Belt (-)
36 GRN/YEL......Air Bag (-)
37 BLU/GRN......Brake (+)
----------------------------------------
Positive Lead
38 GRY..........General (+)
----------------------------------------
39
----------------------------------------
Negative Lead/Rheostat
40 BLK/YEL......J/C 3 (-)
----------------------------------------
41
42
43
44
45
46
47
48 BLK..........(-)
Fog (-)
Turn Signal (-)
49 PNK..........Right Turn Signal (+)
50 YEL..........Water Temp Input
51 GRN..........Fuel Gauge Input
Fog Light Switch
1
2
3 - Black Yellow - From Rheostat
4 - Green White + From fuse box 7.5a
Hazard Warning Light Switch
1
2
3 - Green White + From fuse box 7.5a
4 - Black Yellow - From Rheostat
Your next step is going to be figuring out that wiring. God be with you because it sucks if you don't know what you're doing lol.
After going through that mini version of hell you should end up with a semi functional cluster.
From what I can tell, RPMs and Fuel level read fairly accurate even without the Ktuned converter applied.
Coolant will most likely read very low, or very high at first. No worries.
And your speedometer most likely won't work at all unless you have the Ktuned converter applied.
After you've tested your connections and have everything that you want done, pop that sucka in there and see how she looks. You do not have to modify your cluster shroud at all, just push your wiring back in gently and place the cluster behind it.
From here you can either make your own template for the cluster, or you can ask a company to cut one for you. (I'm through @JD_customs_usa as they'll be cutting me a carbon plate and shipping it to me.
At the very end of all of this, you should end up with something like this.
Link to my Facebook startup video:
https://m.facebook.com/story.php?sto...00004924896922
I'm nowhere near finished. Since I still plan on doing an LED swap for the cluster along with a different colored template.
I'll update this accordingly as I keep going through this project. I'm going to go back and make a more direct pinout for the wiring soon. I'd like to make it as simple as possible for everyone.
Thanks for the read, hope you guys enjoy it and appreciate the work and research that went into it.
S2K Cluster harness
S2K AP1 cluster
Ktuned S2K cluster converter.<br/><br/>This allows you to adjust your speedo, coolant, and fuel level for accuracy.
AP1 Pinout. Honestly you won't use much of this.<br/><br/>If the evo doesn't have it, just cap it or cut it off.
AP1 pinout
Evo cluster harness
---
Last edited by Evocc; Sep 11, 2017 at

11:45 AM

.
The following 3 users liked this post by Evocc:
Sep 12, 2017, 02:55 PM
Newbie
Sep 12, 2017, 03:01 PM
Newbie
I'll be updating and adding more information to this as I finish this project up.

Waiting on my calibrater to come in, also sourcing a company that can reprogram the cluster to my original mileage.

I'll add all of this to the thread once It's 100%

Thanks for all the comments and kind words.
Sep 13, 2017, 07:35 PM
Newbie
Suuuupp.
Ktuned dash converter came in today.
My car is currently in the shop right now having some stuff installed & being tuned. Hopefully I can jump back on the cluster later this weekend and start adjusting my speedo & coolant.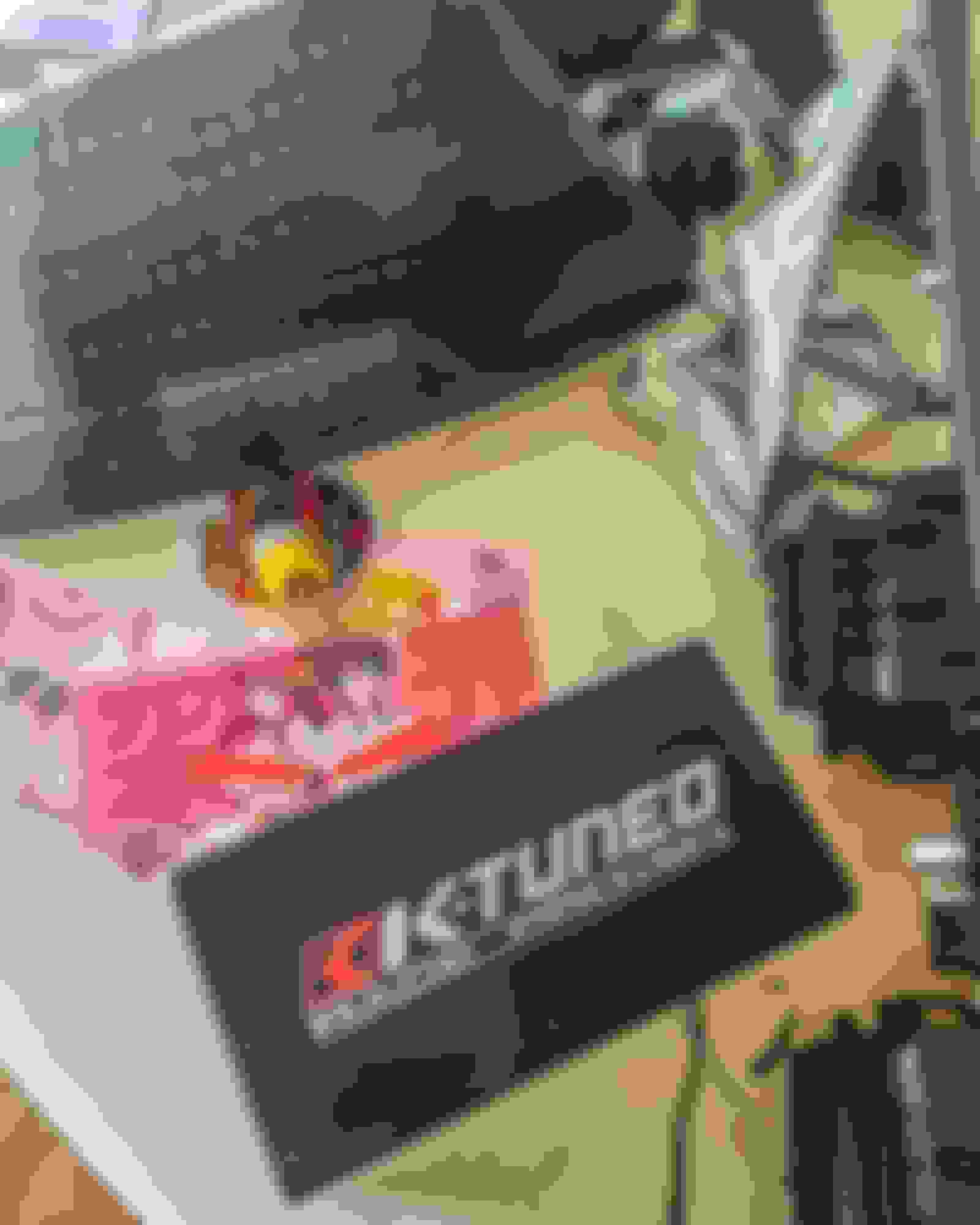 Dash converter from K-tuned.

ft. DxD tiddies.
NFSWWWWWWW.
Sep 18, 2017, 02:32 AM
Newbie