EnglishRacing Evolander Begins
Mar 8, 2012, 01:24 PM
Evolved Member
EnglishRacing Evolander Begins
---
So with our recent excitement from the auto swap in the Evo, we decided to start testing a different Mitsu auto in its native enviroment. Jeff purchased a 2003 Outlander specifically for this testing. He needed a daily other than his diesel tow rig and with how well his 1G Auto program has worked he was excited to get in on the newer style transmissions.
The outlander is not very stylin stock, so a drop was in order. Fortunately since its based on a Cxxx chassis the Evo suspension and Lancer suspension work to drop it a staggering 5.5" with lowering springs added.
It needed some wheels, so he threw Luke's road race wheels and tires on for giggles but the result turned out very well-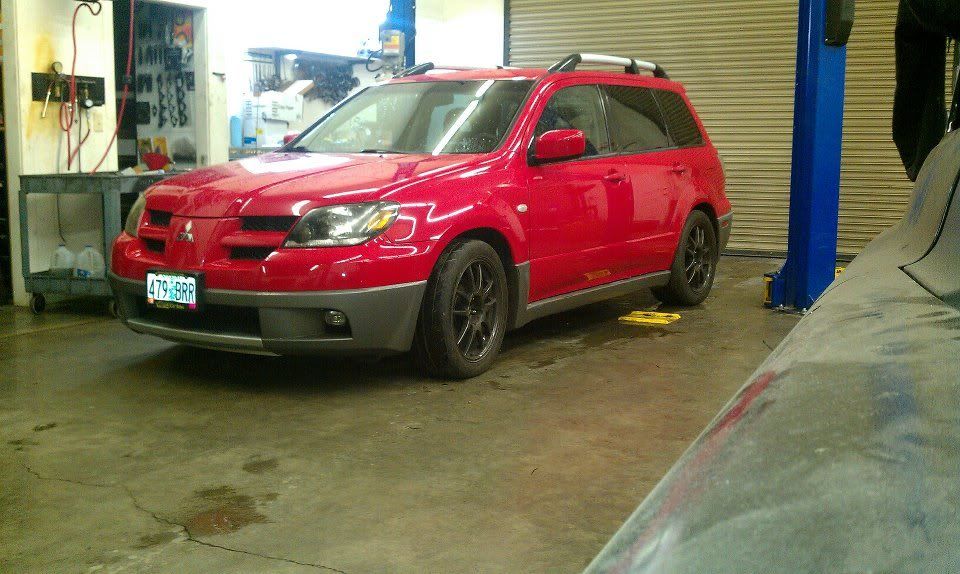 This has a 4 speed Sportronic shifter in it so the Auto isnt exactly the same as GTA, so we needed a ROM setup for us custom. MRFred jumped to the opportunity and started with some basic changes we knew we were going to need, SD. The stock Tune is pretty horrible and with only a 140bhp we new it wouldnt be too exciting. The 13% loss through the trans and converter made it even less exciting, 84whp/104 ft lbs. A quick switch to the new map and dialing in the AFR helped a bunch though-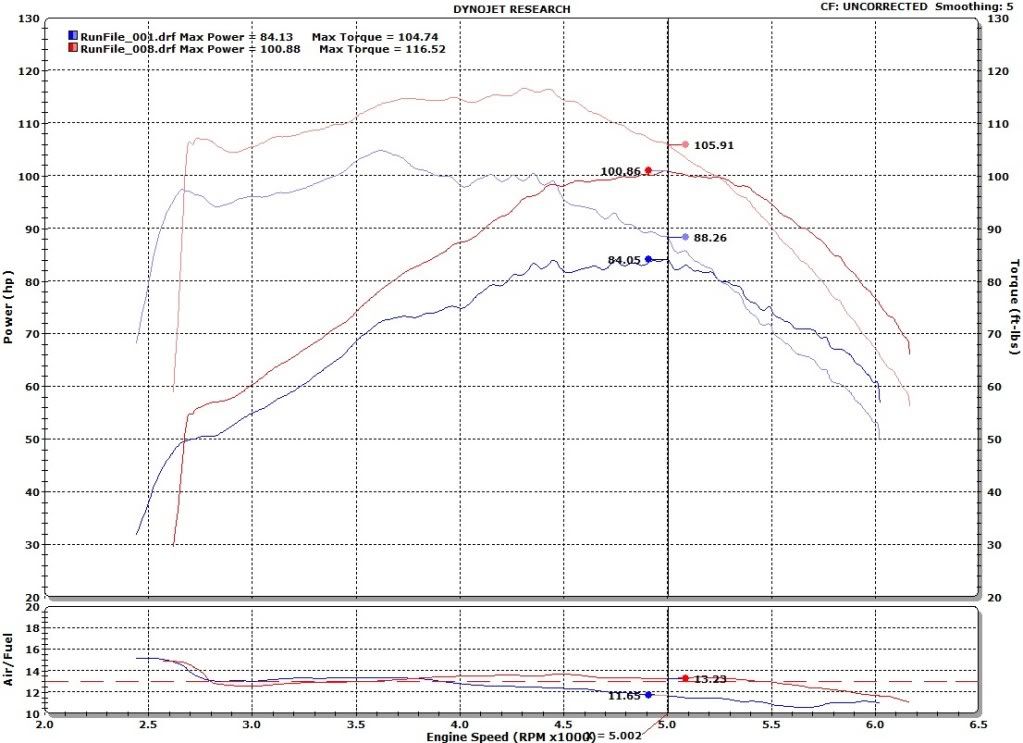 As you can see the stock motor with SOHC head and small cam isnt really where we want to be. This car will be getting a full Evo 8 swap with Evo 9 turbo, a ER 2.4, built auto, and E85. More or less the same combo we used here-
https://www.evolutionm.net/forums/ev...ock-turbo.html
Since this will stay on a stock converter we could reasonably expect to see low 400whp through the auto and maybe some low 11 second passes. Time will tell so stay tuned here for Evolander updates.
Aaron
Mar 8, 2012, 05:05 PM
Evolved Member
you guys are nuts! how can you handle that much power?!?!?!?!

on a serious note, is this awd or fwd? if fwd, is it gonna stay that way for the evo engine? I gotta say it looks pretty good, better than the subaru outback...

link to your auto evo?

and didn't you guys do a 550whp stock turbo evo?
---
Last edited by warmmilk; Mar 8, 2012 at

05:08 PM

.
Mar 8, 2012, 05:08 PM
Evolved Member
This is an AWD Outlander and is non turbo right now. It will be turbocharged in the next few months though, then things will get silly. An Evo swap in this is pretty straightforward, drop the head on it, change injector plugs to something normal, add boost + tune, go fast
Here is the link to the Auto Evo-
https://www.evolutionm.net/forums/ev...-auto-evo.html
Mar 9, 2012, 08:04 AM
Evolved Member
Mar 9, 2012, 08:08 AM
Evolving Member
Join Date: Aug 2010
Location: USA
Posts: 346
Likes: 0
Received 0 Likes on 0 Posts
would you do this conversion on a customers outlander if they were to bring it in?

Suspension conversion and full Evo 8 swap over, with just all stock parts, turbo etc.

curious on price OTD also.
Mar 9, 2012, 10:06 AM
Evolved Member
By swap, you want a built 2.4 when we do it or leave the stock 2.4 and throw a head on it.
By the time we got everything done I bet we'd be around 7-10k or so tuned and done. I would have to sit down and really calculate it out if you are interested. We are in the first phase of this so getting it all calculated will be tough.
You would end up with a built trans, Evo head with cams, injectors, intercooler, etc. It would be a lot of stuff to do this the way we want.
Aaron
Mar 10, 2012, 06:24 AM
Evolved Member
Join Date: Dec 2008
Location: IL
Posts: 1,944
Likes: 0
After looking at this. I must admit, I am on the hunt for a used outlander haha. I would want just nice 330hp or so out of one. Make for a great fun daily. As far as an ecu, would the stock outlander ecu work? Can roms be edited and loaded into it?
---
Last edited by tsidrift1; Mar 10, 2012 at

06:34 AM

.
Mar 10, 2012, 06:26 PM
Evolved Member
Yeah with some work. We are currently working on a SD rom with big maps specifically for the Outlander. I am using the stock little maps currently and an SD patch. There is some actual hardware modification that needs to take place to make them flashable, out of the box they arent quite ready to go.
Aaron