FilthyEvo's track car build/track day writeups
Dec 16, 2012, 06:02 PM
Evolved Member
FilthyEvo's track car build/track day writeups
---
I figured I would make a thread where I could keep track of all my updates/track days, not only for myself, but for everyone else to view as well.
I'm merging three of my older threads together for the first couple of posts.
EDIT - For anyone that cares, you can follow the daily updates and changes to the car on my
instagram - @filthy_joe
Well, as some of you know, Ryan (hamflex), sold his car recently. Well, I'm the new owner.
I took the 2200 mile round trip, from NH to Chicago and back, to pick the car up a few weeks back. Ryan's an awesome dude, and hooked it up with some extra along with the car. The deal couldn't have gone smoother,
Anyways, I'm coming over from the VR4 (3000GT) world, but my brother DD's an Evo, so I've been around one for a while. The new car runs awesome, and I had only driven it 2 times (on the road) prior to this AutoX; I was still getting used to it!
Loaded up and headed to the event (50 mins away). A little advice -
don't wait until morning to load the truck and trailer
. I was miserable, getting up at 530am just to load the car on. I thought I was going to be late.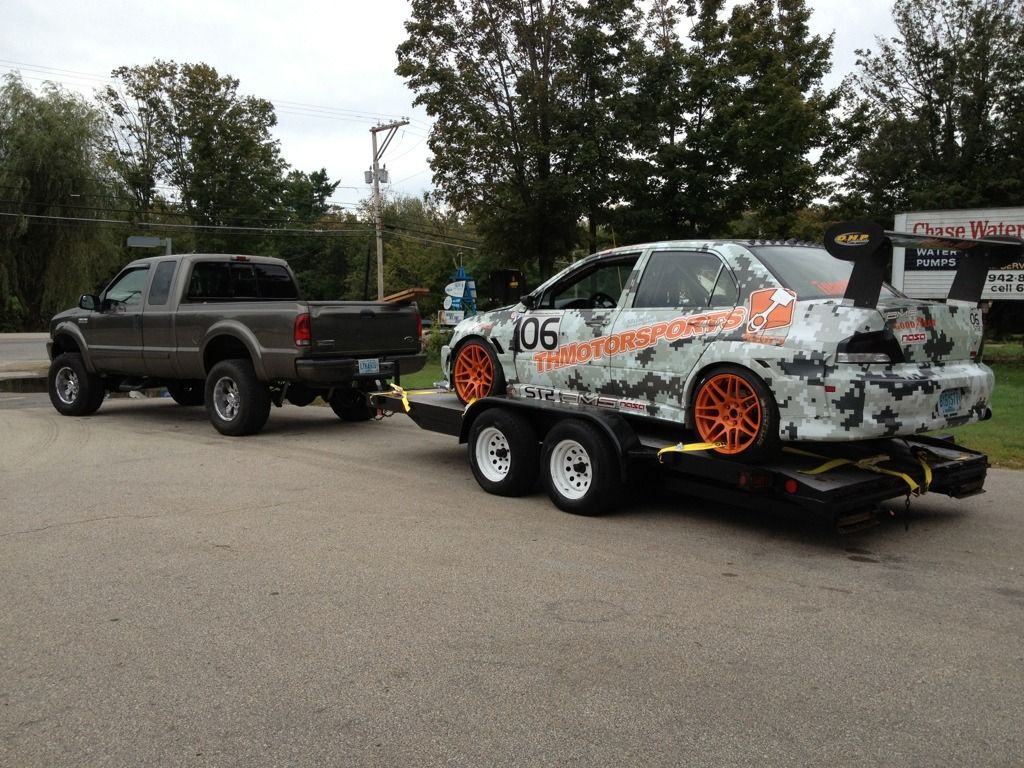 All unloaded and ready to tech! Party wheel!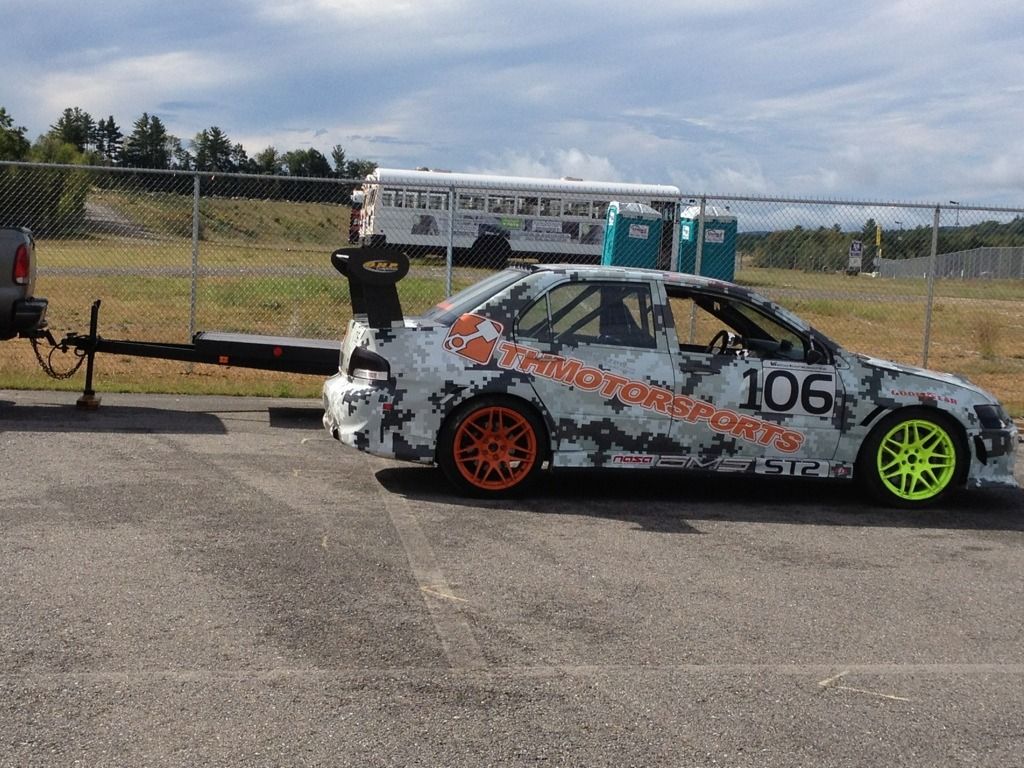 I will upload exterior videos of each run, as well as some inside footage soon. For now, I just uploaded my quickest run.
My first run it was really cloudy and cold. I entered turn 3 and the car got a little tail happy, and I 180'd. The Michelin roadracing slicks were definitely cold as hell. Threw away that run, but got on her good to heat up the tires a little.
Second run I eased up in corner 3, but I was pretty nervous, so I wasn't pushing it hard at all. The car was still tail happy, and my braking and gas pedal moderation needed some working on...I was either WOFT or off the gas completely.
Third run I told myself I'd push it a little more and ending up looping it in corner 3 again.
Fourth run I was finally able to get a clean run and hit no cones - 35.6. A few STI's, another Evo, and an Exige were all in the mid-low 34's.
Lunch time came and went, and now the sun was out and shining. It was also getting very hot.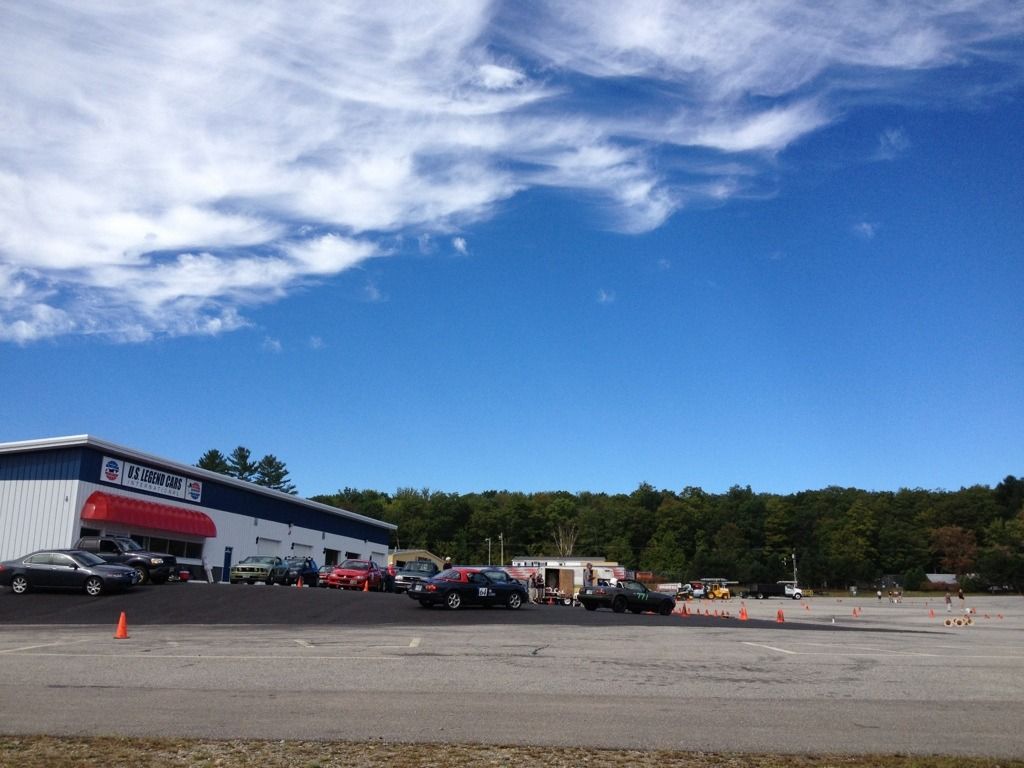 I watched the other classes race and when it was my time to grid, I hopped in my car early and drove around the parking lot, occassionally doing a few figure 8's to try and heat up the tires.
I'll have to check the videos, but I believe my first run was again a throwaway. My second run I had a rerun, and on the third run I was still being a b*tc, but ran my best time of a 35.33. Then I ran a sick run, but, of course, no time and I had to rerun. I knew the tires would be warm from just finishing my throwaway run, so I went harder this time.
The car stuck REALLY well, and I was able to get my best time of 33.7!! I really focused on braking before the turn, braking in a straight line, and moderating the throttle, and powering out of corners with the warm tires. This worked out well!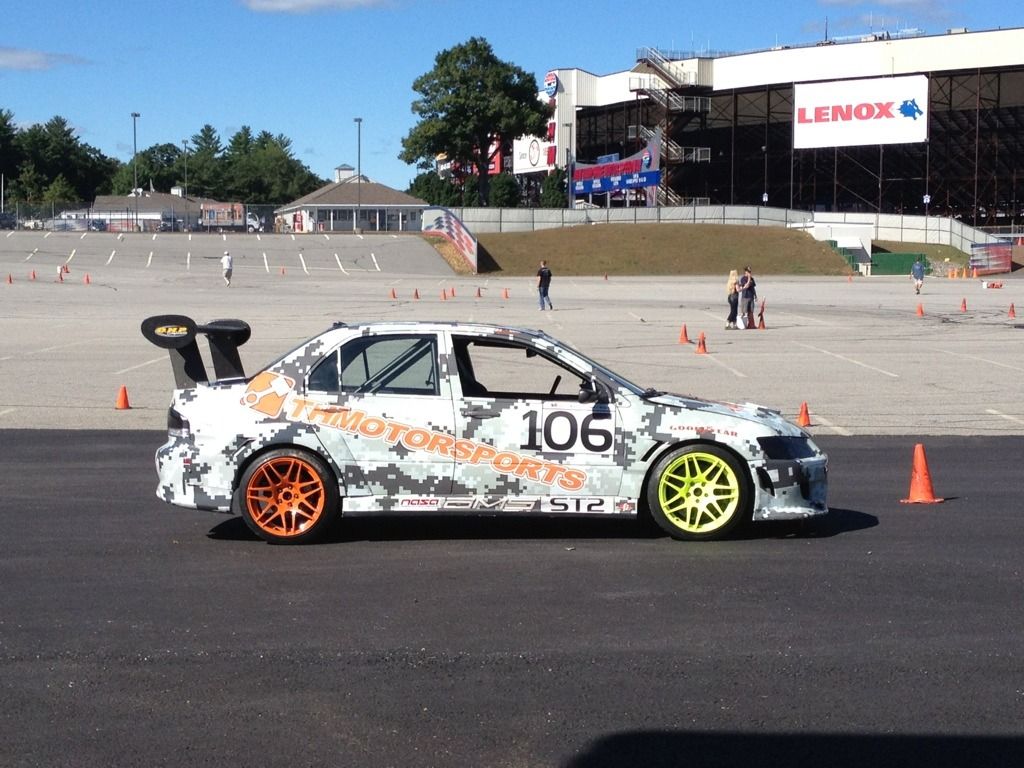 Pumped about that run, I launched a little harder on my last run, but I missed the 1-2 shift. I hustled through the rest of the course, with some power drifts (See vid) and managed a 33.609! This was enough to put me in 3rd for the day in the race prep class! Super stoked about this.
WATCH IN HD! And don't mind my girlfriends commentating, LOL.
http://www.youtube.com/watch?v=tdSG1...ature=youtu.be
Here's an incar vid - watch in 1080p
Overall, I'm super happy about the day, and about how the car performs. Ryan built an awesome car, and it's a pleasure to race with.
I should be attending a hillclimb, next weekend, if I can pick up some new tires. IF not, then there are two more local autox's in October, as well as a COM HPDE day, so I'll be doing those!
Joe//Filthy Evo
EDIT - 9/29/12
Okay guys, I finally got around to uploading some more videos. These aren't all of them, but the others were lame. Again, don't mind my girlfriends commentating, LOL. Watch in HD!
Here's my first run of the day. This is the first time I've raced the car and I wasn't sure what to expect. The tires were at 32psi at all four corners, and they were ice-cold. Remember, these are Michelin road racing slicks - not too much life left on them either. As you can see, I wasn't expecting them to be as slick as they were, and I spun out.
On my second run, I made sure to be more cautious on the turn that I spun out on. Well, I managed to hold it together, but as you can see, I was still hesistant. LOL, my girlfriend is one hell of a commentator.
Third run, and another spin. Later in the run, the car breaks loose into a dorifto once again, and I clip a cone. Another throwaway.
After one more throwaway pass, it was lunch time. I sat down with some of the guys that were running some quick times, and they gave me some advice. I really needed to heat up these tires. So, before our runs started, I headed out to one of the empty parking lots and did some figure 8's to try and heat the tires up even the slightest bit. After, I quickly headed to line up up front. My intentions for the first run were to just heat up the tires; luckily I managed to get a re-run, so it worked!
On my first real timed pass, I laid down a 35.XX!
This got me stoked, and I was focusing much more on braking in a straight line, braking before the turn, and moderating the throttle more. As well as, really getting on it in the straights. After that 35.XX, my goal for the day was to get into the 34's; that's where most of the "quick" cars were running in the morning sessions.
So, I got another pass which was deemed a re-run. I was pissed because that run felt
so
good. So, I was determined to better it! And that I did!! I was so shocked to see my time on the time-clock say 33.7XX!
After that, I got another pass deemed a re-run and then I laid down my 33.609 (vid I posted in the OP).
Well, after that I went back into the pits, but a few people had told me about fun-runs. So, I hopped back in the Evo, and headed back into the lanes. For this run, I really just wanted to push the car and see how well I could control the POWAR -slides.
It was definitely fun.
I have another race on October 7th; and apparently it's going to be on a much larger, faster course. I also have 3 more races after that in October and 1 or 2 in November.
Hopefully I will have the funds to attend a HPDE/Time Trial day on October 16th as that is really what I want to do with the car. Time attack being the final goal.
Thanks for viewing! Enjoy!
---
Last edited by FilthyEvo; Feb 8, 2013 at

09:31 PM

.
Dec 16, 2012, 06:02 PM
Evolved Member
I'm on a road trip to Colorado, so I'm posting from my phone. Ill do a full write up later, and I also have a ton of hi-res pics to go through and post.
Couldn't leave the car the way it was; had to give it my own personalization. New decals, new sponsor decals. My brother owns FiLTHY Apparel Co, so Ofcourse I wanted to rep his company. I painted the interior white, and flocked the dash. New wheel color - 3 teal and I left the yellow party wheel.
Took 1st at the last autocross. With all 9 of my times being the FTD, as well as giving me the fastest PAX of the day. The new hoosier A6's performed phenomenal in the rain. 39 front/40 rear psi cold. I'll do a full write up later.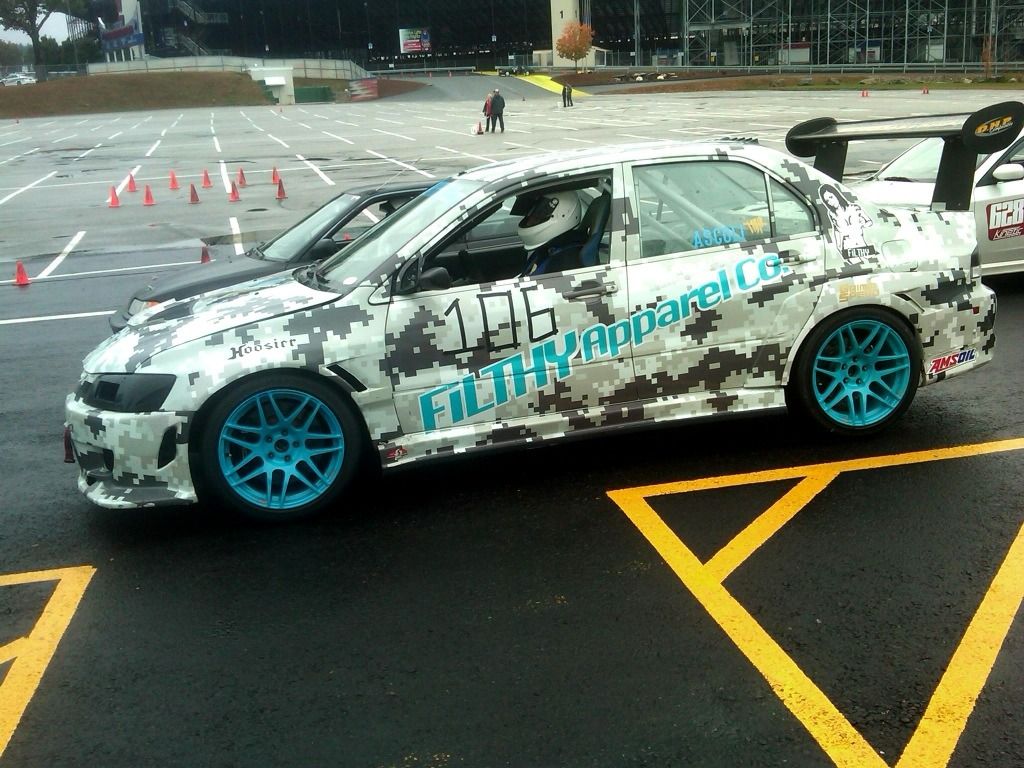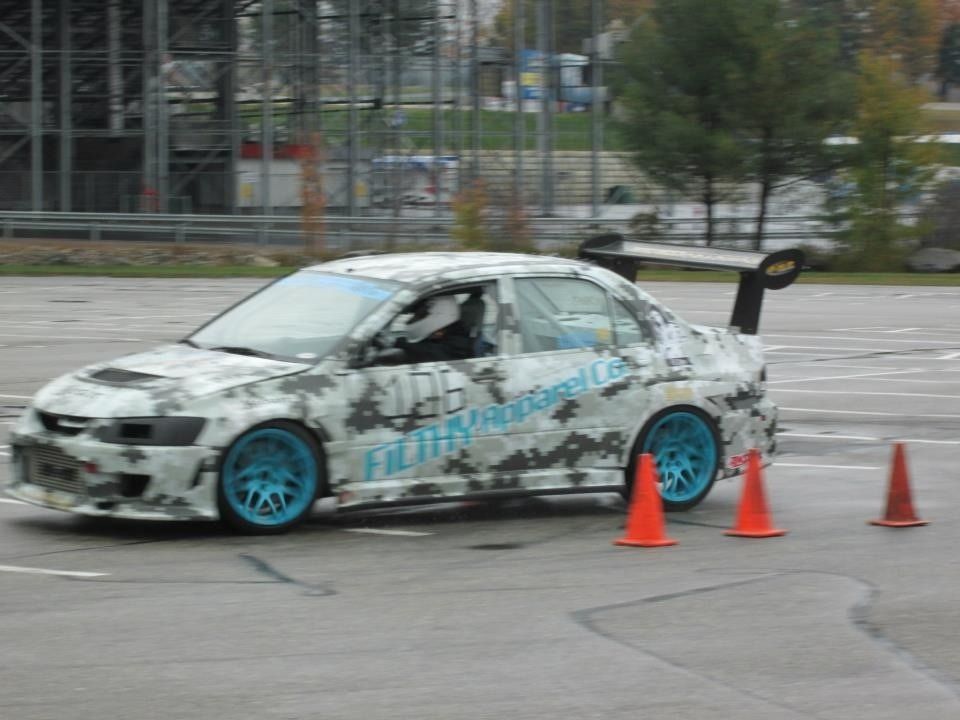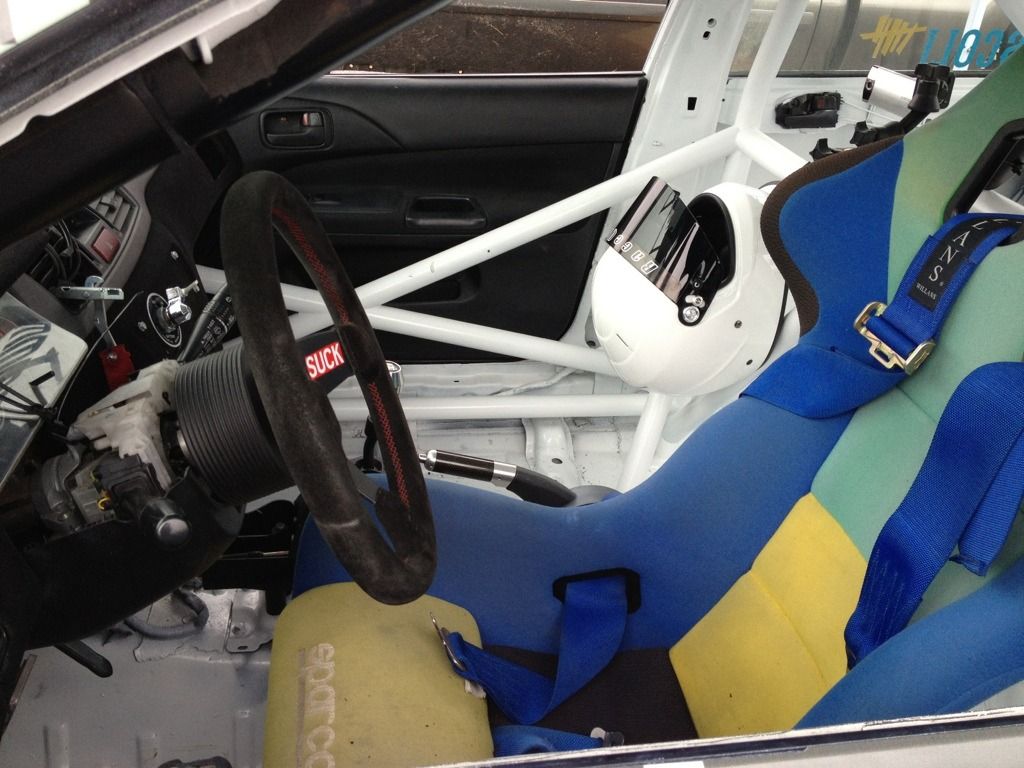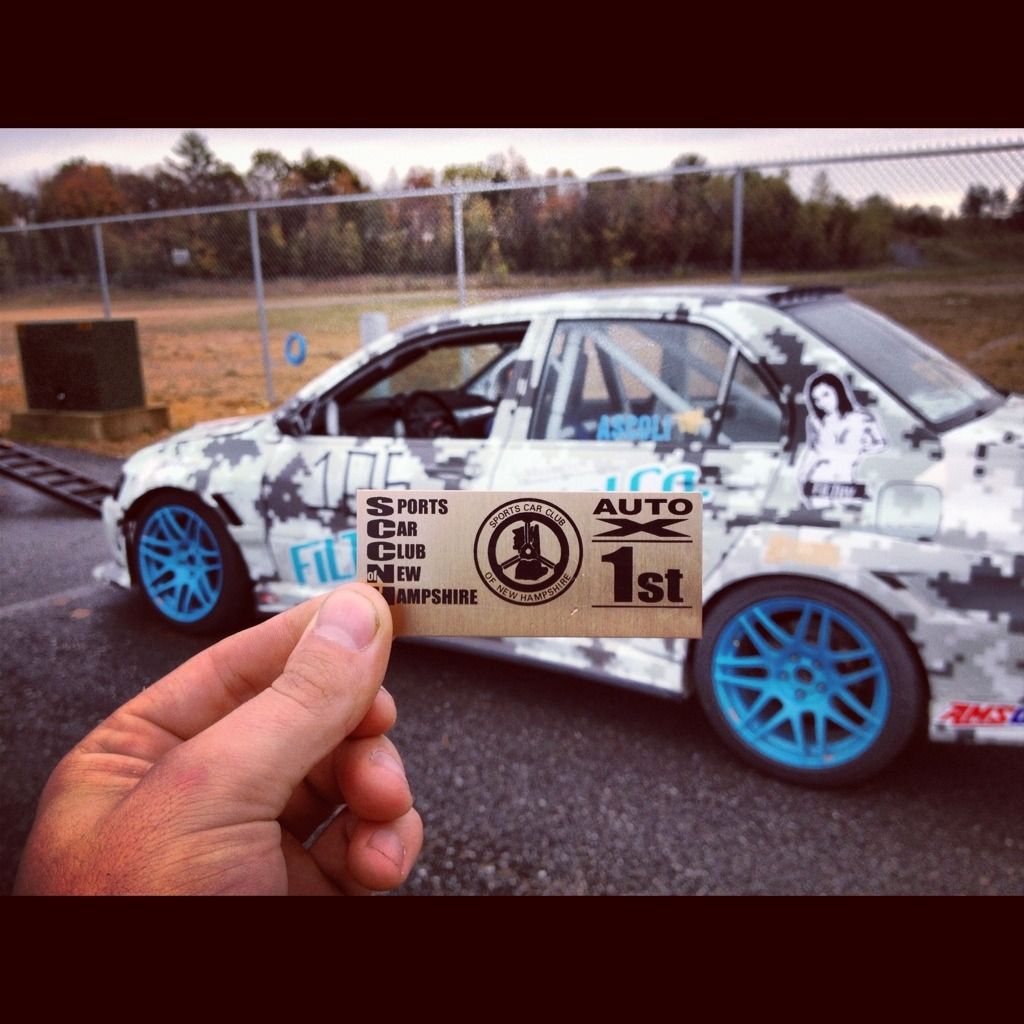 Dec 16, 2012, 06:02 PM
Evolved Member
Well, the last autocross of the season was last Saturday. I have a lot to go over, but overall it was a fun time and I learned a lot, and still have much to learn.
This was my first DRY day on the new Hoosier A6's, so I was playing around with tire pressures a little bit. I think they need to be aired up a bit more than what I had them set at 38F/37R cold (see pic below).
Right off the trailer, I went out and laid down the FTD for the morning. It was a good run (
38.205
) - my first runs are usually one of my bests. Realizing what I could improve on, my second run was even better -
37.849
. This ended up being my fastest clean run of the day.
The last run of the morning, I tried to push it a little bit more, and the car started to understeer a bit (could have been a combination of me braking while turning, and too much on/off the throttle as opposed to moderating the throttle). Anyways, I clipped a cone and they called it an off - which sucked.
38.022+OFF.
Well, the afternoon came around and I was currently sitting in 2nd in the race class, and also had the FTD for the morning. I told myself to calm down a little bit, and just correct what I was doing wrong on the last run, rather than just shooting for the fastest possible time. I feel that this is a problem I have in my later runs; I try and try to go faster, but I keep making stupid mistakes, rather than correcting what I did wrong on my last run - which in the end would make me smoother/faster.
First run of the afternoon was my smoothest, and fastest run of the day, but right out of the gate, I clipped a cone. Dumb mistake - I roasted all 4 out of the gate and the *** end slid and hit a cone.
37.281+1.
My next run was my worst run of the day. I guess after hearing that I clipped the cone, it pissed me off, and I started playing mind games. Well, I was choppy and constantly on/off the gas, and the front end was pushing a lot. Very disappointed.
38.459.
Pysching my self out after two dumb mistakes, I just couldn't get my head right. My last run was a throw away as well, and you could tell I wasn't focused. Choppy and on/off the gas.
37.939+1.
PAX pushed me into 3rd; behind some custom hot rod car, and a nice S2000 on Hoosier A6's. My morning went well, but I was very disappointed in how I let the afternoon turn out, but all in all, I had a lot of fun and learned A LOT.
I really need to focus on correcting what I could improve on from my last run, as opposed to worrying about the time. I feel that this will net me better/smoother runs.
I also need to learn more about tire pressures, and how lowering/raising pressures will effect the car.
On to the pics;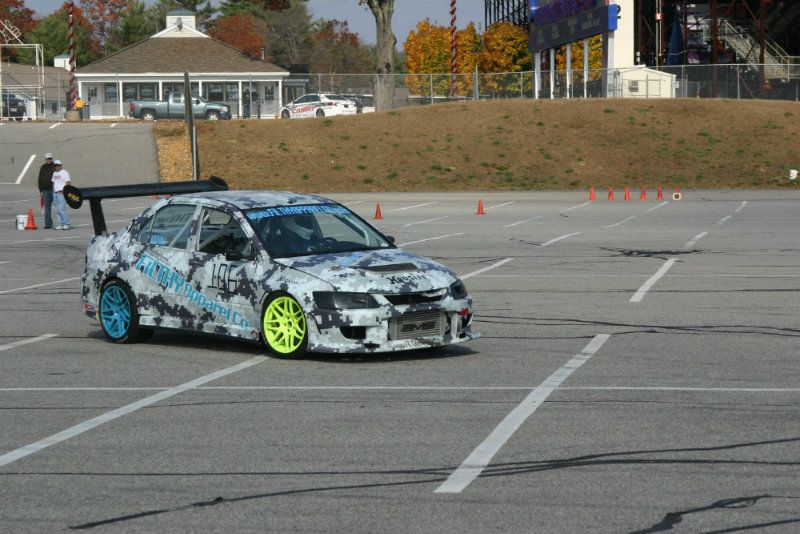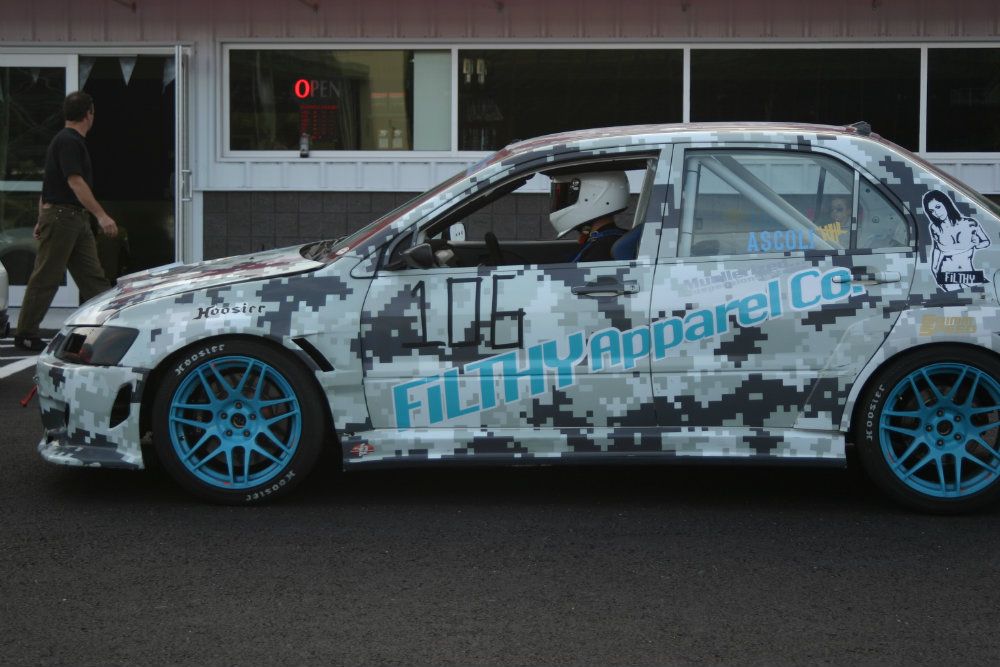 Tire look too low here?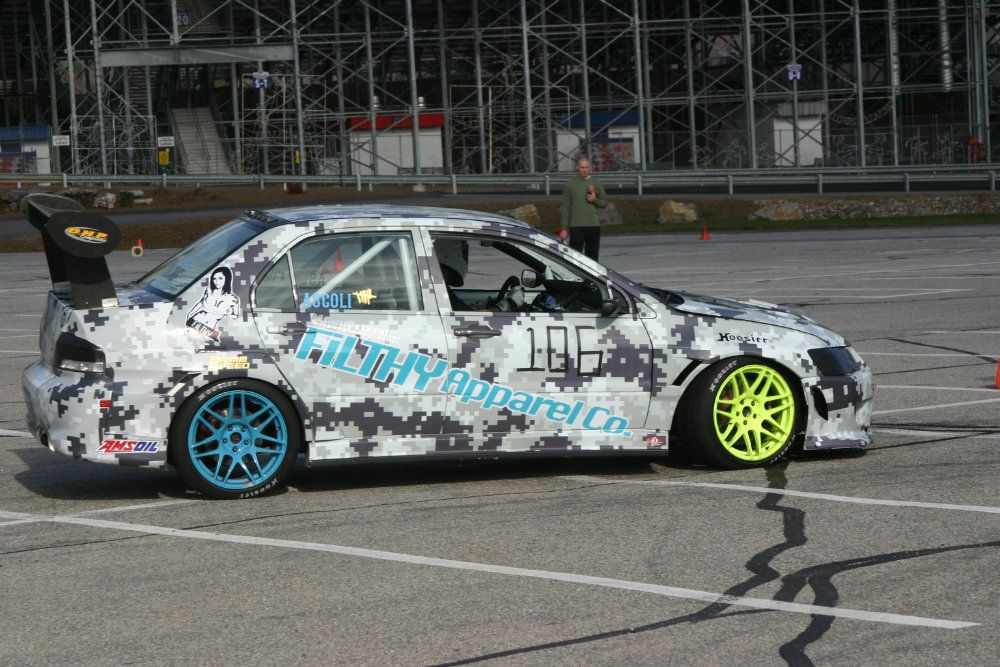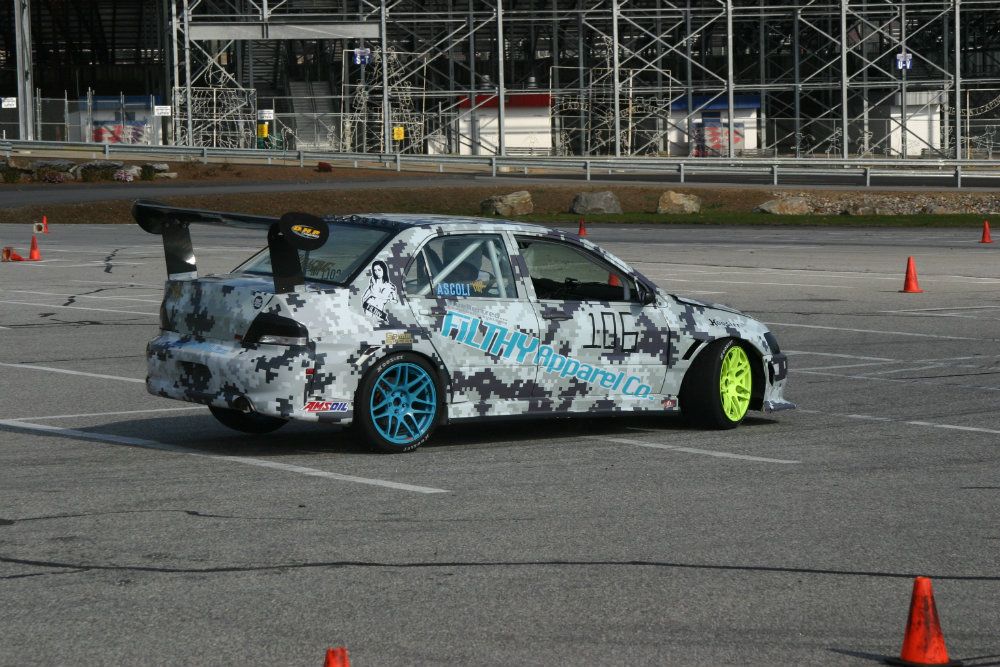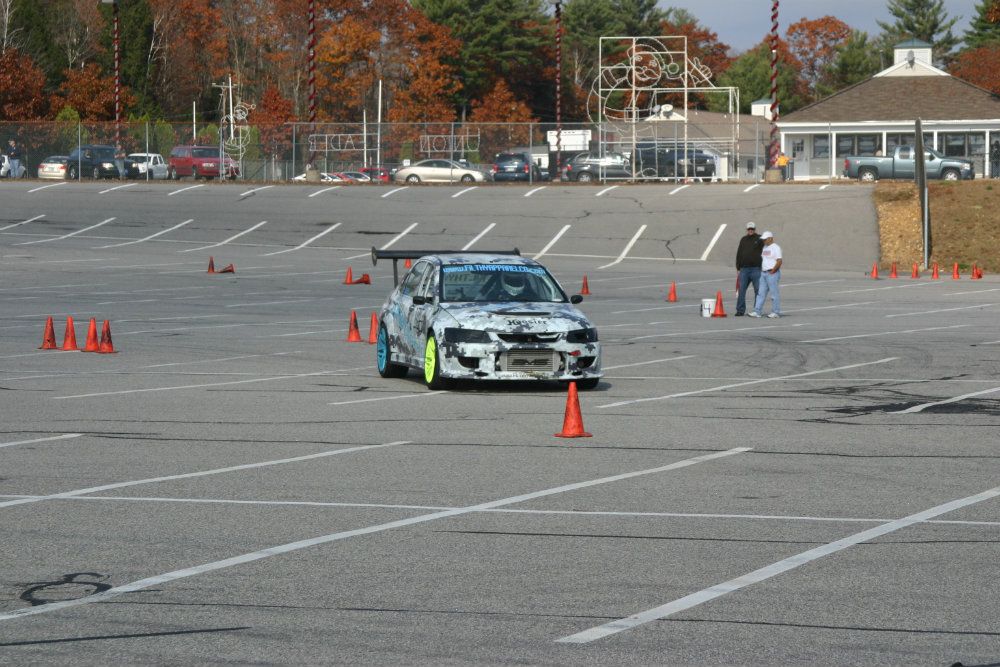 Nice Factory Five kit car - he placed 5th but almost had me on FTD with a 37.9. He was on 295 A6's in the rear. Car was beast.
This was the hot rod thing that got 2nd.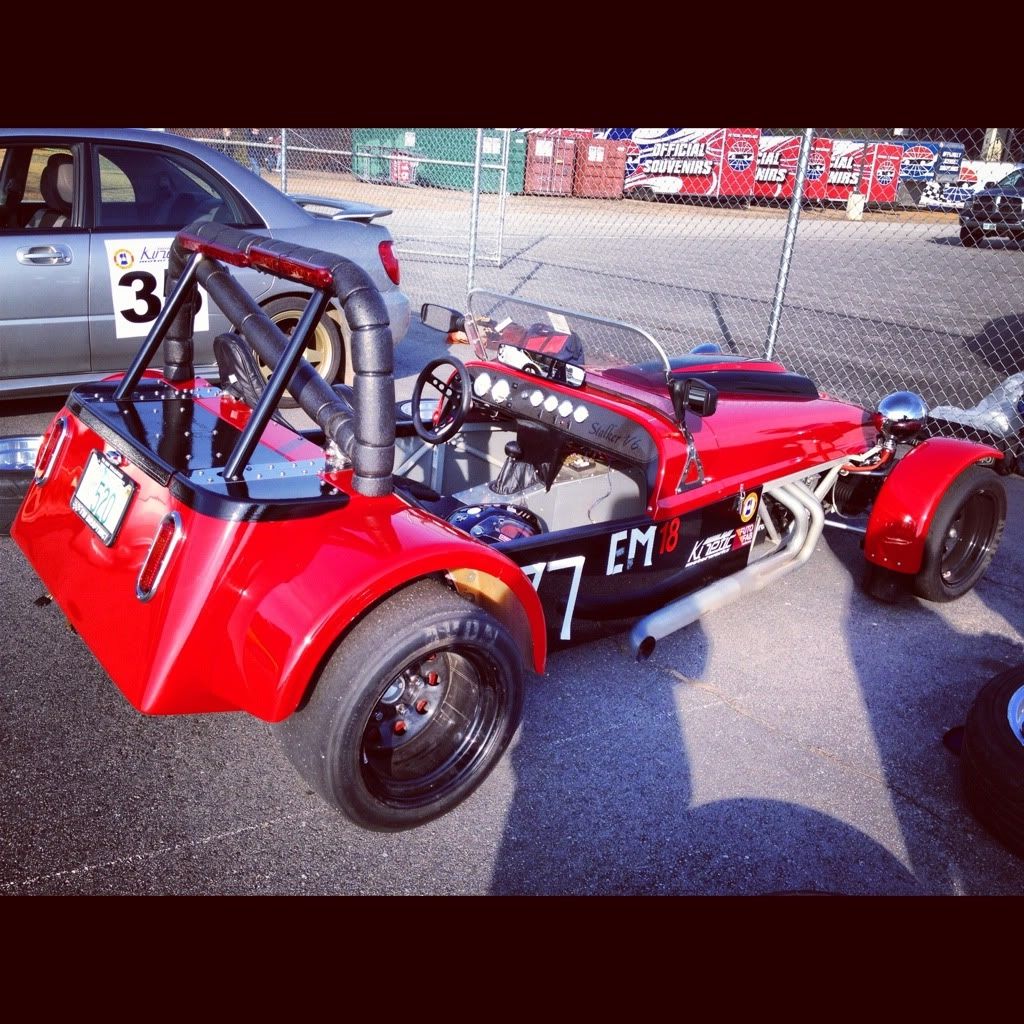 Dec 16, 2012, 06:15 PM
Evolved Member
My next track day is February 23 at NJMP Thunderbolt. Super stoked about it, as it will be my first time on a road course.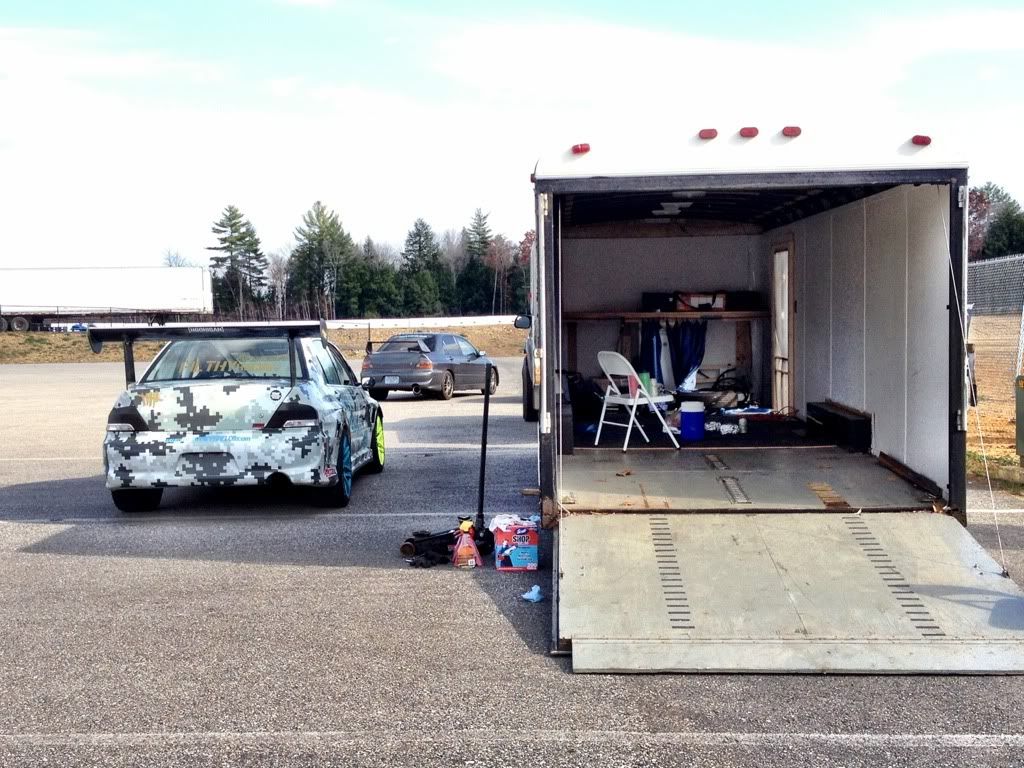 I'm currently prepping the car for that day, and just doing a go over on everything. Brakes, fluids, etc. To my surprise, I had a problem with the car reversing. It seems as if any incline in reverse, the car just wouldn't move. There was no problems getting the car in gear, but it just felt as if the clutch was slipping.
After finally finding time to check out the car, it came to my surprise that I had broken a rear axle. I guess I didn't notice it after my last race, as the car will reverse on flat ground fine, and drives forward perfectly normal. Also, the car is only driven at events, so I wouldn't have noticed it any other time.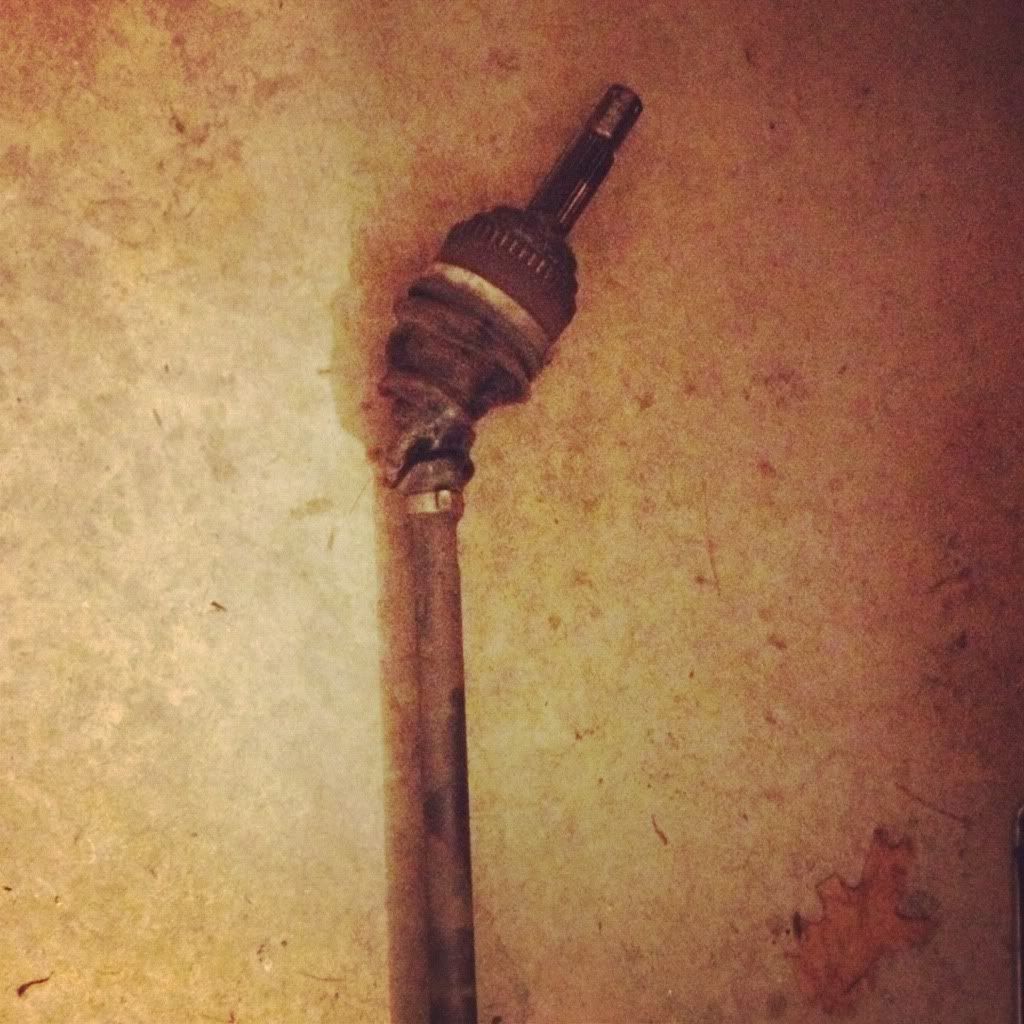 So, I'll have a new rear axle coming in soon. I'm also debating on some tires for my track day. I definitely don't want to run the A6's for an HPDE, and I'd like to be on street tires, or at least not a full slick.
I was looking at R888's, or NT01's. What do you guys think?
Random current picture of the car...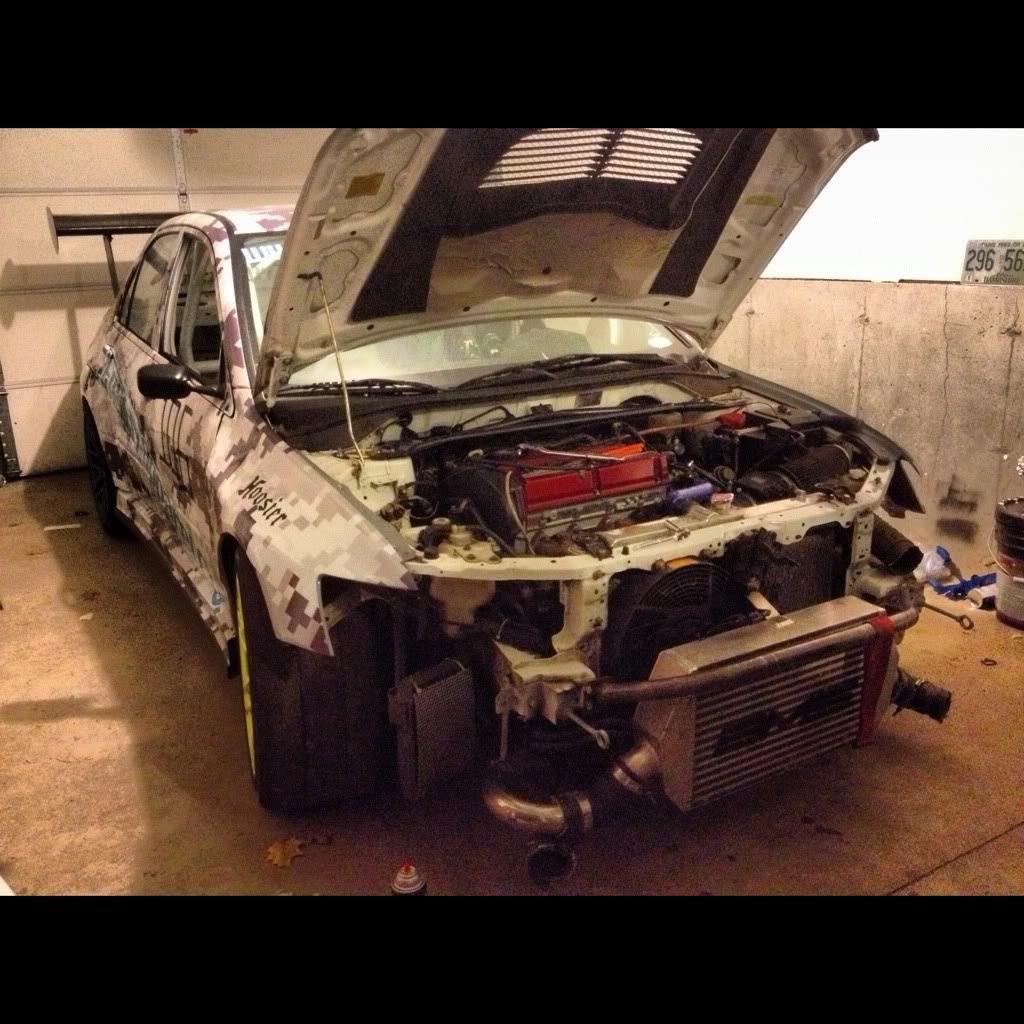 Also, you guys should pic up one of the 2013/2014 EvoM.net Calendars! My car made it into the calendar and will be featured as the September car!
Dec 17, 2012, 07:36 AM
Evolving Member
Join Date: Jan 2007
Location: Cincinnati Oh
Posts: 244
Likes: 0
Received 0 Likes on 0 Posts
Thought this car looked familiar but wasn't putting two and two together. I've seen this car at several NASA events we raced at. Hope you enjoy it!
Dec 17, 2012, 12:06 PM
Evolved Member
Join Date: Feb 2010
Location: Columbia, MD
Posts: 1,630
Received 0 Likes on 0 Posts
Dec 17, 2012, 02:41 PM
Evolved Member
Join Date: Mar 2009
Location: Big city, Bright lights
Posts: 2,383
Likes: 0
Dec 17, 2012, 05:38 PM
Evolved Member
I'm definitely loving the car. I can't wait to get it on a real track where it belongs.
I've been following your track thread.
On another note, I believe I'm having one of my good buddies retune the car with a pump gas tune. Right now it's on a pretty conservative 110 tune making about 328/387 on the FP White, Precision 740's, and the Walbro tuned by AMS. It sucks I have to change up the tune, but I can't afford to run 110 all the time, it's just too expensive.
Got the splitter mounted up last night, I'll snap a picture when I get a chance. I also lowered my seat down a few notches, but the Buddy Club seat brackets don't go low enough. Any suggestions on a lower seat bracket?
The car only had a Defi boost gauge and AEM WB02 in it. Since I'm parting out my old 3000GT VR4, I pulled the AEM oil pressure, and oil temp gauges from it and will be installing those when I do my next oil change (before the track day). I was also thinking of picking up a coolant temp gauge to go along with the rest of them. I always like being able to keep an eye on things.
That's all for now.
Dec 17, 2012, 07:02 PM
Evolved Member
Dec 17, 2012, 09:43 PM
Evolved Member
Join Date: Mar 2009
Location: Big city, Bright lights
Posts: 2,383
Likes: 0
Originally Posted by
FilthyEvo

I've been reading a lot, and the RS3's definitely seem to be one of the top tires of choice for HPDE's. I'll see if my tire hookup has any in stock. I know he has a set of R888's, and they're 295/30/18's. I have him looking for NT01's and I'll give him a call and mention the RS3's as well.
honestly ive never seen much more than about 1 second faster per 60 seconds nt01 to rs3...not worth it for the like $300 price difference (in the size i use atleast)...price difference might not be so great at your size. but honestly i cant speak highly enough of them for a beginner like me...handled well, didnt get greasy, and communicated when necessary. star specs just screamed at me all day.
Dec 18, 2012, 05:24 AM
Evolved Member
^I looked on their site after seeing your comment last night. They're certainly not cheap. I bought my car without a front beam, so I'd like to put one on. Not really sure I would pay that much though. Ughhh