05 Evo 8 daily, autocross car.
Mar 31, 2014, 06:19 PM
Evolved Member
05 Evo 8 daily, autocross car.
---
Didn't really plan a build thread, so pictures are sparse. Bought the car stock 11/1/2013 with 11,900 miles on it. Changed all the fluids when I got it. And started with a hallman MBC, ets intake and a tune. Car made 285whp at Dougs dynopower in Las Vegas with that setup. It stayed that way for 2 months with only the addition of Konig Torch wheels in the 17x9.5 +35 variety and 255/40 Dunlop Z2's, rear diff mount bushings, and rearranging the LSD clutches. It also got a comp clutch stage 3 when i smoked the stock clutch at 15k miles lol
.
It quickly progressed in january when I ordered a Buschur 3in turbo back, MAP vta O2 housing, ETS short route I/C piping, a short shifter, and all associated shifter bushings. It also got a 9 turbo, 9 bov, and rc engineering 1000cc injectors at this time with the plan to go E85. I conservatively tuned it myself to about 300-315hp range with a peak boost level of 24psi on 91. Horsepower is estimated because I never dynoed it, but it was dead even with a buddy's evo X making about 320whp.
Fast forward to end of february, it got ARP headstuds and a dual map tune from Rick at Road Race Engineering. It made 400whp and 391ftlbs of torque on e85, and 331hp on 91 (forgot the torque). It also got stance super sport coilovers, whiteline RCK, an alignment and corner balance from Eladio at H1 Performance in Las Vegas, and EBC yellow pads with centric rotors.
Its my daily, and I couldn't be happier with it at this point. I'm very competitive at autocross, right up with the fast Local Evo guys in ASP, and on courses where my extra power can shine, I'm difficult to beat. Except for the guy on NT01's, bastard...haha. Car also has a VIS racing do-luck rep trunk.
Anyways, here some pics. I guess I can only attach 5 to the post, oh well. Future plans are a BBK full, intercooler, speed density, and cams. Until then, the car really is plenty fast and ridiculously fun.
---
Last edited by letsgetthisdone; Apr 3, 2014 at

11:38 PM

.
Mar 31, 2014, 06:52 PM
Evolved Member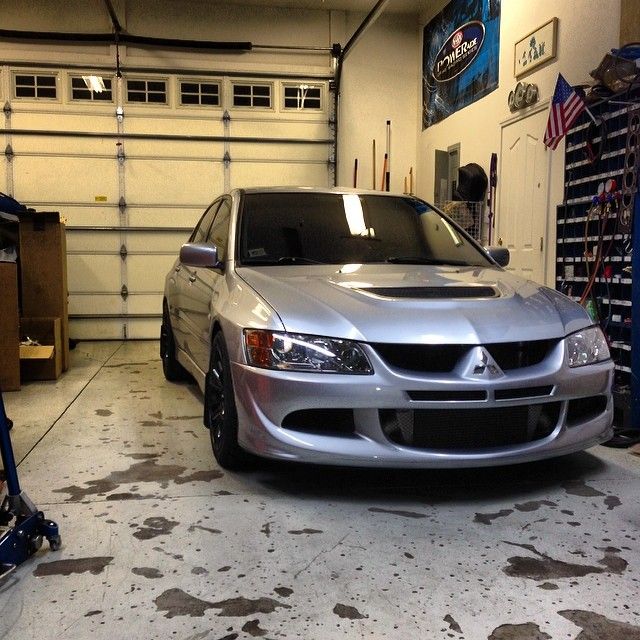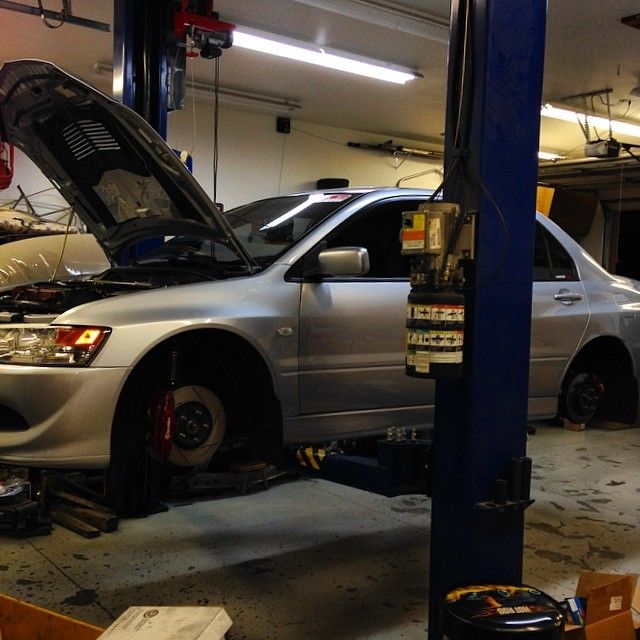 Link to Facebook video of a quick 1-2-3 pull
Also, harmonic balancer about fell off at the last autocross. So i replaced the timing, balance shaft belt, crank gear for the timing belt, harmonic balancer, and the serp belt.
And when I get around to it, I have gopro footage form the last two autocrosses.
---
Last edited by letsgetthisdone; Mar 31, 2014 at

07:03 PM

.
Mar 31, 2014, 08:34 PM
Evolved Member
Apr 1, 2014, 10:47 AM
Evolved Member
9k/11k springs. Stock swaybars. Thinking of getting a rear bar, not 100% sure the car needs it. Still has a lot of body roll, but I think that's my driving style more than setup.
Apr 1, 2014, 10:51 AM
Evolved Member
Join Date: Oct 2008
Location: New Jersey
Posts: 721
Does the intercooler heat soak in Las Vegas with the stock intercooler and your events?
Apr 1, 2014, 11:51 AM
Evolved Member
Join Date: May 2010
Location: Maine
Posts: 836
Thanks: 0
Thanked 0 Times in 0 Posts
thanks for the info. good reference point. Im going to be running 10k/12k w/ sways f/r on the same tire.
Apr 1, 2014, 01:32 PM
Evolved Member
It hasn't been hot yet, and I don't monitor intake temps. I do spray it down with water in between runs though. Car is stupid fast for how right the autocross courses are out here, they're all mostly bottom/middle of second gear. I'm also not really too concerned about it with the E85 acting as a chemical "intercooler". It'll get an intercooler when it gets a BBK...
That lean.... Ha
Apr 3, 2014, 11:34 PM
Evolved Member
Oct 8, 2014, 08:46 PM
Evolved Member
Little update: I sent the tcase and rear diff to TRE for full tune-up service, and the 12 plate "max-lock" mod to the OE rear lsd, with his HD side cover. Will write a review when i get everything back.
Oct 22, 2014, 08:30 PM
Evolved Member
Powdercoated the Konigs fire orange.
Oct 23, 2014, 11:48 AM
Evolving Member
Join Date: Jun 2010
Location: Cen Cal
Posts: 104
Thanks: 0
Thanked 0 Times in 0 Posts
Love it. I'm making the same power and autox frequently. The next mods for me are coilovers. Car looks great. How does it ride with those spring rates? Also, I recently did the plate swap on the rear diff and I dont think I want it to slide anymore than it does. On boost it feels like a RWD car coming out of corners.
Oct 23, 2014, 07:12 PM
Evolved Member
Car rides fine. The dampers are adjustable, so I just dial them back some for street driving, and turn them up for autocross. There are certain situations where I would like the car to rotate better on power. The other times, I'll just learn to modulate the throttle.