razorlab's simple build(s)
Oct 8, 2018, 07:03 AM
EvoM Guru
2018 ZL1 1LE
While the engine is nice in the RS3.... just like the Golf R and S3, they handle like a soft candy bar with a wet noodle wrapped around it compared to the Evo and the others I am looking at.
I am going to look at one of the newer M2's as well.
Def have zero interest in any vette before the C7.
If I could find a GT3 under 100k, that would probably be my #1.
Oct 8, 2018, 08:40 AM
Evolved Member
So I am thinking that #3 hole is a piston/rings issue too. No way a plug would get fouled by an exhaust guide bad. Not even a FORD could pull off that kinda trick.
---
Last edited by whtrice; Oct 8, 2018 at

08:45 AM

.
Oct 8, 2018, 09:04 AM
EvoM Guru
Oct 8, 2018, 09:52 AM
Evolved Member
Oct 8, 2018, 11:52 AM
Evolved Member
Join Date: Apr 2008
Location: San Diego, CA
Posts: 2,270
Was the cylinder head pressure tested before or after installing the new valve guide? That looks like a cracked cylinder head around the guide or too much material was removed prior to pressing in the new guide. I would pull the head and check for cylinder bore roundness using a dial bore gauge. Then use a dial indicator with the valve spring off and wiggle the valve stem back and forth to see if the guide is within compliance. Your spare cylinder head might just fix this mess, but if it doesn't it's definitely the short block.
Oct 8, 2018, 12:31 PM
Evolved Member
Join Date: Jul 2012
Location: California
Posts: 2,719
Oct 8, 2018, 05:25 PM
Evolved Member
Join Date: Aug 2005
Location: The Bay Area
Posts: 3,239
Sorry I didn't mean to imply you should get a C5. It was just a caviot because my second hand knowledge of Corvette track worthiness only really extends to C5's. They are kinda like big boy miatas these days with cost and availabilty.
Oct 10, 2018, 09:03 PM
EvoM Guru
So I spoke to Arlington Machine Shop today on the phone. Thanks
2006EvoIXer
for the good review of them. Aaron was awesome to chat with on the phone and made me super comfortable to send him my spare head. I'm going to have him do his Competition valve job, pocket port, knife edge and install GSC oversize valves, GSC bronze guides, GSC springs and all the other good stuff. I think I am going to take this chance to try out the GSC S2 cams as well.
Should be interesting to see what difference the more aggressive cams, oversize valves, valve job and pocket port makes.
For all I know the other machine shop didn't do anything to my current head. I'm 100% done with them.
Bad news, I won't be able to ship my head out for two more weeks and Aaron stated he has about a four week turnaround currently. So... based on my experience the last two years, I might have a working car again in another four months...
bleh...
The Following 2 Users Say Thank You to razorlab For This Useful Post:
Oct 10, 2018, 10:13 PM
Jesus, Bryan. I am sorry to hear about all of your problems with the Evo. I hope things get sorted so you don't have to bail for something else, but those other cars you've mentioned sure sound nice as well.
Oct 13, 2018, 06:49 AM
Leaking head
---
I am and apparently have been having exactly the same experience with my evo 8 head. Last time I had the motor apart I noticed the same type of oil coming from the exhaust stem. Looks just like your pictures. Also the oil on top of cylinder. Weíll eventually the bearings all of them $h1t them selfs at auto club.
never thought I was an issue. So I did som mild clean up porting and sent the head to a local machine shop to be cleaned and reassembled with new oem valve seals from my master gasket kit. And ordered a Buschur Racing 2.4.
Well now that the new motor is together it seems Iím having the same issue. Iím seeing oil on top of piston. Stumbling to start sometimes. I guess I need to pull exhaust manifold and check valves
Oct 15, 2018, 04:57 AM
What is responsible for keeping oil out of the combustion chamber. Valve Guides, or seals? I should also note I have a large amount of air/blow by that comes from the valve cover. When you put your hand over it I feels like it is blowing air, allot of air. It even manages to throw some of the oil from the operating valve train . But if you lay a peace of paper over the oil fill hole it appears to be huffing in and out because the paper gets sucked back down as fast as it was pushed
originally I was thinking it was the valves some how not seating but that doesnít explain the VC pressure.
Oct 15, 2018, 10:34 AM
Evolved Member
Join Date: Jul 2012
Location: California
Posts: 2,719
The way I imagine it is the valve stems act like windshield wipers to sqeegie the oil off the valve stems as valves are pushed down and rhe valve guides have air grooves on inside to help break the pathway so oil is disrupted from direct shot into bowl (back side of valve from combustion chamber).
As for blowby, that's combustion exhaust gasses getting through your piston rings and making it's way to valve cover. My guess is the slight suction is probably a slight vacuum created when air on bottom side of piston going up is sucking the air from bottom side of piston going down (when #1 or #2 piston changes direction since the vent in head is nearest those).
---
Last edited by 2006EvoIXer; Oct 15, 2018 at

10:42 AM

.
Oct 15, 2018, 10:51 AM
Evolved Member
Join Date: Oct 2013
Location: Las Vegas
Posts: 11,879
The valve guide vs seal thing is one of those things where you have two parts working together for a common goal. You can have a valve seal fail without the guide failing, but when a guide fails or becomes worn, it almost always also causes the valve seal to leak because now the valve is moving around a bunch.

Pressure in the valvecover is crankcase pressure. It's normal. The air goes up the oil drain ports and into the valvecover, where the vents are, and is vented. That's how it's supposed to work.
Oct 22, 2018, 03:35 PM
EvoM Guru
No updates on the Evo. I was out of town for business and then went on vacation in Tahoe for the rest of last week.
Today I had some free time and I finished up the tune on my VW Golf Alltrack, if anyone is curious:
2018 VW Golf Alltrack SEL
1.8T
Stock IS12 turbo (dinky!)
19psi to 12psi
Eurodyne Maestro custom tune
Eurodyne Stage1 DSG Tune
E35 fuel
Everything else 100% stock.
I'm actually pretty impressed with the gains seeing that the turbo is so small.
+50whp/+74wtq
Log:
https://datazap.me/u/razorlab/alltra...8&zoom=230-440
Vdyno: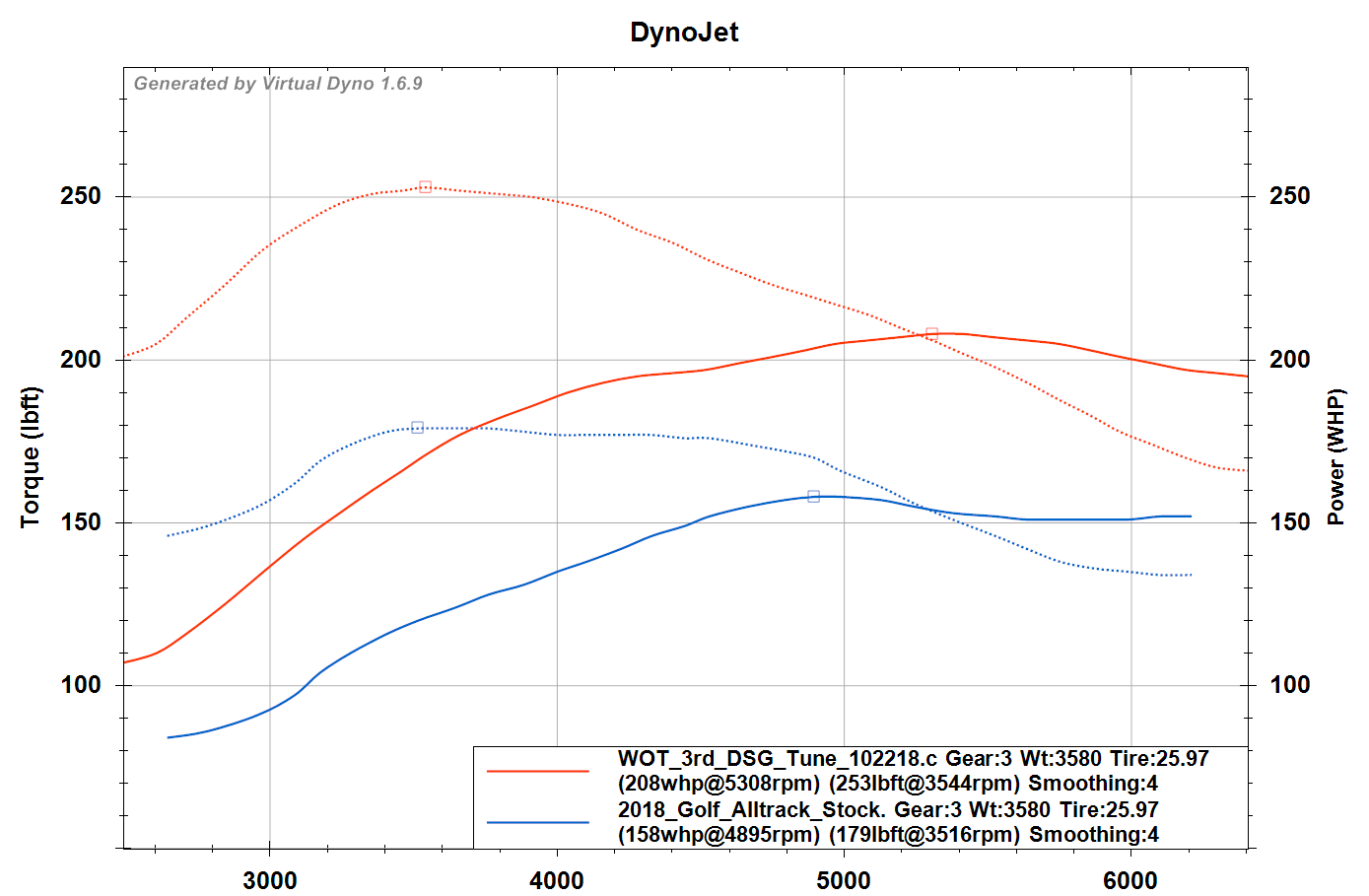 ---
Last edited by razorlab; Oct 22, 2018 at

09:23 PM

.
Oct 22, 2018, 04:49 PM
Evolved Member
Das Wagen .............