razorlab's simple build(s)
Nov 17, 2013, 12:35 PM
EvoM Guru
razorlab's simple build(s)
---
After selling my beloved
400hp E85 2010 Ralliart Sportback
, I picked up a
2013 VW Golf R
. Drove that for almost a year and decided to get rid of it and pick up a 2014 Evo GSR with the SSSL package (Sunroof, leather, HID, Fast Key, upgraded stereo, etc) and get back to Mitsubishi.
Hey look, it's a stock 2014 Evo GSR: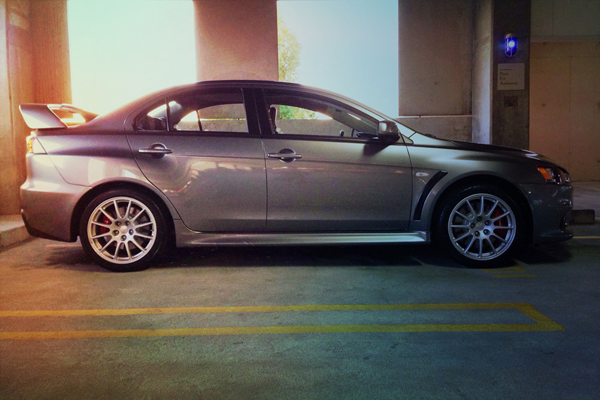 My idea going into this build was to see what the car can do with "simple" modifications along the way.
For example, I was always curious what a relatively stock Evo 10 could do on E85, nobody was really doing this because most people modify the car a bit more before getting tuned, which brings us to this first round...
I baselined the car 100% stock with about 500 miles on it. Then I tuned it with no physical modifications to the car. Only an ECU tune.
You can see the results of this here:
Red plots = 100% stock
Blue plots = 100% stock with ECU tune
Then I put a couple more miles on it, and at around 950 miles I tuned the car on E85 with only these modifications:
ID 1000cc injectors
Blaqops fuel pump kit with Walbro 255
Speed Circuit resonated test pipe
GM 3 port boost solenoid
That's it. Basically
two power mods
and two fuel mods (for E85). The car sounds pretty much the same as stock and obviously looks 100% stock.
Green plots = 100% stock
Blue plots = 100% stock with ECU tune
Red plots = With modifications listed above, ECU tune and E85
So now I wonder no more what a Evo 10 will do with E85 and almost no modifications. I guessed the car would
maybe
do 100whp more then stock and I was within 2whp of being right. Keep in mind it's also not just a peaky gain, the whole power curve is so much fuller now the car is just a joy to drive now. Power on demand. One thing to note is that I am purposely keeping the low end boost down as to not overwhelm the stock clutch. I could get a bit more torque out of the car but I am currently choosing not to.
This is an AMAZING value for the money. The car is totally transformed power wise.
Now, as you can see in the plots, the car is a bit choked up with the stock intake/filter so I'm going to install a AEM intake very soon and see what difference that makes.
I also have a set of Bilsteins from a MR and Swift R springs I will be putting on the car soon.
Alrighty, update! Added an AEM intake
I guess these intake thingies work.
Red plots = OEM intake
Blue plots = AEM intake with no tune changes
I was actually surprised it ran less boost down low but not surprised it ran a tad more boost up top.
Not a bad gain. Guess it was pretty corked up.
Next I tuned it a bit for the AEM intake. I decided to keep the boost lower in the low and mid range (stock clutch) and raise it a bit 5,000 rpm up.
Red plots = OEM intake
Blue plots = AEM intake with no tune changes
Green plots = AEM intake with tune changes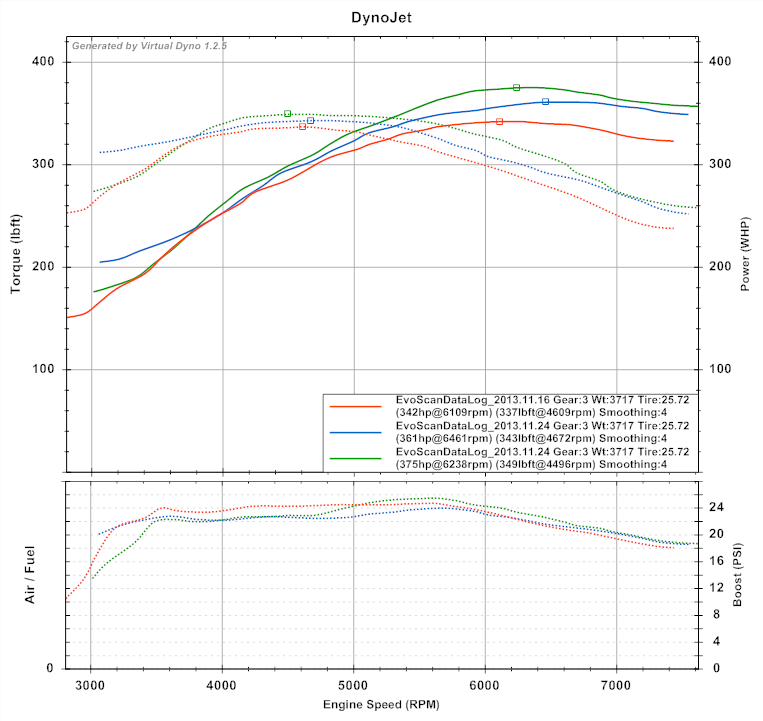 Even more gains.
Pretty impressed actually.
Full gains from after tuning:
Red plots = OEM intake
Green plots = AEM intake with tune changes
+33 whp / +12wtq
Full gains so far from OEM bone stock:
Blue plots = OEM stock Evo 10
Red plots = Intake, Test Pipe, 3 port BCS, Injectors, Fuel Pump, E85, tune
131 whp / 93 wtq
Pretty darn happy with that.
Now to figure out why my IDC's are so high at 92%. I suspect the in tank fuel hose...
---
Last edited by razorlab; Nov 24, 2013 at

09:20 PM

.
Nov 17, 2013, 12:47 PM
Evolving Member
Join Date: Oct 2003
Location: Milwaukee, Wisconsin
Posts: 237
Likes: 0
Received 0 Likes on 0 Posts
Impressive!

My new Evo (2013) looks just like yours, same options, only white.

I of course had an upgrade path in my head well before purchasing...you're making me reconsider.

Any concerns about running E85 long-term?

Also, I though an intake was more or less a cosmetic/aural upgrade, and no real gains are be had unless doubling stock hp (or thereabouts) was the goal. You obviously think otherwise...thoughts?

I'm thinking MHI turbo, associated piping, port/polish manifold, fuel accessories, and I should be set.
Nov 17, 2013, 12:56 PM
EvoM Guru
https://www.evolutionm.net/forums/e8...years-e85.html
Yea I tend to agree but I want to test it out and see what happens. Plus, there is always a chance of upgrading the turbo in my future.
Nov 17, 2013, 06:14 PM
Evolved Member
Join Date: Mar 2007
Location: California
Posts: 615
Congratulations

Golf R sounds nice, but Evo is Evo
Nov 19, 2013, 11:46 PM
Power looks great. Must admit that I'm very impressed with the gains from only a test pipe (and E85 and a tune). I'd love to see the pre- and post-turbine pressures for stock and the current setup.

I'm kinda drooling over the new HKS 8262 turbo for the 10. Wish they would make one for the 8/9.
Nov 20, 2013, 10:20 AM
EvoM Guru
Yea it's a pretty good kick in the pants. Looks and sounds stock too.
Me too but I'm not putting pressure sensors in any time soon.
One thing to note however is I'm keeping the boost down with all the stock flow parts. At no point am I using 100% WGDC yet.
Nov 20, 2013, 11:11 AM
Former Sponsor
Join Date: Dec 2009
Location: NY
Posts: 612
Likes: 0
Received 0 Likes on 0 Posts
Great to see your threads popping up again. I'm a big fan.
Sidenote-- You'll pick up more with a full downpipe than with an intake. Looking forward to your steps.
---
Last edited by E-SPEC INDUSTRIES; Nov 20, 2013 at

11:13 AM

.
Nov 22, 2013, 02:21 PM
Awesome simple build!!! I'm also a big fan.
Could you measure the ID of the AEM and OEM MAF pipe? I'm just curious. I've read the stock MAF housing in 68.39mm (about 2.692") ID.
---
Last edited by PureDrivePerformance; Nov 22, 2013 at

02:25 PM

.