I Can Haz Track Car???
Aug 16, 2017, 10:34 PM
Evolved Member
Car is running. Getting the first 50 miles on it and then changing the oil. Shooting to get 500 in by friday but it'll be close.
Had to convert my tial q back to a qr to keep the maf happy since it was hanging open at idle. Other than that no issues. Always a good feeling
Aug 18, 2017, 12:06 AM
Evolved Member



On my second oil change. Car has 160 city miles on, everyone seems determined to keep me from driving it though. Hoping to get converted over to speed density tomorrow. Driving down to St Louis this weekend and have an autox down there sunday so that will be the pilot test.

I'm really liking the comp stage 4 clutch. It's very grabby for a single disk but pedal effort is barely harder than the exedy stage 1 I just took out. Going to try to make it to a strip sometime next week to see how it handles launches on radials.

As for the balance shaft it's hard to say how much it increased nvh because I also swapped in the rear trans torque solutions mount. Vibes are definitely up from before but it's nothing harsh which leads me to think that most of the nvh increase is from the mount.

Overall I'm liking how things are shaping up. Mostly went together fairly smooth, no leaks, no start up problems other than the bov, first oil change looked pretty good (slight silver tint but no large flakes).
Aug 21, 2017, 01:24 AM
Evolved Member
And the engine is ****ed.
Got a little over 500 miles on it and threw E85 in. Drove it on some back roads saturday and the car felt great.
Took it to an autox earlier today/yesterday. My co-driver and I each got one run in without issue. Sometime during the 50 seconds or so during my second run the engine went from perfectly fine to HEAVY rod knock, didn't even hear it until I crossed the finish line. Trailered the car 5 hours home, just finished ripping the pan off. 1, 2 and 3 rod bearings are all damaged, I haven't pulled to rod caps off yet but there is tons of metal in the oil pan so I wouldn't be surprised if they spun.
This is probably going to be an early end of my season.
Aug 21, 2017, 09:05 AM
Evolved Member


I'm pretty bummed and with school starting up again next week and my money already stretched thin I'm going to have to throw it in my garage and let it sit until next year.
Aug 21, 2017, 09:11 AM
Evolved Member
Originally Posted by
ayoustin
I remember reading about that but I recall it being a left hand, high g issue. The course had no large left turns. I'm thinking the oil pump failed and dropped pressure. I can't think a couple seconds of starvation would wipe out 3 bearings at once and this fast, especially considering the car has been a used for track use for at least the past 6 years without issue.

I'm pretty bummed and with school starting up again next week and my money already stretched thin I'm going to have to throw it in my garage and let it sit until next year.
It's right hand corners that cause the issue with oil starvation in the CT9a. So, if the course almost has no lefts... You'll pull it apart and find the oil pump damaged from the starvation as well.
Aug 21, 2017, 09:36 AM
Evolved Member
Aug 21, 2017, 09:50 AM
Evolved Member
Originally Posted by
ayoustin
Shifter was great, still my favorite mod. Shifts are quick and you spend almost no time with my hand off the steering wheel with how short the reach is.




Ah, thanks for the clarification. There were two right sweepers. But I still think it's the pump. I've taken harder right hand turns on track than that autox. I really would like to find the real cause as if it was starvation then I'm definitely getting a new pan or modifying mine. Unfortunately I don't think I'll see starvation in the pump with how much metal it's consumed.
I would do a pan either way. It's a well documented/known issue for the platform.
Also, I want that shifter. Where can it be ordered from? Need to put it on the list.
Aug 21, 2017, 10:14 AM
Evolved Member
Yea I need to see what my best option would be. Not buying a pan for a while anyway.
The only vendor in the US that sells CAE shifters is Hard Motorsport. They're made to order in Germany so expect to wait at least a month to get it.
Aug 21, 2017, 06:11 PM
Evolved Member
Dropped the first three rod caps off. Damage is minimal, only a bit of light scoring on the crank, none of it catches a nail so it might polish out.
Pulled the valve cover and everything is spotless still, no debris even made it up there.
Pulled the timing cover to check the balance shaft. Spins over just as effortlessly as when I put the engine together.
I was fairly sure it was the balance shaft as there are chunks of brass in the oil pan and that would indicate bearing material and the rod bearings aren't damaged enough for it to be from them. I can't imagine the mains are damaged as I never touched them and the crank has no play to it.
I'm pretty sure there isn't brass in the oil pump so I'm feeling a bit clueless right now. I'm sure I'll find the answer after I dig into it a bit more.
Update: Dropped the 4 cap. Bearing spun. Crank will need to be ground. Rod will need to get chopped and honed.
So now that I know 4 is damaged this badly the question comes down to the root cause. Right now there are three/four possibilities I can think of but I have my doubts about each one:
1- The rods weren't assembled correctly. I doubt this because I cleaned everything prior to assembly, both the bearing surface and crank were lubricated with assembly lube. Rod bolts were torqued using a stretch gauge and their torque was double checked.
2- The rods were starved of oil going through a corner. I doubt this because the corners weren't very long and there wasn't any damage in the head which usually gets oil after the rods. Also there's no damage I can see to the mains, balance shaft or anywhere else that receives oil pressure.
3- The oil pump failed. I doubt this because it was perfectly fine before and I never touched it or the front case. I think opening the pump up might tell me more hopefully.
4- The rod bearings were defective/manufactured wrong. I doubt this because it's just very very unlikely. Unless I'm really just that unlucky.
The one thing I'm most unsure of that would definitely help to find out is if all the bearings were going out simultaneously and 4 went first or if 4 was the only one going and the debris from it caused the damage to the rest.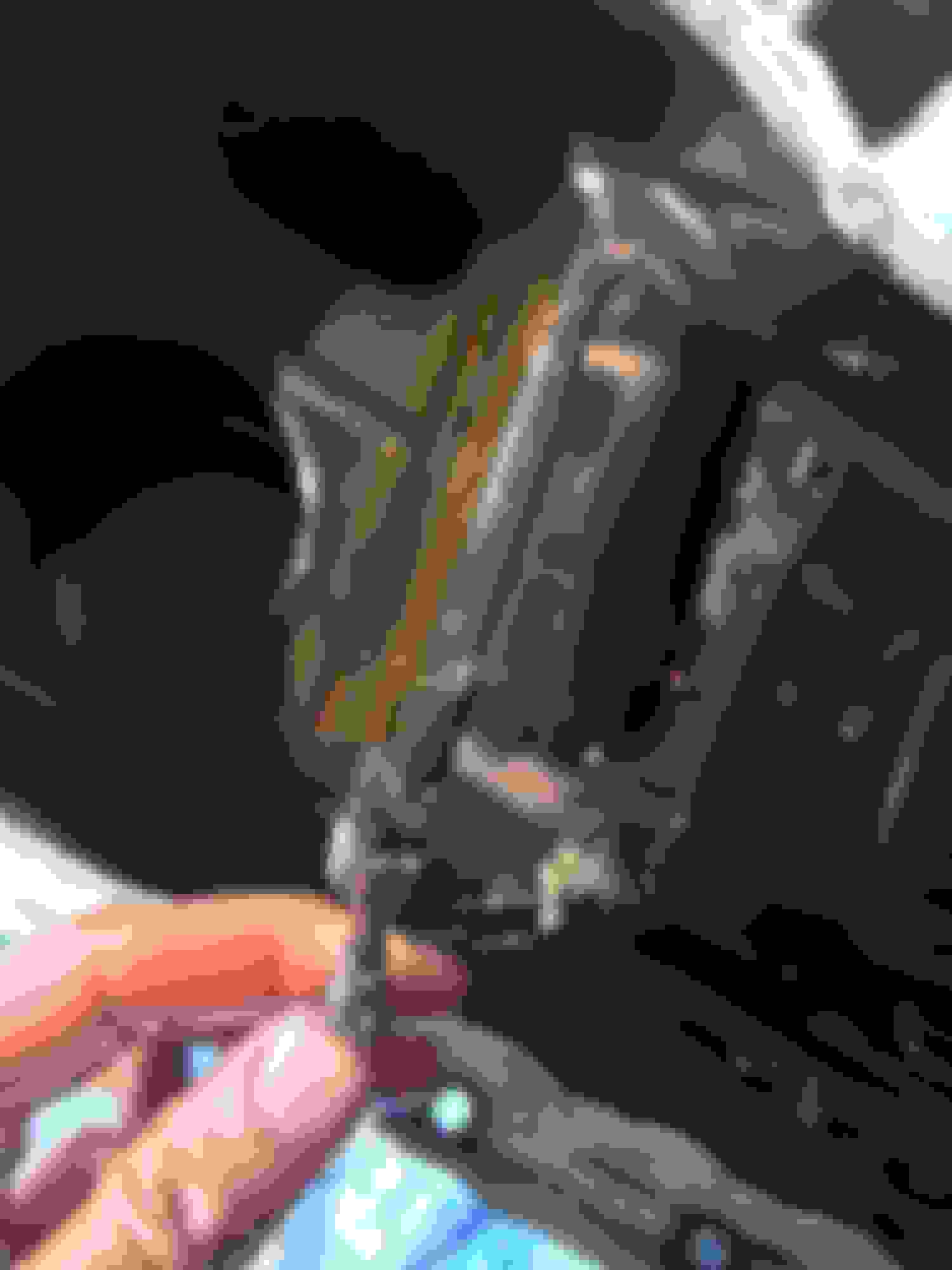 ---
Last edited by ayoustin; Aug 21, 2017 at

07:08 PM

.
Aug 22, 2017, 08:57 AM
Evolved Member
I'll go with oil starvation. When oil pressure drops to 30psi (which happens almost instantly in hard right hand corners) and you get on the throttle, it makes for unhappy bottom end bearings.